News
Stay informed about the latest enterprise technology news and product updates.
Rapid adoption of social service overlooks critical infrastructure
Customer service via social channels is seeing rapid adoption, but it still requires the underlying processes of traditional channels. John Ragsdale offers some data on social service adoption as well as some advice in his column.
I am back this month to continue talking about the hottest trends in service and support today, and clearly social media, social service, or social support -- whichever moniker you prefer -- is the single most disruptive trend in customer service today.
As seen in Figure 1, technology companies' adoption of customer discussion forums has been climbing rapidly. Approximately one-third of Technology Services Industry Association (TSIA) members offered a customer community in 2007, and 85% of members expect to have a community live in 2011. Additionally, data from the annual TSIA Member Technology Survey shows that nearly a third of companies (31%) have approved budget for additional social media tools in 2010-11, expanding beyond company discussion forums into social media sites across the Internet.
Figure 1: Discussion Forum Adoption by TSIA Members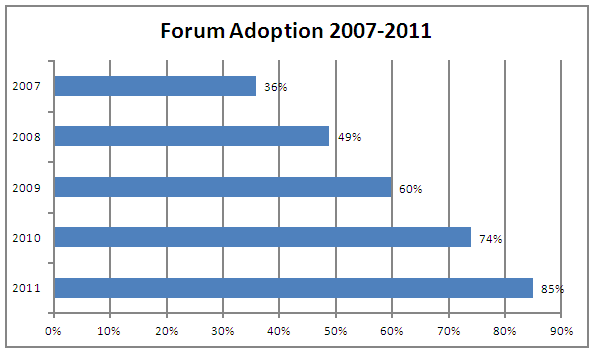 Source: TSIA Member Technology Survey, Social Media Survey
Not only are companies rapidly adopting social media tools, but customers are using them. Figure 2 shows what percentage of total support volume was represented by social media interactions in 2010 as well as estimates from members for interaction volumes in 2011. While the average for enterprise firms (business-to-business, or B2B, support) remains below 10%, consumer companies (business-to-consumer, or B2C) estimate social media will represent as much as 14% of total volume in 2011, up from 8.7% in 2010.
Figure 2: Percent of Total Interaction Volume Represented by Social Media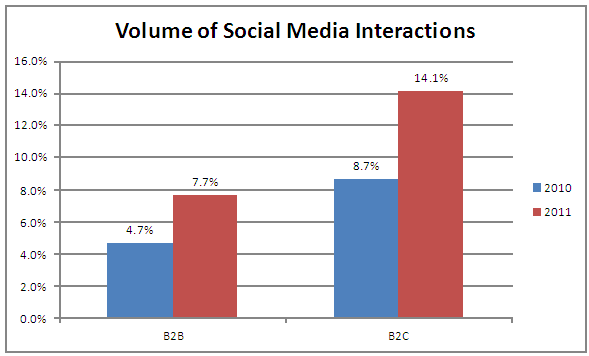 Source: TSIA Social Media Survey
As social media interaction volumes climb, representing a larger and larger percent of total interactions, companies must be certain that the experience customers receive using these new channels is positive. However, unlike phone and email, for which most companies have service level and quality monitoring in place to ensure a strong experience, TSIA's survey data reveals that while companies have been quick to adopt social media channels for customers, few companies are integrating the emerging channels into existing customer infrastructure and processes, making it impossible to guarantee the customer a positive experience, or even measure what sort of experience the customer is receiving. Examples of missing links include:
Corporate website integration. Less than a quarter of members (24%) have integrated social media channels, such as the online community, into the corporate website. This typically means that the user interface for the forum is completely different from the corporate or self-service website, customers need a separate user name and password for community access, and discussion forum content is not searchable outside the community.
CRM integration. Only 8% of members have integrated the new channels into their CRM/incident management system, meaning that customer history -- the long sought-after 360-degree view of the customer -- doesn't contain any customer interactions from new social channels.
Reporting dashboard integration. Only 16% of members include social media channels in performance dashboards, so if interactions via social media channels go ignored, supervisors aren't flagged to allocate resources to those channels. If social interactions are not subject to existing quality monitoring programs, poor experiences go undetected and customer satisfaction levels can decline unnoticed.
SLA integration. Only 3% of members address social media channels in service-level agreements, or SLAs. With no expectations set for customers regarding response and resolution time, you are not providing any guidelines as to what customer experience is guaranteed. When expectations are not aligned with performance, customers typically are less satisfied.
As exciting and new as emerging social channels are, supporting customers via social media requires the same underlying processes as traditional channels. To maximize the effectiveness of your discussion forum, Twitter account or Facebook page, start with these basic support processes:
• Monitor. Create notification rules for conversations about your company and products. If you are using Twitter, for example, you can create rules that notify you about conversations mentioning specific product names. For other social service channels you may need to involve IT to build reports that flag comments or conversations for your attention.
• Engage. Encourage customers to move conversations to an auditable channel, such as a Web chat or remote control session, or even phone or email. If you do have staff allocated to work with customers via their social media channel of choice, provide some guidance about hours of operation, such as: "We monitor our Facebook page for comments and issues Monday through Friday, 8 a.m. to 5 p.m. ET. If you have an issue outside of these core hours, please contact us at …"
Dig Deeper on Social media customer experience