News
Stay informed about the latest enterprise technology news and product updates.
Should marketing or customer service manage your social networking efforts?
The emergence of Web 2.0 and social networks has left many wondering who should take responsibility for the new channel.
About a year and a half ago, not long after iRobot had released its newest Roomba vacuum cleaner, the 570, a video appeared on YouTube with a man from Canada pronouncing at the start: "The purpose of this video is to show a fault in the new Roomba robotic vacuum cleaner."
It was just the sort of problem and opportunity Web 2.0 technologies and social networks present for companies today. The man in the video is publicly demonstrating a fault with iRobot's latest product. But he also opens up the robot and fixes it, showing others how to correct the problem in an online video. It's a problem for marketing, which now has to deal with a branding issue for its new product, but it's an opportunity for customer service -- people watching the YouTube clip may tackle the problem themselves with no need for a costly call into the contact center.
iRobot is no neophyte when it comes to social networks. Two years ago, it launched its own online community where customers can share tips, tricks, stories and where to get deals on iRobot products. A small customer-service team oversees the online community with significant input from marketing and the website team, according to Maryellen Abreu, director of global customer service with the Bedford, Mass.-based company.
Despite their rapid rise and evolution, social networks or Web 2.0 technologies are still very new to most organizations, which are grappling with how to incorporate them into their business. Even iRobot, which has a formal structure for the monitoring and oversight of its own online communities, has different parts of the business monitoring the oversight of the wider Internet. Abreu "owns" the communities; but marketing, Abreu and a contracted PR firm keep an eye on the blogoshpere.
"It's kind of ad hoc right now," she said.
Online communities are providing real returns for companies willing to invest, but there are still plenty of challenges -- and plenty of hype -- around them, according to John Ragsdale, research director with the Service and Support Professionals Association (SSPA).
"Among SSPA members, I would say it's pretty evenly divided with marketing versus support," he said. "I don't know how you define ownership, but I do think marketing has a critical role. Companies that launch an online community without some ownership from marketing are setting themselves up for failure."
Who runs it all is just one of the tough questions
Building an online community presents a number of challenges beyond ownership. Given the state of the economy, the case for ROI is a vague one, Ragsdale argues in a recent research note. That is not helped by some of the market's software and service vendors overstating their case with claims that don't add up in the real world. For example, messages in an online community do not equal a one-to-one reduction in calls into customer support.
"There's a big misunderstanding between demand for support and demand for assisted support," Ragsdale said. "People go to forums to learn about products, to see what people are talking about, as training -- for a lot of different reasons. You can't assume that because they went to your forum, they're not going to pick up the phone and call you."
Yet for Abreu and iRobot, the ROI is clear enough. iRobot was having trouble handling its call volume two years ago before it launched its online community using technology from Emeryville, Calif.-based Lithium Technologies Inc. There were 2 million units in the field at the time. Now there are 3 million, and iRobot hasn't had to add to its call center expenses.
"I can guarantee ROI is off the charts," Abreu said.
That doesn't mean that making the case for the community was an easy one.
"There were a lot of people who were very, very nervous," Abreu said. "It was a big risk and we took it."
Branding is a concern. Given that most people begin their product research at Google, when a top result is people discussing a problem with your product -- it can have a big impact. In fact, Abreu works with the website team on search engine optimization for the forums. If an organization is not hosting the conversation itself, someone else will.
"There is an amazing amount of content out there, and it's not on the company's corporate website," Ragsdale said. "The danger for firms that haven't launched anything at all is they have allowed a community to form without any involvement from them[selves]."
Business-to-business companies that already have an assigned relationship between the support group and specific customers because of agreements and defined relationships are better able to launch a community run by support, Ragsdale said.
Marketing may need to be more involved when discussions have already started without corporate input.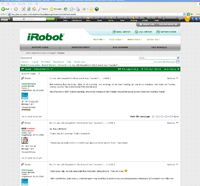 "Companies that don't have their own sponsored community have customers going to discussion threads and blog posts all over the Internet," Ragsdale said. "And who knows how valid or current that may be?"
San Francisco-based Salesforce.com has launched a service aimed at reaching existing communities that it terms the Service Cloud. It features integration capabilities for its service-and-support application, Facebook, and its own community-building software. Today, Saleforce.com announced that Fair Isaac, an analytics software vendor, is using the Service Cloud together with a Lithium community, the TypePad blog hosting service, and Eloqua demand-generation software.
"Something in the Salesforce announcement about the Service Cloud that I liked was that if you do have an existing community someplace, you can leverage it there," Ragsdale said.
Benefits beyond service call deflection
iRobot hosts its community with software from Lithium that ties back into its customer support software. Abreu runs a team of just four people in customer support. The company outsources its two call centers and runs them with a Software as a Service application from Bozeman, Mont.-based RightNow Technologies. FAQs from the RightNow self-service application help to populate the discussion forums, and if someone posts a question that isn't answered within four days, it's escalated to customer support.
The company also uses the forums for product testing. Recently, it launched a beta program for a new product, a talking robot that people can control from a computer and access at home complete with VoIP. Think of yelling at your dog to get off the couch while you're still at work, Abreu explained. When beta testers brought up some issues on the forums, iRobot decided to delay the launch.
"Think about how cost-effective that is," Abreu said. "It's really the voice of the customer. In the past, you would rely on the contact center, but compare one angry caller talking to an agent with a frustrated customer writing paragraphs and people responding -- now that's the voice of the customer."
Abreu hopes to get some more value from the community as well. One of her big goals for the year is to leverage the community for cross-sell and up-sell opportunities using Omniture website analytics to tag conversations and compare those who have abandoned a purchase against those who have gone through with one.
Too many channels?
Already struggling to cope with email, phone calls, IVR and chat, many customer service organizations are probably loath to add social networking channels like Facebook, Twitter and their own communities to their responsibilities.
Linksys, the Cisco subsidiary that sells routers for home computers, elected to kill off the email channel and successfully managed to transition nearly all of that traffic to its forums, Ragsdale noted.
"At some point," he said, "you can't keep adding new channels without taking some away."