News
Stay informed about the latest enterprise technology news and product updates.
Customer service in the cloud is Salesforce.com's latest effort
Salesforce.com is releasing it Service Cloud, a group of applications and integrations to help customer service operations monitor and leverage online communities.
Salesforce.com is today releasing a new customer service platform that it's dubbing the Service Cloud, which allows organizations to integrate their Salesforce.com Service and Support operation with communities, discussions and forums taking place online.
For example, the new integration with Facebook allows companies to take questions and answers that people post on the popular social networking site and import the response into their knowledge base.
Yet for all the buzzwords in today's announcement -- the cloud, Facebook, social networking -- some analysts greeted the news with skepticism.
"They've done a good job of latching the Salesforce brand with the Facebook brand, which is great as far as buzz, but my accountability is to give good business advice to enterprises," said John Ragsdale, vice president of research with the Service and Support Professionals Association. "SSPA customers are wondering if they should leverage LinkedIn, Facebook or MySpace as an interim step [to building their own online community], but because of privacy and lack of control over who can access that, I think it's a really bad choice for an enterprise."
However, one Salesforce.com customer, the French telecommunications company Orange, has built an integration with Facebook through Salesforce.com's Force.com development platform. Demonstrated by Salesforce.com executives, the application takes questions and answers about Orange products on Facebook's community forums and integrates the results into its CRM system. Experts in the community forum vote for or against specific answers, and when it reaches a certain threshold the answer can be drawn into the Orange knowledge base with a click. From there it can be disseminated to another website, such as a partner site or Orange's public website, which will help it show up in Google search results.
"It's less and less likely for a customer with a service question to call a company than to open a browser," said Kraig Swensrud, vice president of products at Salesforce.com. "People go to Google search, or they ask their friends on Facebook."
According to Salesforce.com, 50% of service conversations in 2008 took place in the cloud.
"Those conversations are happening today -- conversations not interactions," said Alex Dayon, senior vice president of CRM customer service and support. "That's good because it's dramatically reduced the cost of interactions. But today, in the current world, businesses are losing touch with their customers. They don't know what's most important to them, their problems and questions. Your customers are in the cloud in many clouds and you invested money in the contact center. Our strategy is not just to win the cloud. We believe the market is shifting rapidly in terms of customer expectations, and there's no better way to serve that than in the cloud."
Salesforce.com's Service Cloud is available today and starts at $995 per month. It includes the capabilities to create an online community with unlimited usage for up to 250 customers; set up a contact center with up to five agents; and invite up to five partners to participate in the service cloud.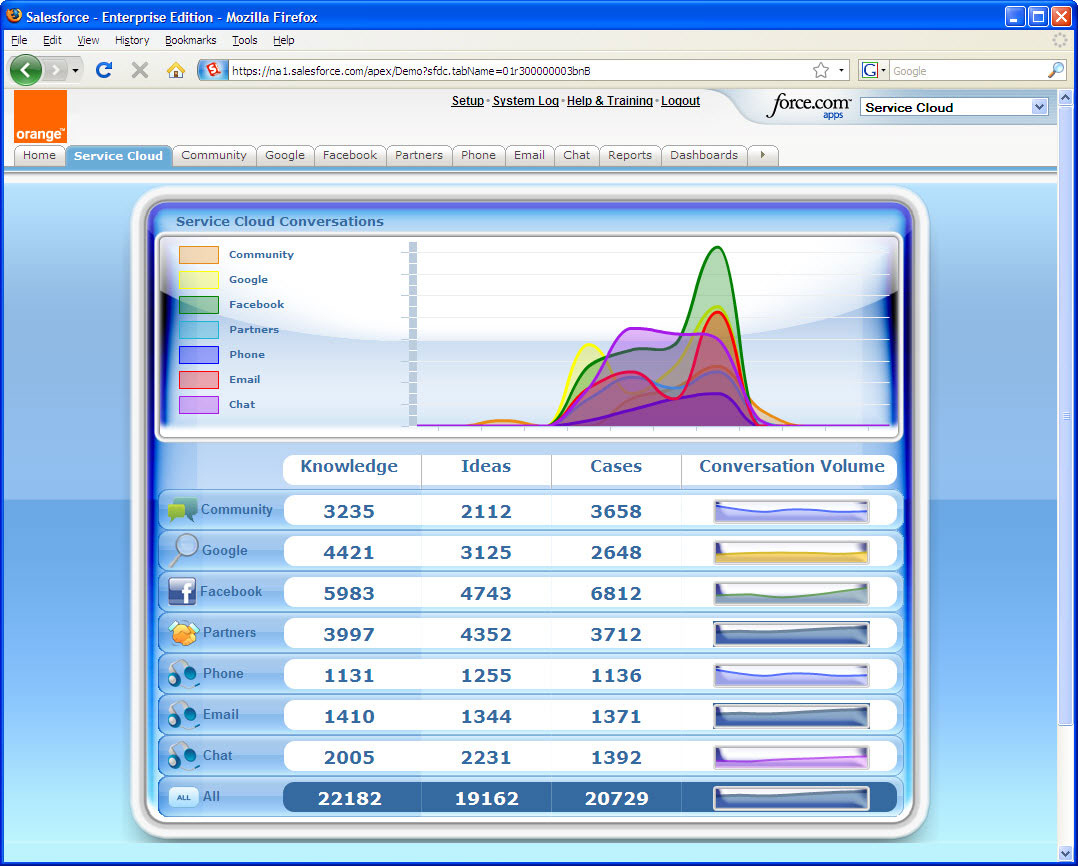 A sample dashboard of a customer service operations in the cloud built with Visualforce (click image to enlarge).
Partners that are also Salesforce.com customers can be linked through the Salesforce-to-Salesforce integration option from the company that allows customers and partners to pass data between their CRM applications. Partners who are not Salesforce.com customers can extract the data through a secure website.
Much of the knowledge base capabilities came from Salesforce.com's acquisition of Instranet, a knowledge management software firm, in August of last year.
"What's interesting is they've been pushing the cloud concept and hosted applications and have done that with Salesforce.com and the Force.com platform," said Chris Fletcher, research director with Boston-based AMR Research. "With Instranet they're not as far ahead with it in the cloud and being truly multi-tenant. The integration capabilities aren't there yet with Instranet."
In addition, the company's decision to hitch itself to Facebook, particularly when it has its own community building offering with Ideas.com, puzzled the SSPA's Ragsdale.
"Salesforce is a B2B company, [sales force automation] is a B2B product," he said. "It's a tough sell into an enterprise to tell existing SFA customers that they should start using Facebook as a corporate community or a customer community. There's no control over who can access and view comment in these communities. It's missing key features in a support-oriented platform, like user ratings or the ability to flag product experts. You're giving away ownership of forming the community. It's a totally open kimono."
Many organizations are new to social networking sites, Ragsdale added, and they will need help in getting the system up and running and incorporating it into their existing business processes.