News
Stay informed about the latest enterprise technology news and product updates.
Oracle enhances Siebel CRM software, tinkers with gadgets
Oracle has issued its second release of Siebel CRM software since acquiring the company and is throwing in some free gadgets.
Oracle is releasing a set of enhancements to its flagship CRM product, Siebel CRM -- its second release since acquiring the company -- and is throwing in free gadgets to boot.
Siebel 8.1.1 will come equipped with Oracle CRM Gadgets for Sales, the latest release in the company's push toward Social CRM. Gadgets, or mini-applications that combine information from a corporate CRM system with information from the public Internet, are available via a free download from the Oracle website for existing Siebel customers and Oracle CRM On Demand customers. Integration with PeopleSoft CRM applications will be built out soon, but "they came kind of late to the table," said Dipock Das, senior director of CRM at Oracle.
Oracle CRM Gadgets for Sales can run on the desktop on Windows, Mac and Linux operating systems. The second release, due next year, will include support for the gadgets to run in Web browsers and an iGoogle page.
The first gadgets released include: My Contacts, which allows users to click to call or click to email people in their CRM contact lists and search across multiple Internet bases and social networking sites; Top Accounts, a mash-up of CRM account data with information from the Internet, such as financial news sent via RSS feeds; Top Deals, which provides insight into deals expected to close in the current reporting period; and Search, which offers a desktop search tool to easily search for data in Siebel CRM databases.
"We focused on the things end users do most frequently," said Mark Woollen, vice president of CRM product strategy at Oracle. "It's designed to make easier a lot of the thornier things -- just entering data is somewhat challenging to do on a consistent basis for salespeople."
Paul Greenberg, president of the 56 Group LLC, in Manassas, Va., said the gadgets are a good development for Oracle, particularly as they connect to Oracle's other Social CRM applications like Sales Library and Sales Prospector.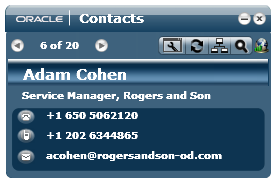 "I like them, but of the five, the most important to me is search," Greenberg said. "If in fact that's able to connect to social applications or can be associated with Sales Prospector, that's a huge value. If I forward a deal in Sales Prospector, and I want to know what presentations are my best options for closing the deal and I can just go into this widget and don't have to log into the application and muck around in the metadata, I can simply pull it out.
"The other four are useful," he said, "but they're really a mobile dashboard."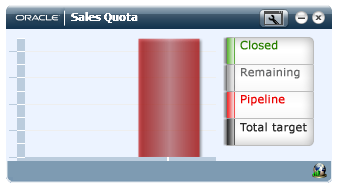 Built on open standards, the Gadgets can in fact be extended to the rest of Oracle's family of CRM applications, Woollen added.
"We built a mini-communication persistence mechanism. They just have to plug their own service in," Woollen said. "One of the things we endeavored to do was, even though services are unique to each environment, it's actually the same gadget. It's just pointing to a different set of services."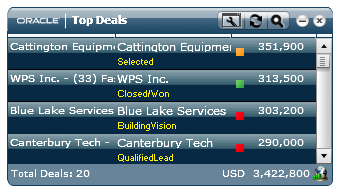 The open standards should also reduce problems associated with customization.
"We're also delivering tools to our customers to tune the gadget to meet their own customization," Woollen said. "We released them so they work with existing interfaces. As customers change Siebel instances, we don't want them to have to write code to get the gadgets to work."
More in Siebel 8.1.1
Siebel 8.1.1, available at the end of the month, also provides customer self-service for communications and public-sector companies, as well as improvements to Siebel chat and more comprehensive search capabilities. The release also features loyalty enhancements for airlines and telecommunications. American Airlines was a beta user.
"When we work with these companies, they want, No. 1, an engine that allows them basically to not just create a program but to do all the calculations, ascribe value for points or membership levels, and do pricing at a dynamic level and by membership level across multiple currencies and accept multiple modes of payment," Woollen said.
The Siebel upgrade is a bigger step than the gadgets, according to Greenberg.
"They seriously enhanced the Web self-service," he said, "and that's really important on top of the loyalty additions."