News
Stay informed about the latest enterprise technology news and product updates.
Oracle previews iPhone, social CRM applications
Continuing its push toward social CRM, Oracle this week showed off its new Web 2.0 applications built to sit alongside traditional CRM applications and new iPhone CRM applications.
SAN FRANCISCO -- Oracle continued to stress the social aspects of its CRM platform at its annual OpenWorld conference being held here this week.
In addition to the Sales Prospector application it introduced last year and demonstrated at the Enterprise 2.0 conference in Boston this summer, Oracle this week previewed Sales Campaigns and Sales Library.
It also released two new CRM applications for the iPhone.
"We believe there is a fundamental disruption in customer relationships," Anthony Lye, senior vice president of Oracle CRM and a veteran of Siebel Systems, said. "Customers no longer want to engage with vendors in the way they have previously. The way I built CRM systems has fundamentally changed."
Oracle views CRM as falling into three hierarchies: the transactional model that CRM vendors have traditionally followed, providing insight to managers, but providing little value to end users; an analytical model that relies on business intelligence and insight; and social CRM, expanding on Web 2.0 technologies and the consumer Web by bringing collaboration to CRM software.
"We have actually built very good applications, but they've been for a specific purpose. And that purpose has focused on top-down hierarchical business processes," said Mark Woollen, vice president of social CRM with Oracle. "But what you start to realize is there's a whole set of things that salespeople do that is not always in the context of a previously understood tops-down business process."
That other set of functions relies on collaboration and communities, a notion that is not necessarily new but is just now being built into enterprise software.
"We've been hearing about CRM 2.0 for a while and we've seen a lot of progress on a point solution basis," Denis Pombriant, managing principal with Stoughton, Mass.-based Beagle Research Group. "This is one of the first examples of a company taking a more strategic view of the need for social CRM. The hierarchy or division they've come up with makes a great deal of sense. They're not the only people talking about it, but I think that's the right sort of growth path."
Loosely coupled applications built on Oracle Middleware, the three social CRM applications are offered on an on-demand basis and can sit alongside Oracle's other CRM products, pulling information from the CRM system as well as ERP data.
Sales Campaigns allows salespeople to rate, manage and execute the campaigns that perform best for their customers, based on size, industry, region or other factors. It includes analytics that measure the effectiveness of email marketing campaigns.
Sales Library allows salespeople to find, assemble and share sales materials such as slides that help them close business more quickly.
Oracle also plans to release a social CRM product called Deal Manager.
"It's designed to address one of the greatest challenges salespeople have," Woollen said. "We've taken this notion of this socially driven view of deal data. When I am quoting a deal I want to get approved, how do I know it's in line or out of line? For whatever customer and segment, I can get a sense of where my price comes in versus [the pricing from] other salespeople. This is something salespeople already do -- but in email fashion and asking around the office."
Oracle is also developing CRM gadgets that rely on traditional Internet technologies like iGoogle, allowing users, for example, to pull information on clients from financial publications via RSS feeds and mashing that up with enterprise data.
Woollen did not reveal delivery dates for Deal Manager or Gadgets. However, users can expect social CRM applications to come faster than traditional CRM releases from Oracle.
"With the agile methodology, we have been able to dramatically accelerate our time to market," Woollen said. "There will be two to three drops of these applications each year and you'll see us in version two of Sales Prospector very soon. You'll see us pretty quickly building out industry capabilities."
Is the market ready for social CRM?
While Oracle is forging ahead, the customer demand for these new applications is still emerging.
"The appetite is still somewhat nascent, but it's emerging," Pombriant said. "Oracle is still going to have to go out there and educate customers about what they do and the need for what they do."
Thomas Pettersson, business leader of sales operations at Visa Inc., touched on the idea at a session here earlier this week.
"I wouldn't say we're actively looking at technology for social CRM, but what is definitely a very clear trend with our sales guys is there's a lot of commotion in the financial markets," he said.
For account executives who call on banks and other accounts, they want to find out what the latest news is.
"They want to find out is there a merger, is someone going under while I'm calling on this guy," Pettersson said. "Getting this info in a CRM portal, together with all the other information, is something we're interested in looking at for the future. Right now, it's at; the water cooler: 'Have you heard about what's going on with Bank of America?'"
Meanwhile, DirectTV Inc. is beginning to look externally to social networks for customer feedback and bringing it back into its CRM application.
"It's a culture shift for us," said John Powers, senior vice president of IT. "There are a lot of forums out on the Web that will share information about a set top box. We will go out and get that and bring that back. We have several tables within the CRM application relevant to that hardware. We've learned info in forums or something we knew about internally that we'll pop to a customer service agent."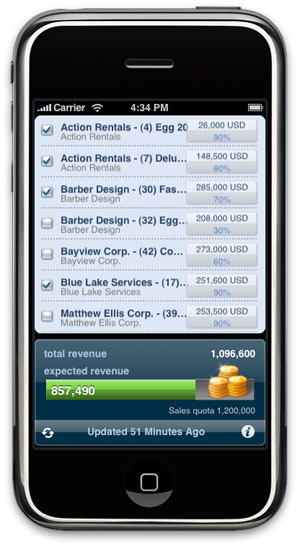 Oracle's new applications bring CRM to the iPhone. (Click to enlarge image.)
Socially mobile
Oracle also unveiled two new CRM iPhone applications this week.
The Oracle Mobile Sales Assistant and Oracle Mobile Sales Forecast will be available as free downloads from the Apple App Store in November.
"The mobile device is evolving as a mature channel in and of itself," said Ed Abbo, senior vice president of applications with Oracle. "In addition to the Web and retail, it's an area we're investing in very heavily in terms of applications."
Oracle debuted iPhone applications with the release of the iPhone 3g this summer. It released Business Indicators, which brings information from Oracle BI Enterprise Edition to a user's iPhone.
The Mobile Sales Assistant allows users to update Oracle CRM contacts, leads, accounts and users within the iPhone. Mobile Sales Assistant brings users the Calendar Task List and Message Center.