News
Stay informed about the latest enterprise technology news and product updates.
Google and Salesforce.com form alliance
The two cloud computing giants are bringing their business applications together in a move that provides an on-demand alternative to Microsoft.
Google and Salesforce.com made public today one of the worst-kept secrets in Silicon Valley -- they are teaming up to bring their business applications together.
"Many rumors have been circulating around the Web in the last week and those rumors are true," said Kraig Swensrud, vice president of applications for San Francisco-based Salesforce.com. "Companies can run their business in the cloud with a unified set of applications from Salesforce.com and Google."
This is not the first partnership of what many would call natural allies, competing with formidable opponents such as Microsoft and Yahoo. The two vendors have partnered around each company's respective philanthropic organizations, and several years ago Salesforce.com bought Kieden Corp., a company, founded by Swensrud, that integrates Salesforce.com with Google AdWords. The technology ultimately became a Salesforce.com product last year, in coordination with an agreement between Salesforce.com and Google to sell each other's products.
Today's move brings Google applications -- Gmail; Google Docs, its word processing, spreadsheet and presentation software; Google Talk, its instant messaging application; and Google Calendar -- together with the Salesforce.com CRM applications.
"We believe this is an entirely new way for people to work," Swensrud said. "People can collaborate and communicate online in real time. There's no integration required, no software, no hardware; with upgrades and versioning you always get the most current upgrade."
Google adds its presence
Indeed, the collaboration functions that Google brings to Salesforce.com are a significant step, according to Sheryl Kingstone, director for customer-centric strategies with the Boston-based Yankee Group.
"This is what I wanted to hear last year," she said. "I love the seamless integration with Google mail. I also love the integration of Google Talk for presence and IM. One of the things we see in our enterprise surveys is the top requirements are around collaboration."
Integration between the two on-demand platforms allows users to push Gmail messages and Google Talk conversations into the Salesforce.com application to, for example, share information about a lead, Swensrud said. Additionally, sales teams can access and collaborate on documents like sales presentations.
"Historically all these things have been managed with software," Swensrud said. "Someone would create a document, email different versions around, with no one able to work on the document at the same time. Then you go on sales call and no one knows who's got the right version of the presentation."
While Salesforce.com could not give an exact figure for the number of its users who are running Google applications, the Salesforce.com universe of 1 million paying subscribers and the 10 million Google applications users mean "huge numbers in the intersection and a huge opportunity to expand beyond that intersection," Swensrud said.
Office killer?
However, don't expect this partnership to be the end of Microsoft Office applications. Companies are still struggling to get reports created in anything but Microsoft Excel, and Microsoft Outlook remains the primary interface for many a sales force.
"The negative is, large enterprises are not going to displace Microsoft Office just because of the integration, but it does provide alternatives to companies that want to use something else for now," Kingstone said "It's perfect for small and medium-sized businesses that don't necessarily want to invest in the Office suite."
In fact, today's announcement should benefit both Google and Salesforce.com equally, according to Jeff Kaplan, managing director with Wellesley, Mass.-based THINKstrategies.
"This is not necessarily going to represent the downfall of Microsoft Office anytime soon, but it certainly represents an escalation of Google apps as a viable alternative and certainly strengthens Salesforce's CRM," he said. "It enhances Salesforce because it provides added productivity and collaboration while at the same time it helps to legitimize Google as having enterprise-quality capabilities."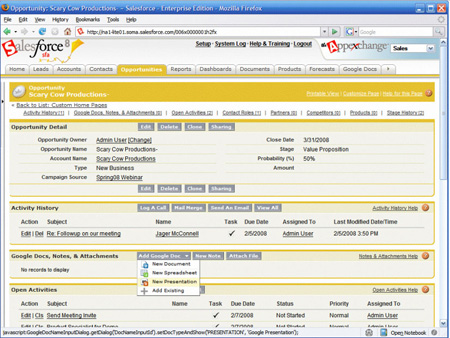 Salesforce.com's new partnership integrates Google Apps directly into the Salesforce.com application. (Click to enlarge image.)
One current Salesforce.com customer sees the potential benefit in the partnership. For Prasan Vyas, a director in charge of sales projects with UST Global, an IT services company based in Alisa Viejo, Calif., Salesforce.com's integration with Google apps makes Google a lot more appealing. UST Global has roughly 6,000 employees and 60 Salesforce.com users and sends a lot of spreadsheets around the organization, Vyas said. When Salesforce.com first offered Office integration capabilities about five years ago, it made life much easier for the company.
"If you can get something right in the Salesforce environment without having to install anything it takes the whole thing to another level," Vyas said. "I think this will really make a lot of people sit up and take notice."
While there's no chance that UST Global will rip out Microsoft Office overnight, the company would consider a move to Google Apps in the future, he said.
Salesforce.com is not suggesting customers have to move off of Office either. In fact, they can make piecemeal changes, Swensrud said.
"In some cases Outlook might be the right choice for a company; what we're announcing is really freedom of choice," he said. "One thing those customers can do: They may choose to continue to run their email infrastructure on Microsoft but completely embrace Google's online docs and Google Talk as corporate chat. The option will always be there for them to move into cloud computing."
Salesforce for Google Apps pricing and availability
Salesforce for Google Apps, as the integrated product will be known, is available immediately for no additional charge to Salesforce.com users. Later this summer, Salesforce.com will also offer a support option. Salesforce.com will provide support for Google premier applications for a charge of $10 per user per month.
Google and Salesforce.com will also bring together their development partners. One partner, Appirio, has developed an application that links Salesforce.com and Google Calendar information together. A sales person, for example, could see that they are meeting with a client on the same day the marketing department is running a webinar and encourage the client to attend in preparation for the meeting.
"Google and Salesforce are serious about collaborating and building a strong working relationship, which not only represents a direct relationship between the two of them that's formidable, but also the two ecosystems of partner organizations which extends the impact of this still further," Kaplan said.
Ultimately, however, the big impact of the integration will be on enterprise application usability, Kingstone said.
"What it really points to is the consumerization of the enterprise," she said. "The younger generation is demanding an easier-to-use application. They don't need all the bells and whistles enterprise applications bring together today. They need to do what they do quickly and collaborate with colleagues. They're all about the Web and putting things online and the last thing we want to do is push them into a siloed desktop environment, because we want to promote what they do best."
Dig Deeper on Topics Archive