News
Stay informed about the latest enterprise technology news and product updates.
The decision maker's guide to contact center quality management
Contact center industry expert Donna Fluss of DMG Consulting reviews 11 vendors in this exclusive report exploring the quality management and liability recording market.
Read part 2 of this article: Vendor reviews
Quality management (QM) and liability recording suites have improved dramatically during the last two years, with more innovation expected during the next 12 months. QM and recording suites now include quality assurance, recording (random and 100%), speech analytics, surveying, performance management, coaching and e-learning. Currently, two of these suites also include workforce management. Increasingly, these suites are being designed to incorporate an enterprise portal framework with advanced reporting. They are also set up to work well in multi-site contact center environments. Software-based Voice over Internet Protocol recording is now a high-value reality, and it is easier than ever for end users to implement.
Product innovation drive ROI
Product innovation is driving end-user demand for quality management suites. The core platforms (QM and recording) yield a rapid return on investment. The expected payback period is six to 12 months from the time the system is fully implemented. Newer applications, such as speech analytics, can speed up the financial return.
The QM/liability recording market continues to be in a state of transition. Vendors are realizing revenue from newly released modules, even though recording (also known as logging) has become a commodity, significantly reducing the price for this functionality. Most recording products are migrating from hardware-based offerings to software. The market also continues to consolidate. In 2005, Witness Systems closed its acquisition of Blue Pumpkin Software (workforce management), Nice Systems acquired Dictaphone's Communications Recording Systems division and U.K.-based Autonomy Corp. acquired Etalk. All these moves are expected to strengthen QM/recording products and the market. New entrants, like CallCopy and Telrex, have also energized the market in the last couple of years.
Market leadership
It's challenging to select a new QM and recording vendor because there are so many good options. Most vendors have enhanced their offerings to include value-added functionality and services to meet the needs of this growing and increasingly demanding market. (See Figure 1 for a market assessment.) This chart addresses each vendor's ability to sell, build products, innovate, implement, deliver service, and support and satisfy its customers.
Figure 1: QM/recording contact center market product/execution positioning reflects the market leadership as of August 2005.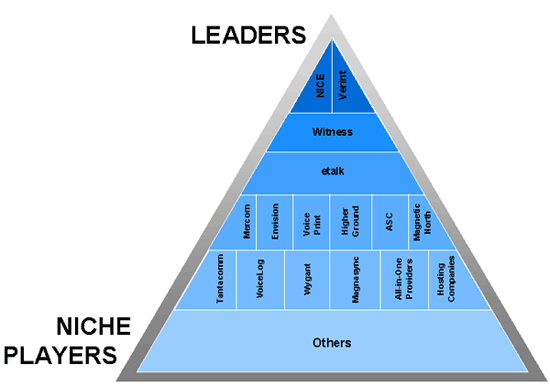 Market share
According to DMG Consulting LLC, as of the end of 2004, the four largest vendors, Nice Systems, Witness Systems, Verint Systems and Etalk, owned 90% of the $463 million contact center recording/QM market. (See Figure 2.) The entire recording market, including contact center, public safety, financial trading and air traffic control, was $814 million as of the end of 2004. DMG Consulting expects the overall recording market to grow by 12.5% to $916 million and the contact center component to increase by 14% to $528 million by the end of 2005.
Figure 2: Contact center QM/recording 2004 market share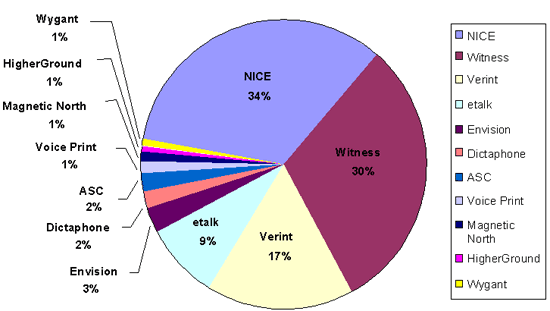 Dig Deeper on CRM strategy and implementation