Share this item with your network:
Technology insights for the data-driven enterprise

WavebreakmediaMicro - Fotolia
Who will buy? Data-driven sales teams aim to know
A handful of companies are giving reps analytics tools to chase down promising leads, diagnose sales performance and forecast business opportunities.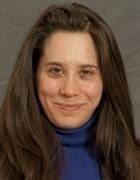 By
When Zendesk went public in 2014, its website traffic spiked. But, oddly enough, the increase wasn't yielding good prospects for the sales team to follow up on.
So the San Francisco-based customer service software vendor turned to the data.
"The No. 1 thing I want to know," said Stephan Blendstrup, Zendesk's senior director of global sales, "is why aren't my leads converting into sales?"
Blendstrup used Infer, a lead-scoring and analytics tool -- which scores prospects according to various criteria and passes on only promising leads to data-driven sales teams -- to identify the nature of the spike. When Blendstrup dug into the data, he quickly realized that many new visitors were interested in the initial public offering, not the software.
Using Infer, the company can reduce the white noise of people who come to the site but have no intention to buy -- and instead focus on high-quality leads.
Although Zendesk runs a data-driven sales team -- "We don't make any decisions without data," Blendstrup said -- the company is an outlier among organizations today. Indeed, exploiting data insights isn't widespread in today's sales culture. While many teams have basic metrics to determine rep performance, most aren't tapping into data to determine which prospects they should spend time on or how to enhance existing customer relationships.
But making decisions without data can undercut sales. According to a CIO Insights report, 58% of sales reps are struggling to meet their quotas, and 40% of respondents said that scattered information and limited visibility into data were hurting sales performance. At the same time, sales quotas are getting higher, with 94% saying they have increased over 2014. In the so-called age of the customer, which has put the ball in the buyer's court, companies may be inclined to simply add headcount. But as The Alexander Group consultant Paul Vinogradov told Harvard Business Review, "They are better off adding a head to interpret data -- to help every salesperson be a certain percent more productive."
It's all in the email
Productivity is precisely what StoryBox CEO Justin Nassiri wanted to improve at his San Francisco startup, which provides digital management and image-sharing software through its website. A former Navy man, Nassiri is laser-focused on optimizing processes to avoid wasted time and maximize sales. Minimizing the number of times a rep has to switch between multiple applications or reducing the number of clicks frees time to nurture customers and close deals.
We don't make any decisions without data.

Stephan Blendstrup, Senior director of sales, Zendesk
StoryBox finds and aggregates photos created by Web users—say, people drinking a certain soft drink or wearing a brand of hat. It obtains the proper copyright and sells the resulting collages to companies that want images of people using their products. As the sales team pitches its idea of a "visual narrative," Nassiri wants data on its performance without overburdening reps. "Time is our scarcest resource," Nassiri said.
The company uses RelateIQ, a data-driven sales intelligence tool that gives managers information about how reps interact with prospects, without requiring lots of manual effort to fetch the data. It also allows salespeople to access most of the information they need through their Gmail accounts, rather than having to switch to RelateIQ. This reduces the number of applications people have to work in to accomplish a task, solving a common problem for all knowledge workers today.
"My salespeople spend 90% of their time in email and 10% in RelateIQ," so when Nassiri asks for data, he said, "it's a simple ask."
Moreover, the tool automates tasks that used to require several manual steps, including tracking email activity with prospective customers. "Those kinds of things are instantaneously provided for us now, and we don't have to go back and do it manually."
For Nassiri, though, one of the primary improvements is this: Now he can address gaps in sales performance. Because the application easily serves up email exchanges in digestible formats, Nassiri can compare two reps' selling skills, for example.
"If one rep finds that he is having success on the first email, and another rep on his fourth, I want them to exchange information," and help the second rep close more deals in less time Nassiri said.
When too much data is too much
With the wealth of data whizzing past sales reps and landing on managers' doorsteps, there's a risk of overload. Nassiri acknowledged that managers can become enamored with asking for data -- to the point where they lose sight of the greater mission: closing deals. He had to heed the feedback from his team.
"I was eager for data, but I was asking the salespeople for a million different things," Nassiri said. "The sales team said it was slowing them down."
I was eager for data, but I was asking the salespeople for a million different things.

Justin NassiriCEO, StoryBox
At Zendesk, Blendstrup uses a cocktail of business intelligence tools to manage the sales team. He uses GoodData to track sales performance and C9 for forecasting, for example. "It's a lot of data," Blendstrup admitted. But he has tried to narrow the team's focus to gauge success. There are only three data points that salespeople need to focus on, he said: the average sales price of a product or service, conversion rate -- the percentage of customers that are acquired because of a given initiative -- and the average time it takes to close deals.
The company garners a fair amount of business that never makes it to the pipeline, so it uses C9 to break down the forecast into categories of likelihood to close, including a percentage of expected new sales based on sales over the past, say, eight quarters. It gives Blendstrup much greater accuracy in his forecasting.
Data-driven sales is really about cutting costs and driving revenue, Blendstrup said. If he can glean the right insight from the data, for example, he can cut off spending that isn't yielding results. "The next step is if we spend $1 million on marketing in December; right now, we won't know if it is working till April. But I want to know that in two weeks," he said. That would let him make faster decisions on diverting budgeted money to more fruitful projects.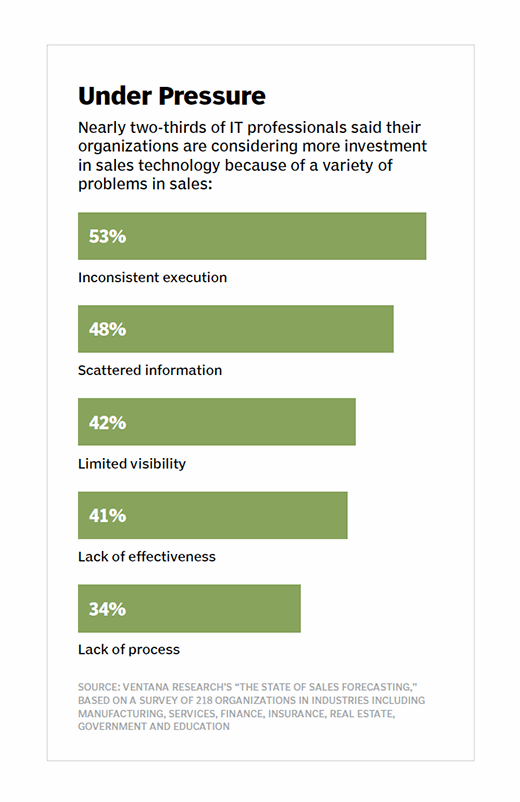 Blendstrup acknowledged that getting data insight needs to be a more rapid, on-demand process. Currently, he relies heavily on Infer to provide the reports he needs, and getting that data can take a few days. "They aren't perfectly optimized to give me the answer I'm looking for immediately."
The future's in the data
Since January, Houghton Mifflin Harcourt has delved into Salesforce Wave, the analytics platform that is part of Salesforce1, to dissect accounts more closely and provide better customer service.
With Wave, sales execs like Lee Ramsayer, executive vice president of U.S. sales at the book publisher, can further exploit opportunities. Ramsayer wants to see whether a sales rep can sell all of HMH's product lines rather than focus on selling just one.
When I got here with those 17 sales forces, [only] about 20% were forecasting in Salesforce.

Lee RamsayerExecutive VP of U.S. sales, Houghton Mifflin Harcourt
Ramsayer said that the forecasting and performance insights are just the beginning; the next step is to better understand customer needs.
HMH could, for example, ingest data from its customers, such as student test scores on exams, and then show a particular school how its test scores have improved over time after buying the publisher's course materials. "Wouldn't it be great to say, 'You've been using our math book for the past three years and performance has improved 10%'?" he said as a hypothetical.
And while this is still a distant-future goal, it's exactly the kind of use of data that companies need to embrace next, said Kate Leggett, an analyst at Forrester Research. "Once you standardize your sales force on tools and processes," she said, "you can … get a better understanding of the customer and what their sales cycle is and [deliver] more personalized engagement to them."
Ramsayer said these new uses of customer data also require caution. There's no barreling ahead. How HMH uses data such as student scores would have to be handled carefully so as not to breach privacy.
Zendesk's Blendstrup hopes to build custom alerts that will trigger when certain thresholds are hit. "I see a time -- and it's on the roadmap -- when I will get alerts, where it tells me by score, regions or formula or whatever the filter is when signals are going up or down," he said. "So I can react in real time."
And ultimately, the data has to serve business goals. StoryBox's Nassiri doesn't collect information just to have every data point under the sun but to promote sales and efficiency.
"One question that I ask myself and my sales manager is, 'To what end are we doing this? What are we going to do with this knowledge?' "