Using middleware for SAP CRM: Optimizing inbound queues
This chapter focuses on the different causes of problems for inbound queue processing in SAP CRM middleware. Each section covers a specific problem in depth and outlines possible solutions.
SAP CRM Middleware Optimization Guide
Continue Reading This Article
Enjoy this article as well as all of our content, including E-Guides, news, tips and more.
Excerpted from the book 'SAP CRM Middleware Optimization Guide', by Juliane Bode, Stephan Golze and Thomas Schröder, ISBN 978-1-59229-121-2, Copyright 2007. Written permission from SAP PRESS is required for all other uses. Copyright © 2007 SAP PRESS America. All rights reserved. Email: [email protected] SAP PRESS America, 11300 Rockville Pike, Suite 1100, Rockville, MD 20852-3030, USA.
Inbound Queues
If we consider the different systems that can be connected to CRM, the SAP R/3 system in particular is the one that can cause problems for CRM due to its large quantities of data. If you change a business object in R/3, the change is transferred directly to CRM and saved in an inbound queue. The inbound queue scheduler takes the data from the queue and transfers it to the R/3 Adapter (see Figure 8.1).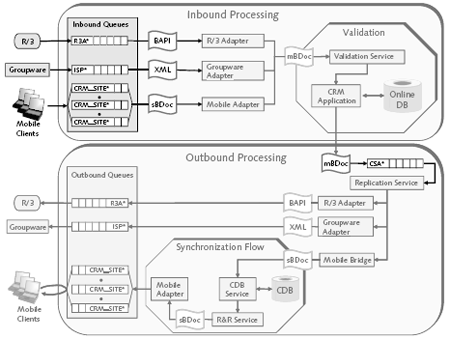 Figure 8.1
This delta supply of data works well in normal operations. However, if a connected system sends a large quantity of data faster than CRM can process it, the data accumulates in the inbound queue, and the corresponding repercussions, as was explained with examples in Chapter 7, Introduction to Performance Optimization, can occur if settings are incorrect. Therefore, the objective should be to optimize the inbound queue processing as much as possible.
All queues in CRM Middleware are based on Remote Function Calls (RFCs). RFC is therefore critically important for processing in Middleware. Inbound and outbound queues are implemented using qRFC (queued RFC), although Replication & Realignment queues are based on tRFC (transactional RFC) rather than qRFC. It is also important to note that, in addition to R3A*, ISP* and CRM_SITE* inbound queues, CSA* queues are also implemented as inbound queues as of CRM Release 4.0. Figure 8.2 shows CRM Middleware from the perspective of RFC. For all inbound queues, there is only one inbound queue scheduler.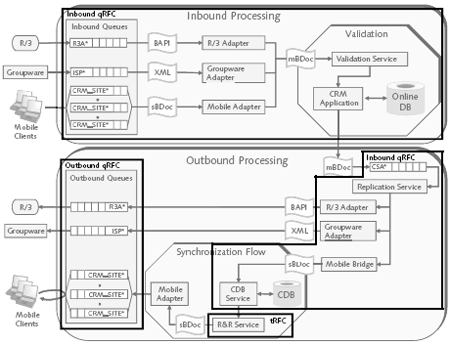 Figure 8.2
Chapter 2, Inbound Processing and Validation, contains a detailed description of inbound queues and qRFC.
Different reasons can account for why inbound queues are processed slowly:
So many inbound queues are created that the inbound queue scheduler experiences problems in processing these queues (see Section 8.1).
Only a few queues are created, however, these contain a very high number of data records and the available resources in CRM cannot be used effectively (see Section 8.2).
All the CRM system's work processes are occupied by the inbound queue processing and a resource bottleneck occurs, which slows down the processing (see Section 8.3).
The inbound processing of individual data records is slow (see Section 8.4).
Dependencies exist between inbound queues (see Section 8.5).

In the following sections, we will describe the different causes of problems for inbound queue processing and introduce possible solutions.

Read the rest of this excerpt and download Chapter 8: Inbound Queues

Read other excerpts and download more sample chapters from our CRM and call center bookshelf

To purchase the book or similar titles, visit SAP PRESS.