Manage
Learn to apply best practices and optimize your operations.
Treat customers well, but stay profitable
This excerpt from The Customer Experience Edge examines the four essentials of customer experience management, why customer engagement is important and how to put them into action.
In this excerpt from The Customer Experience Edge, authors Reza Soudagar, Vinay Iyer and Volker Hildebrand explain the value of customer experience and customer engagement, what they say are oft-overlooked or minimalized aspects in business.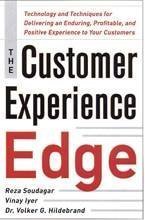 If money were no object, just about any company could provide an amazing customer experience. Given unlimited resources, there is no end to the perks and extras you could provide your customers. And in industries such as luxury retail, where getting noticed is the name of the game, some companies have taken that approach. When you step through the doors of Neiman Marcus, for example, you know that you are in for a deluxe shopping experience. This is something that high-end retailers can afford to do, because customers are prepared for the price of the merchandise to reflect the chichi experience.
Read an interview with the author
SearchSAP's Todd Morrison sat down with author Vinay Iyer to talk about what companies need to know about creating a better customer experience and why he thinks the four "pillars" of trust are important. Click here to read the interview.
But throwing all your money into dazzling the customer is not sustainable for most businesses, especially not in today's world, where customer expectations are constantly increasing. Companies can no longer compete on price and product alone; they need to spend intelligently to develop and offer services and experiences that truly matter to customers and that are difficult for competitors to replicate.
"Treat the customer the way you would like to be treated if you were the customer," advises Peppers & Rogers Group's Don Peppers. "Use the Golden Rule. Imagine your best customer is sitting next to you when you're making decisions." After all, the customer experience must -- in the end -- differentiate you from your competitors. And you need to achieve this differentiation in a way that is consistent and, ultimately, profitable. The "bank of appreciation" that we discussed in Chapter 1 needs to be valuable enough that customers become loyal advocates who trust you and want to engage with you. The value you offer needs to be delivered in a cost-effective way that leads to competitive differentiation and growth. Otherwise, simply put, there is no reason to do it.
"If there's no financial driver, we don't recommend companies do this," says Lior Arussy, president of Strativity Group and author of many books on the customer experience, including his most recent, Customer Experience Strategy. "It has to be something you can point to and say, 'We have moved the needle on either revenues or expenses.'"
Financial goals need to be front and center in the customer experience initiative as part of the business case. Companies can realistically aim for several financial drivers, in addition to new ways to measure business outcomes. (We will discuss these topics in more detail in Chapters 6 and 10.) Briefly, realistic business drivers can include higher revenues, the ability to institute premium pricing, improved customer retention rates, more word-of-mouth marketing, and reduced costs as a result of streamlined and innovative processes.
The Building Blocks of Trust
So how do you get there? How do you build that bank of appreciation without breaking the bank? How do you do it in a way that leads to profits and growth? We believe it is all about trust -- a seemingly amorphous concept, but one that we strongly believe is the cement of a business relationship. Only when you have established trust between the business and the customer can you begin to form an emotional bond --"stickiness," if you will -- that cannot be replicated by anyone else and will keep customers loyal to you. We also have found that, on closer inspection, trust is not a blurry concept at all. In our customer experience work, we have determined that there are four building blocks of trust. We call these the essentials of the customer experience edge. These four customer experience essentials are reliability, convenience, responsiveness, and relevance (see Table 2.1 and Figure 2.1).
Of these four essentials, reliability is the most fundamental and is really a prerequisite to the other three. After all, if you cannot consistently deliver on your promises, no one will care about your convenience, responsiveness, or relevance. Once you can deliver on reliability, you can look to the other essentials to develop your differentiation. Furthermore, you can use any one of these four customer experience essentials as a litmus test for assessing the ultimate worth of any action you take in the name of achieving a strong and profitable customer experience.
The importance of these customer experience essentials was validated in the North American survey by Bloomberg Businessweek Research Services (BBRS), in which respondents named the most important elements of a positive experience: reliable products and services, relevance of interactions, responsiveness of the company, and ease (or convenience) of doing business with the company (see Figure 2.2). Throughout this book, we will continue to show, through real company examples, how these four customer experience essentials -- these building blocks of trust -- form the basis of the customer experience edge.
Business strategy, executive ownership, and organizational alignment are the starting points in driving cross-functional processes to achieve a true 360-degree customer experience. The execution of customer engagement processes must be complete from start to finish, or else the nascent tendrils of trust can be trampled in an instant. To see why, let's look at the example of a pet owner who is shopping for medication for her yellow Lab at a Web-based pet supply company. Wondering about the difference between two competing brands, she clicks on the "chat" button and quickly gets a response to her question. Impressed, she places the order, specifying standard shipping, and over dinner that night with her family, she recounts the positive experience.
A week and a half passes, and the order has not arrived within the time frame promised. Having had good luck with chat, she tries this approach again. This time, however, the service rep is unable to help her, as he has no visibility into the order-tracking system. To make matters worse, he tells her that she needs to e-mail or call customer service. She sends an e-mail and then has to wait a full 24 hours before getting a response informing her that, indeed, her order had been shipped three days previously and that it "should" be arriving in the next few days. Eventually it does arrive. However, the customer is likely to examine other options and competitor sites before putting an order through this site again. The opportunity to retain this formerly satisfied customer -- let alone turn her into an engaged, loyal advocate -- has eroded (not to mention the increased likelihood that she will send a negative tweet or post her disgruntlement on her Facebook page).
This example illustrates several things:
One-time experiences—no matter how terrific—do not build trust. You need to be consistently good across all phases of customer interaction, regardless of channel. In the BBRS survey, 82 percent of respondents named multichannel consistency as an essential element of a positive customer experience.
The first experience is very important. You have only one chance to make a first impression with a prospect.
Get the basics right. You can develop gratifying experiences, such as online chat, but these need to be layered on a strong foundation of working business processes and cross-functional data visibility.
Once established, trust leads to stronger bonds between customers and the business. Without this bond, customers may be satisfied, but they will never become passionate, loyal advocates of the brand.
Without trust, you cannot hope for loyalty, advocacy, engagement, or participation -- all of which are the cornerstones of the customer experience edge. It is only when trust develops that customers will be inclined to, say, provide feedback on how they would like to see a product evolve. Even then, you need to be able to act on that feedback (a customer experience element named by 84 percent of BBRS survey respondents). If your customers give you good ideas and you execute them well, differentiation is within reach.
"Too many companies are treating [the customer experience initiative] as the deliverable and whiffing on the practical delivery of service," says Denis Pombriant, founder of the consulting company Beagle Research Group.
ABOUT THE AUTHORS:
Reza Soudagar
Reza Soudagar has more than two decades of experience in business consulting, IT strategy, and the development of customer relationship management (CRM) solutions. He held senior leadership positions at Accenture and Oracle, serving clients in the high tech and communications industries, and was responsible for a number of products in Oracle's CRM suite. Currently, Reza is an executive in SAP's global marketing unit and focuses on customer experience. Reza has bachelor's and master's degrees in electrical engineering from the École Polytechnique Fédérale de Lausanne and completed an executive education program at Harvard Business School.
Vinay Iyer
Vinay Iyer brings more than 20 years of experience as an engineer, product manager, sales and business development manager, and marketer to this book. Currently, he's the vice president of global marketing at SAP. Prior to joining SAP, Vinay held roles in product marketing and product management for over five years at Siebel Systems in the United States and in Europe. He frequently speaks at customer engagement conferences and is now championing SAP's rapid growth in the market in the overall customer experience management space. Vinay has a master's degree in electrical engineering and an MBA from the Wharton Business School.
Dr. Volker G. Hildebrand
Dr. Volker G. Hildebrand has two decades of experience as an expert on CRM, ranging from researcher, author, professor, and software industry professional. With a doctorate in business economics, an MBA from the University of Mannheim, and a degree in business and technology from the University of Stuttgart, Volker has been an instructor and pioneering researcher on how to optimize the relationship between a customer and its suppliers. He's also done CRM consulting for large international companies and held various leadership positions at SAP in sales, marketing, and product management for CRM and e-commerce applications. Currently, he's vice president for CRM solutions at SAP.
Volker is the author of several books and more than 100 articles on CRM. Database Marketing & Computer Aided Selling was published in 1993, and his articles have appeared in many journals: the German edition of the Harvard Business Review, absatzwirtschaft (Germany's leading sales and marketing journal), and the CRM Project, HMD, Marketing ZFP, and SAP Insider journals.