The leading CRM tools offer a full range of functionality
Choosing the right CRM suite requires meticulous planning, careful consideration of your organization's needs and requirements, and attention to detail.
There's a CRM platform or marketing automation suite for every company size, every price range, and on-premises hosting or cloud deployment. They include a broad range of functionality, from traditional to cutting edge. The tough part for most organizations is sorting through all of the products to make the best choice.
Here, we've tried to make the purchasing process less intimidating by providing a roundup of the leading CRM tools for sales, service and marketing. All of the vendors covered offer strong products, and they go out of their way to show what they do best. If you've done your homework by first assessing your needs and pegging them to business goals, the best options should be obvious, making the purchasing decision easier.
Most of the CRM packages examined here offer the core functions, which generally include sales marketing and customer support. In some cases, this can extend to contact management, lead generation and monitoring, marketing automation, customized sales, and marketing messaging and campaign management. Pricing for these CRM tools typically is subscription-based.
Adobe Marketing Cloud
OS: Windows, macOS, Linux
Deployments: Software as a service (SaaS)
Business size: All sizes
There's a CRM platform or marketing automation suite for every company. The tough part is sorting through all of the products to make the best choice.
The Adobe Marketing Cloud enterprise-level platform offers customer engagement features and efficiency tools. It consists of integrated modules that address analytics, online user targeting, campaign management, social media marketing, content and channel management, user profile management, and campaign forecasting. A separate platform offers tools to help organizations understand and maximize audience engagement with premium TV and film.
Adobe's cloud platform is integrated with the Microsoft Dynamics 365 platform and can access the sales and marketing data stored in Dynamics. This integration enables organizations to perform customer sales lifecycle management, audience segmentation and synchronized content delivery.
The Adobe platform shares applications with Salesforce, Oracle and SAP CRM platforms, and features open APIs for third-party integration with even more CRM systems.
Each module of the Adobe Marketing Cloud is priced separately, and the overall cost is based on the modules selected.
HubSpot CRM
OS: Windows, macOS, Linux
Deployments: SaaS
Business size: Small to midsize
HubSpot features core CRM functionality, strong social CRM integration, customer lifecycle functionality and integration with other HubSpot Inc. products, including HubSpot Sidekick for Business. HubSpot CRM also provides enhanced data collection capabilities.
The product's customer lifecycle features include customer integration with Google Apps and email services, such as Gmail and Microsoft Outlook, as well as a contact timeline that tracks customer interactions and offers alerts and notifications.
The software's data collection features leverage an integrated data warehouse with information from millions of companies worldwide, which HubSpot updates when information is added to a user's database.
The product's data enrichment functionality goes beyond demographics and profile information and adds relevant information across a variety of domains and formats, such as news stories, blog entries and other media-based data.
The database may contain information on specific people to help facilitate personal contact. This personal data collection extends to the product's social media functionality by importing social media-based information, including profile data and images of contacts, automatically.
HubSpot CRM includes an open API for integration with other services.
Pricing starts at $200 per month for 100 contacts; $800 per month for 1,000 contacts; and $2,400 per month for 10,000 contacts.
Editor's note
Using extensive research into the CRM market, TechTarget editors focused on the vendors that lead in market share, plus those that offer traditional and advanced functionality. Our research included data from TechTarget surveys, as well as reports from other respected research firms, including Gartner and Forrester.
Infusionsoft
OS: Windows, macOS, Linux
Deployments: SaaS
Business size: Small
Infusionsoft provides core functionality for business-to-business (B2B) and business-to-consumer (B2C) organizations. The product includes contact management, customer engagement tracking, and lead capture and prioritization, as well as automation for marketing, billing, payments and customer follow-up.
Infusionsoft's marketing automation features enable users to maintain personalized communication with customers via different channels, as well as sales automation to coordinate histories of customer interactions with support.
The sales and marketing components work together to help organizations create campaigns that can be personally customized for existing customers, as well as more general appeals to new customers. This campaign component is enabled through a drag-and-drop interface.
Infusionsoft features strong e-commerce functionality, including the main features for public-facing transactions -- online storefronts, billing and inventory tracking.
Its social media features include content curation tools, automated audience engagement and a social listening app. Users can monitor those channels to retrieve customer sentiment and feedback, and can create customized, customer-engaging promotions for social media, as well as scheduled announcements.
The Essentials edition is $199 per month, the Deluxe Sales edition is $299 per month, the Complete edition is $379 per month and the Team edition is $599 is per month.
Marketo
OS: Windows, macOS, Linux
Deployments: SaaS
Business size: All sizes
Marketo Inc.'s marketing platform is built around email as a primary engagement channel. Its marketing features are augmented by tools for customer retention, including analysis of customer behavior data for engagement enhancement, user rewards and gamification, which engages users online to encourage social sharing of the brand.
Other marketing features include marketing automation, lead generation and lifecycle workflow, campaign budget management, social media marketing, an analytics-driven sales insight tool, and analytics-supported customer content creation. Marketo also provides financial analytics.
The platform's social media functions include brand ambassador development, which helps companies identify brand enthusiasts and incentivize them to promote the company's products and services.
Marketo integrates with Salesforce, Microsoft Dynamics 365 and SugarCRM, and it communicates with these CRM platforms to provide a bidirectional exchange of data to enhance lead pipeline management and prioritization.
Pricing starts at $1,195 per month.
Microsoft Dynamics 365
OS: Windows, macOS, Linux
Deployments: SaaS, on premises
Business size: All sizes
The Microsoft Dynamics 365 SaaS suite provides core CRM features, several peripheral components and a host of integrations with other CRM products and third-party apps. Dynamics CRM is suitable for B2C and B2B use.
The platform provides core sales, marketing and service functionality, including lead management, campaign management and customer tracking. Enhanced features enable users to provision customer insights, to perform multichannel social marketing and monitoring, and to map social media activity for trend analysis.
Because the Dynamics products are deeply integrated with the Microsoft Office suite and other prominent offerings, such as Power BI, their analytics components are strong and provide flexible reporting and visualization features, and can easily interface with external data sources, including Excel.
As with most Microsoft cloud-based offerings, Dynamics 365 can be implemented on in-house servers, as well as with a hybrid cloud on-premises architecture that situates its components wherever they serve the company best. However, note that while the suite can run from the cloud on multiple operating systems, it can only run on premises on Microsoft Windows.
Pricing for Dynamics CRM Online begins at $8 per user per month for the Team Members edition, the Dynamics 365 Enterprise Edition Plan 1 is $115 per user per month, and Plan 2 is $210 per user per month. Pricing for the on-premises edition is license-based and is handled on a case-by-case basis.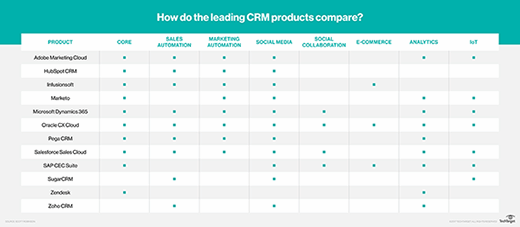 Oracle CX Cloud Suite
OS: Windows, macOS, Linux
Deployments: SaaS
Business size: Midsize and enterprise
Oracle's Customer Experience (CX) offers a collection of cloud CRM tools that cover sales, marketing, service, commerce and configure price quote (CPQ), and they are appropriate for both B2C and B2B organizations. Users can customize many of the Oracle CX modular cloud features for increased functionality.
The platform's customer engagement components stand alone, enabling users to mix and match these applications according to what best suits a particular minicloud application, as they are known.
The CX Sales, Marketing and Service Clouds provide core CRM functionality for customer engagement; campaign management; and multichannel, personalized contact. The Sales Cloud functionality includes automation, customer management, analytics, sales performance management and sophisticated dashboarding. The Marketing Cloud tools include social media monitoring, sentiment analysis and campaign tracking.
A feature of the Service Cloud enables users to create customer contact centers, expanding the user's ability to engage when help is needed. The product provides incident tracking and management, as well as facilitation of peer-to-peer contact.
The Commerce Cloud provides standard e-commerce features, along with online storefronts, pricing and promotion components, catalog management, and inventory. Templates for creating storefronts may be customized, and site building is achieved through a convenient drag-and-drop interface.
The CPQ Cloud offers product configuration, pricing and quoting for pricing management and handling orders. Sales personnel can create quotes and proposals and implement discounts and promotions.
Pricing is by minicloud. A CX Cloud for Midsize option is offered, and it includes the Sales Cloud, Service Cloud, CPQ Cloud and Marketing Cloud. Customers can choose which miniclouds they want. Pricing is based on the total number of hosted users, at $100 per user per month.
Pegasystems CRM
OS: Windows, macOS, Linux
Deployments: SaaS, on premises
Business size: Midsize to enterprise
Pega CRM is built around business process management principles, which is logical, since Pegasystems Inc. is known for its business process management systems.
Its core CRM tools include campaign management, lead generation and multichannel customer access. Its sales tools enable sales representatives who interact with customers to leverage analytics for enhanced customer engagement.
Innovations include predictive marketing analysis and a sophisticated customer service product with sophisticated ticket management features that can optimize service response. This makes it a particularly good fit for large companies with a high volume of inquiries or support requests.
Pega's customer-centric analytics enable organizations to anticipate what customers want and to introduce customer behavioral data into high-level marketing strategies. These analytics can also integrate with customer support and retention workflows.
Customer engagement can occur across many channels, including email, voice, social media or online chat.
Pricing is on a case-by-case basis; contact Pegasystems for a quote.
Salesforce CRM
OS: Windows, macOS, Linux
Deployments: SaaS
Business size: All sizes
Salesforce Sales Cloud enables users to import customer and company data from external sources, such as business services company Dun & Bradstreet. Sales forecasting tools can track sales team activity via a real-time dashboard. Extensive workflow features include real-time approval, customizable forms for data capture in the field, and strong integration between marketing and sales components. Users can communicate in real-time via an embedded social channel that syncs with Microsoft Outlook for email and calendar management and interfaces directly with Gmail. Salesforce's Einstein AI functionality provides analytics on demand for the CRM tools.
Pricing starts at $25 per user, per month for basic sales and marketing functionality; full functionality is available for $75 per user, per month. Full customization is $150 per user, per month, and unlimited support is $300 per user, per month.
Service Cloud features the Lightning Service Console, which offers a 360-degree view of customers; Case Management for high-visibility case resolution and customer transaction history; and
Omni-channel Routing
, which matches cases with the most qualified agents. It enables direct customer service on social media; telephony is integrated with top computer-telephony integration systems.
Pricing for the Service Cloud is $75 per user per month for the Professional edition, $150 per user per month for the Enterprise edition, and $300 per user per month for the Unlimited edition.
The Marketing Cloud Journey Builder tool helps teams build lasting customer relationships that extend across domains and channels to include every customer touch point. Pardot marketing functionality can be integrated with sales features to facilitate marketing automation with advanced analytics. Social Studio enables social media monitoring and bidirectional engagement features; Advertising Studio facilitates campaign management and digital advertising. Contact Salesforce for pricing.
Finally, Commerce Cloud Digital and Commerce Cloud Order Management fold artificial intelligence into a personalized digital commerce customer experience, enabling one-to-one product recommendations and fine-tuned search results. Multi-Site Management functionality allows centralized control, with top-down product, process and catalog management.
Order Management features include inventory optimization and order processing capability, integrating views of orders, customers, products, inventory and promotions. Contact Salesforce for pricing.
SAP CEC suite
OS: Windows, macOS, Linux
Deployments: SaaS
Business size: All sizes
SAP offers its Customer Engagement and Commerce products as modular minicloud options -- single cloud platforms with specialized functionality. They provide core CRM and e-commerce features, as well as a dedicated social media platform and analytics utility.
Although these clouds are available to companies of all sizes, they're best suited to larger B2B and B2C organizations.
SAP's sales and service clouds offer conventional CRM functionality for lead management, sales performance management, multichannel interaction and task management. It also offers enhanced features such as embedded predictive analytics for sales, and email response management that tracks customer interaction history for service personnel.
Campaigns can be created and monitored on the sales side, and the service cloud can monitor service performance in real time. Both clouds feature real-time, peer-to-peer communication between users to facilitate a rapid response to customers.
The SAP Hybris Marketing Cloud offers components for lead generation based on market analysis, which users can also leverage to create effective marketing campaigns. This enables users to customize marketing campaigns to analyze customer profile data for optimized initial engagement.
The SAP Hybris Commerce Cloud e-commerce platform can process sales on multiple channels, from point-of-sale systems to social media to call centers. It includes tools for managing order and product information, as well as tools for managing the customer experience in purchasing.
SAP Jam, the collection's tool for social collaboration, enables both customers and in-house colleagues to communicate. As with most enterprise social CRM platforms, its features include document sharing and ad hoc group management.
Each cloud is priced separately.
SugarCRM
OS: Windows, macOS, Linux
Deployments: SaaS, on premises
Business size: All sizes
Offered as both SaaS and on premises, SugarCRM provides core sales, marketing and service management functionality. It offers an array of business support functions, including scheduling, project management, workflow and custom reporting. Sugar's core features include augmented campaign management, which takes advantage of the product's flexible dashboarding and reporting capabilities.
SugarCRM's activity stream feature enables collaboration between users, and users can deploy the product's workflows to aggregate customer and sales data for reporting purposes.
Sugar can use the leading social media platforms to track the profile activities of contacts online for both sales and support purposes. The product can also manage customer inquiries via social media. Although Sugar has no e-commerce functionality, it integrates with other e-commerce platforms.
SugarCRM is open source, making it highly customizable, especially for reporting, which is SQL-based. Several open APIs facilitate customized integration with other apps, and Sugar can be readily integrated with several online data services.
The Sugar Professional edition is $40 per user per month, the Enterprise edition is $66 per user per month and the Ultimate edition is $150 per user per month.
Zendesk
OS: Windows, macOS, Linux
Deployments: SaaS
Business size: All sizes
Zendesk is a niche platform focused specifically on the customer support function. The platform features a strong mobile implementation. Customer support features include components for proactive customer engagement, as well as an array of tools that support customer dialog, and analytical tools to support customer service.
The platform offers features common to most customer service systems, including ticket creation and management, incident tracking, and customer support lifecycle management. Zendesk's integrated email system converts inbound emails into support tickets.
Zendesk also provides a configurable help center that organizations can use to build an in-house knowledge base that both internal and external users can access for support and service information and incident resolution.
Zendesk tracks customer interactions throughout service incidents and provides integrated phone, chat and email dialog support. This includes Zendesk Chat, its live chat utility, and Zendesk Talk, an integrated phone service that works directly from the platform. Both can be embedded in external mobile apps and webpages.
The Zendesk mobile app, which runs on iPhone, iPad and Android platforms, makes Zendesk well-suited for field and floor use.
There are five plans available: Essential is $5 per user per month, Team is $19 per user per month, Professional is $49 per user per month, Enterprise is $99 per user per month and Enterprise Elite is $199 per user per month.
Zoho
OS: Windows, macOS, Linux
Deployments: SaaS
Business size: Small
Zoho provides traditional CRM features, as well as marketing automation and social collaboration functionality.
The platform's lead management tools are designed to handle leads throughout their lifecycle. Leads can be analyzed externally and acquired from external sources.
Zoho's internal analytics are embedded in the reporting tool. Standard dashboards are also included.
Zoho also offers Zia, an artificial intelligence-driven support app that learns how each salesperson performs day-to-day activities and provides customized performance support, functions and predictions.
Marketing automation includes campaign management functionality and cost management. Zoho's contact management features provide contact tracking, a rule-based assignment system to match contacts to sales or service personnel, and the ability to import contact information from the major email platforms.
Social media integration, which is in place for Facebook and Twitter, enables users to track and monitor customer engagement for sentiment analysis, and can be accessed from within the Zoho platform.
An open API is available for custom integrations, and many third-party applications are integrated, including Google Apps. Zoho also offers a mobile CRM app.
Pricing starts at $12 per user per month for the Standard edition, the Professional edition is $20 per user per month, the Enterprise edition is $35 per user per month and the Ultimate edition is $100 per user per month.