Rob - Fotolia
Ten leadership tips for contact center managers
A contact center manager shares guidelines of how fellow leaders can get the most out of their agents when inheriting or 'rebooting' a center.
Contact center agent retention has long been a problem in the industry, and contact center managers often face an uphill battle in motivating agents and promoting a culture of tenure. Contact center turnover rates remain high, with Deloitte research indicating that the more agents a center employs, the higher the turnover of the facility.
There isn't a single roadmap for contact center managers to follow to ensure contact center employee retention, but some common sense measures can foster strong leadership, agent engagement and retention.
For Sarah Stealey Reed, senior call center manager at Deloitte, good contact center management starts with trying to get to know co-workers rather than focusing on the details of the job. She shared 10 tips for contact center managers in their first 90 days on the job during a session at the 2015 ICMI Contact Center Expo and Conference in Orlando, Fla.
Introduce yourself. Make sure that agents and fellow managers know who you are and what you stand for, Reed said. Give co-workers insight into your professional and personal life, either during lunch meetings that establish a personal connection or via an introductory email that profiles you: your personality, leadership style and passions. Take time to get to know those in other departments, such as IT or finance, and show interest in parts of the business that may not seem to have direct bearing on the contact center but that have an impact on the business as a whole.
Listen to co-workers. Take time to hear their vision for the center, their history and tenure with the company and the differences in their responsibilities. Don't make abrupt changes without knowing how people might respond.
Be visible. Join agents on calls and go to lunch with them. Mix up work hours to be more accessible to a broader group of employees and see whether the culture changes during different segments of the day.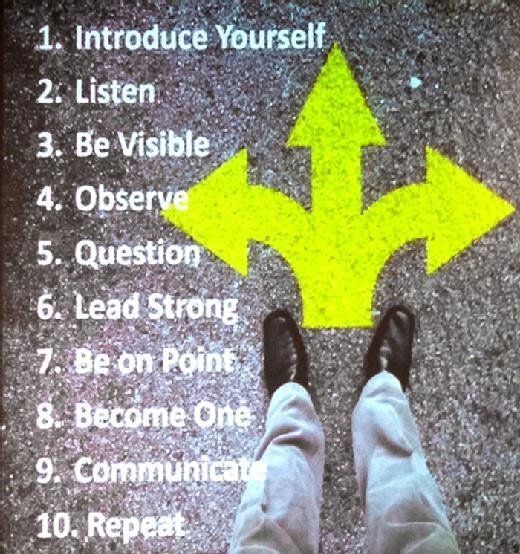 Observe employee interactions. Listening to co-workers should also encourage you to observe interactions among employees, rather than blurt out your opinions. Be cognizant of team dynamics and politics and aware of barriers in the center's culture, such as the "We've always done it this way" excuses that could become opportunities for innovation.
Leadership is not just about people; it's about engaging them and being invested in their future.

Sarah Stealey Reedsenior call center manager, Deloitte
Question current practices without judgment. Consider new ways of approaching problems and current practices, focusing on the why. Curtail your influence and be careful about sharing your opinions. Instead, ask co-workers what matters to them and respect their history of interactions. Find out what matters to agents and leaders alike.
Lead by example. Deloitte research indicates that employees who participate in workplace volunteer activities are twice as likely to rate their work culture as positive and are more likely to be proud to work at their company, as well as being more loyal. Reed emphasized that managers should identify which activities are important to co-workers and become involved in them, whether the company sponsors them or not. Book clubs and walls of fame are other opportunities to foster engagement and award distinction within the company. "Leadership is not just about people; it's about engaging them and being invested in their future," Reed said.
Be on point. Toward the end of the first 90 days, it may be time to initiate your vision for the center. Hold voluntary classes and offer guidance in areas where employees might be struggling. Provide best practices and research that can help agents with big projects. Be prepared to be available to your co-workers and share your knowledge and expertise.
Become one with the team. Don't forget the front line. Reed said managers fall into the trap of spending time only with peers. Having one-on-one talks with agents can foster trust and open communication. Shadowing them during customer interactions reveals how well they are doing and lets the agent know that the manager is engaged with their performance. Ask agents about their career goals and visions for their future to show an interest in who they are as people.
Communicate. A contact center manager's communication within the first 90 days will set the precedent for the entire tenure, Reed said. Use multiple modes of communication, from email to surveys to whiteboards. Don't contradict other leaders or overshadow someone else's voice. Take the opportunity to share details that enable agents to get to know you as a person and not just as a manager.
Repeat the process. Don't let day-to-day duties interfere with these goals, Reed said. Always be mindful of these strategies and constantly fine-tune your communication skills to engage co-workers.
Dig Deeper on Contact center management