kentoh - Fotolia
Salesforce vs. Dynamics 365: What to look for when choosing sides
Whether choosing between Salesforce and Dynamics 365 for an initial install or a migration from one to the other, match the pros and cons to your organizational needs.
Less than two years ago, top executives from Microsoft and Salesforce shared the stage at Dreamforce, Salesforce's largest annual conference, exalting the partnership that was bringing together two of the market leaders in the CRM space.
Whatever admiration and goodwill existed on that stage in 2015 quickly vanished. The one-time "frenemies" have turned into bitter rivals. Salesforce CEO Marc Benioff has lambasted Microsoft to the press, while Microsoft let its wallet do the talking by purchasing LinkedIn in 2016, when Salesforce was reportedly trying to do the same.
But what does the souring of this relationship mean for customers? With so many enterprise technology companies working together to provide at least some level of integration, choosing a CRM provider has become an either-or type of decision. When pitting Salesforce against Dynamics 365 for CRM, what should prospective customers look for?
"Salesforce is the pre-eminent player in the market, so they are always on the very large clients' list," said Forrester Research analyst John Bruno, who recently authored the sales force automation Wave report. "But where it used to be Salesforce first, then insert any other CRM company next, I think it's now Salesforce, then Microsoft and then any other CRM company. Microsoft has climbed up the ranks, and their integrations with their other technology have helped that."
The difference makers
There's no denying that Salesforce is the market leader in the CRM space. According to a 2016 Gartner report on the growth of the CRM market, Salesforce had 19.7% of the 2015 market share, up from 18.2% in 2014. Other than Salesforce, most CRM leaders saw a drop in market share -- except for Microsoft, whose market share grew modestly from 4.1% in 2014 to 4.3% in 2015. SAP dropped from 13% to 10.2%, while Oracle went from 9.1% to 7.8%.
If you're already using [its] technologies, Microsoft will be the first out of the gate to deliver functionality.

John Brunoanalyst, Forrester Research
The reasons for both Salesforce's and Microsoft's uptick in the CRM market are unique to the individual companies and go a long way in helping customers decide which CRM provider to license. Dynamics 365 has seen tighter integrations with other core Microsoft products -- Outlook, Office 365 and SharePoint -- which make it an attractive offer for Microsoft-reliant workflows. That capability -- combined with other business intelligence offerings, a deep integration with LinkedIn's professional network and more appealing licensing options -- has companies choosing Microsoft in the Salesforce vs. Dynamics debate.
"If you use Outlook for your primary touch point for agents to interact with customers, and Microsoft makes changes to Outlook that affect the way CRM companies plug into it, guess who will be the first to plug in correctly -- Microsoft," Bruno said. "If you're already using those technologies, and they play a role in how you sell, Microsoft will be the first out of the gate to deliver functionality. It's in lockstep."
Salesforce, however, relies on innovation around a core offering that includes a bevy of artificial intelligence-powered functionality; the most robust ecosystem of third-party integrated applications; and an entire network of administrators, developers and engineers, thanks to Salesforce's learning and education platform, Trailhead. "Trailhead is so appealing because everyone wants to make the solution their own," Bruno explained. "As the technology gets closer to the business, aside from initial integrations, if you're looking to customize functionality and modulate integration, you can get a lot done if you have a really well-trained Salesforce admin."
Dynamics scores higher
Microsoft has worked diligently over the past couple of years to provide Dynamics 365 with the capabilities its customers are looking for, including a common UI across all Microsoft products and enhanced integration, which analysts believe the company has delivered on. "The main thing with Dynamics: It has a great UI," said Cindy Zhou, vice president and principal analyst at Constellation Research Inc. "The product is well-developed with a lot of bundle functionality, and the pricing is attractive. A lot of customers I talk to that are leaving Salesforce prefer Dynamics over anything else."
Forrester's Bruno agreed, scoring Microsoft higher than Salesforce on core sales force automation, with the caveat that Salesforce is still a market leader in that category and has the benefit of the robust AppExchange to help customers plug in missing features. "When a customer asks me, 'I'm looking at Salesforce. Can I do this on Salesforce?' If you factor in the AppExchange, the answer is almost always, 'Absolutely,'" Bruno said. "But when Forrester customers call me and say 'I'm looking at either Dynamics 365 for Sales or Sales Cloud. Talk to me about the two,' I'm not starting the conversation with the entire portfolio. As companies have tried to climb that ladder and go after Salesforce, one of the ways they're doing that is by offering a more complete core product."
And both companies know where they come up short in the Salesforce vs. Dynamics 365 debate. To combat the AppExchange, Microsoft started the competitive AppSource, which is growing in size but is still dwarfed by Salesforce's counterpart. Similarly, Benioff -- well aware of how prevalent the use of Word and other Office 365 products are in businesses -- acquired word document company Quip last year to add that capability to the Salesforce portfolio.
Salesforce's not-so-secret weapons
Outside of core sales force automation, there are advantages and drawbacks on both sides of the Salesforce vs. Dynamics 365 feud. Both companies have worked to differentiate its product from their competitor, either through partnerships with other giant technology companies like IBM or Adobe or by releasing competing artificial intelligence functionality.
A lot of customers, ones I've talked to that think about leaving Salesforce, say it's because of pricing.

Cindy Zhouprincipal analyst, Constellation Research
Microsoft has a firmer grasp on the business intelligence space, according to analysts and industry reports, with Power BI, while Salesforce has a more robust marketing automation offering with its Marketing Cloud. Salesforce has also partnered with IBM's Watson to bring some coherence on unstructured data to pair with its Einstein capabilities that help customers understand structured data. Salesforce also partnered with Amazon Web Services for its cloud computing needs, while Microsoft takes care of those responsibilities in-house with Azure. To bolster its marketing stack, Microsoft also partnered with Adobe to provide better marketing automation capabilities for its enterprise customers.
The importance of Salesforce's AppExchange and Trailhead enablement program can't be overstated, according to analysts, when deciding between Salesforce vs. Dynamics 365. "They are probably the two not-so-secret weapons that Salesforce has," Bruno said. "There isn't a sales force automation product in the market today that is entirely comprehensive for all your needs. More often than not, third-party tools come into the mix, and because of Salesforce's place in the market and how long they've had the AppExchange, they have the broadest ecosystem of best-in-breed solutions."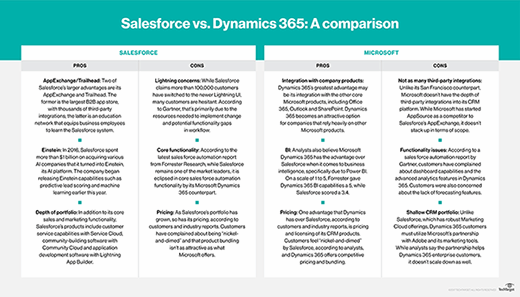 While AppExchange can help companies find third-party tools to better fit its business processes, Trailhead veterans can help a company implement Salesforce into the workflow, providing a benefit when it comes to training the workforce on a potentially new technology. "Companies looking to embark on a major digital transformation effort," Bruno explained, "their selection of one of these two vendors will be predicated on how well they can support their IT needs. Trailhead helps their customers get up to speed and foster some level of self-sufficiency."
Nickel-and-diming customers
While Salesforce's differentiators are in the product space, analysts believe that what is making Dynamics 365 more attractive to CRM customers is the cost. "A lot of customers, ones I've talked to that think about leaving Salesforce, say it's because of pricing," Constellation's Zhou said. "It's really come up over the years, and they lock you into longer contracts."
The 2017 Gartner report on sales force automation echoed that sentiment, listing "contract negotiation" as a caution for customers, citing "aggressive sales practices and licensing inflexibility." Zhou said, "Salesforce customers feel more nickel-and-dimed because everything is separate. Microsoft is more attractive from a pricing perspective."
For a multibillion-dollar company that has money to spend on its business applications, pricing and licensing flexibility might not be as important as overall functionality, but those issues are for a midmarket company or smaller-sized business.
All of which brings us back to the main point of what is a customer looking for in its CRM offering. Both Salesforce and Dynamics 365 have advantages and disadvantages. If you have a Microsoft-heavy workflow, use LinkedIn for sales leads and better pricing appeals to you, Dynamics 365 would be the better choice. If a more robust AppExchange, dependent education network and a larger variety of products sound ideal, then Salesforce is the more appealing option.