Remote call center agents: Building a business case
It's important to understand the business drivers behind remote, or at-home agents in the call center. Donna Fluss, call center expert, explains the benefits behind using remote agents to handle call center traffic.
Q: "I'm the CRM director for a midsized business with a call center. I have to give a presentation for the front office next month, and I'd like to convince them that hiring remote call center agents is the right choice for our organization. Can you help me design a business case for remote call center agents?"

SearchCRM.com expert: Call center technology and management
If you're a call center manager, you'll love the strategic advice from our resident expert Donna Fluss. Ms. Fluss is a recognized thought leader and innovator in call center and real-time analytics with more than 23 years of experience helping end users build world-class differentiated call centers.
A: There are many reasons for a call center to hire remote or at-home agents. Remote call center agents allow companies to tap into a broad, under-utilized pool of high-quality agents with a low turnover rate. The primary business drivers behind the trend to use remote call center agents are:
1. Trouble hiring high-quality agents.
2. High call center staff turnover (e.g., an annual turnover rate of 25%).
3. A need for part-timers to staff peak or off-hour periods.
4. A desire to attract call center agents from a broader geographical area.
5. Agent commuting costs.
6. A need for call center agents with flexible schedules who are not tied to specific shifts.
7. A need to quickly and easily scale staff up and down to meet changing call patterns or seasonal demands.
8. A requirement for agents with specialized expertise.
There are also potential cost savings, depending on how the program is implemented (such as if the remote call center agents are contract employees vs. company employees). But using remote call center agents primarily to save money would be a mistake and is likely to end in disappointment. There are many simpler projects that can yield a greater financial return.
Case study
A company needs call center agents to cover two difficult shifts: 6:00 a.m. to 8:00 a.m. and 6:00 p.m. to 8:00 p.m.. In the past, the company required all staff members to take turns handling these shifts once per month. While this rotation was discussed with the agents before they were hired, the reality of having to work these hours caused a significant morale problem in the call center. When it was an agent's turn, he/she might have had to find early-morning and late-hour child care coverage or miss classes. Agents were dissatisfied and frustrated on the job. On top of that, when call center agents had to come in early and stay late, they were very tired throughout the rest of the day.
To address these problems, the call center decided to hire four remote agents to staff the off-peak hours and provide back-up during peak times. The company has not saved money, as it provides its remote agents with PCs, pays for their high-speed connection charges and compensates them at the same rate as in-house staff. But morale has improved greatly and the service level has also improved.
Enabling remote agents
Innovation in communications technology has made the use of remote call center agents an attractive option for many companies. In the past, enterprises that wanted to use remote agents had to incur substantial incremental costs. Today, reasonably priced high-speed Internet access (DSL and cable), Internet Protocol (IP)/Session Initiation Protocol (SIP)-enabled networks and cheap line charges have made remote agents a practical and cost-effective option for the call center.
When considering remote call center agents, enterprises should review both the potential savings and the incremental costs. See Figure 1.
Figure 1: Enterprise savings and costs with remote agents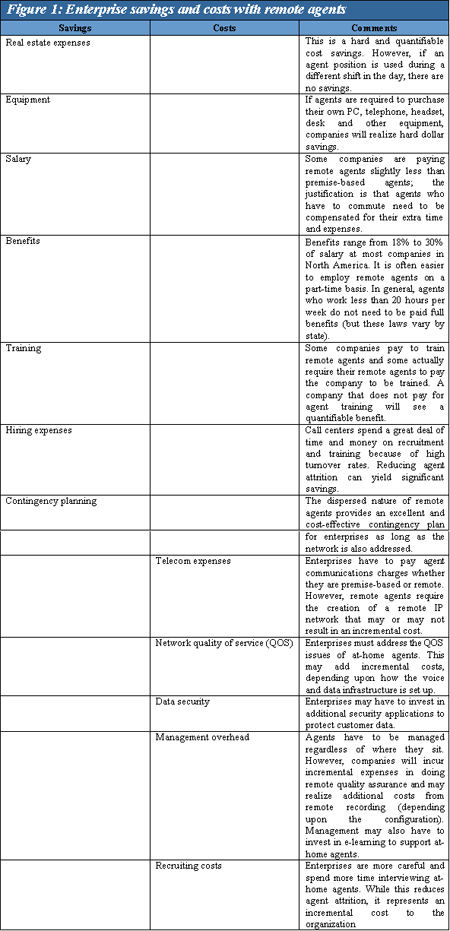 Final thoughts
There are pros and cons to the hiring of remote agents, just as there are many models for deploying remote personnel. Enterprises confronted with high agent attrition rates, the need for staff flexibility and the desire to tap into a different or larger pool of potential agents should seriously consider hiring remote call center agents.
Don't miss the other installments in this ROI series
* Outsourcing the call center: Building a business case by Richard Snow
* SaaS and on-demand CRM: Building a business case by Dan Merriman
* Web self service: Building a business case by Allen Bonde
* Customer satisfaction surveys: Building a business case by Richard Snow