Manage
Learn to apply best practices and optimize your operations.
Reinventing Your Contact Center
Read about call center trends and advice for managing the customer service chain in these chapter downloads from Reinventing Your Contact Center.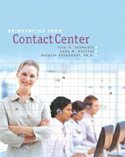 Printed with permission from Prentice Hall
From Call Center to Contact Center
If you don't know where you are going, you might up end up some place else.
-- Yogi Berra
Why is the history and the evolution of Call Centers important to Contact Center Managers? Having an evolutionary perspective can give us insight into the operational practices of our own Contact Centers. As you read through the text, you may even remember some of the challenges and solutions associated with the evolution of the Call Center industry. By understanding the past, we can create progressive Contact Centers in the future. As can be seen in Figure 1, this evolution has had a great impact on the nature of the work conducted in Call Centers. The evolution from Call Centers to help desks to multichannel Contact Centers has changed the way companies do business as well as the roles and activities of Contact Center Managers. With companies relying on access to customer information to produce sales, Contact Center evolution continues at a rapid pace. As a result, the Contact Center Manager's role in the company continues to change over time, requiring new skills and competencies.

Figure 1-- Evolution of the Technology from the Call Center to the Help Desk to the Multichannel Contact Center
A historical knowledge of Call Centers helps us to understand the past role of the Call Center Manager. In the early days, Call Center Managers simply supervised individuals in paper-based customer answer centers. Now Contact Center Managers are considered strategic managers, directing technology- based customer loyalty departments with teams that guide the business and generate sales. With such a diverse change in a matter of a few years, we can expect even more progressive role changes and competencies on the horizon for Contact Center Managers.
Read the rest of this excerpt and download Chapter 1: From Call Center to Contact Center
Managing the Customer Service Chain and CRM
We are what we repeatedly do. Excellence then is not an act, but a habit.
-- Aristotle
New technology will continually come about that integrates more and more customer contact information. Already, emerging technologies such as wireless and satellite are being used. Even today, some preferred customers receive a higher priority in the service queue. Perhaps the traditional phone set will eventually become a thing of the past. In the futuristic world, a single process may manage the call routing, the process rules, and the service logic across the entire company to determine how, when, by whom, or by what a customer interaction should be handled. Perhaps all interactions with customers will be delightfully automated using virtual agents that look and sound human. Integration with any legacy back-end database system could possibly be simply—plug and play.
Who knows what else will be invented next to enable access to customers? Maybe a local area network with integrated kitchen appliances will become the latest and greatest vehicle for distributing information to customers. While intended to be a humorous notion, we see shades of this occurring via communication protocols such as Bluetooth and Wi-Fi that enable wireless network access for customers from around the house to coffeehouses and airports.
The point is that access to the customer is of paramount importance to companies and that understanding buyer behavior is becoming more important to businesses. The Contact Center and its databases continue to gain more and more company-wide focus as the hub and clearinghouse for all customer information.
Read the rest of this excerpt and download Chapter 2: Managing the Customer Service Chain and CRM
Read other excerpts and download more sample chapters from our bookshelf
For more information from the publisher, or to purchase the book, please visit Prentice Hall. SearchCRM.com readers are eligible for a 35% discount on this and other titles in the NetEffects Series published by Prentice Hall.