Manage
Learn to apply best practices and optimize your operations.
Nurturing a long-term lead with CRM strategies
Sealing the deal with a long-term lead requires an effective CRM strategy. An aggressive set of direct marketing strategies greatly increases the chance that a long-term lead can become a sale. Through many touches and much diligence, all of that lead nurturing will display marked results.

The Truth About Leads
Chapter 4: Reaping the Value of Long-Term Leads
The best ways that a lead farmer, or a company itself, can manage a long-term lead is through the effective use of CRM strategies. With a direct marketing plan fueled by CRM technology, the chances of securing a hard-earned long-term lead as a customer are greatly increased.
Table of Contents
Nurturing a long-term lead with CRM strategies
What a Sample Targeted Direct Marketing Campaign Looks Like
ABC Company retains a firm to execute a call-email-call program against a targeted list of accounts with the results expected being opportunities for sales follow-up. Let's assume for the moment that the list is targeted, the definition of a lead has been agreed upon and the vendor executing the program has qualified people to effectively run the campaign. (In my experience, this is a generous scenario, and not realistic.)
The following are the results after the first time through the list of companies:

Using best practices (telephone, email, mail) the results would spur the following activities:
Delivery of opportunities to the field as uncovered. Monitor field follow-up. If any opportunity becomes inactive (sales rep can't connect with prospect), return it immediately for reheating.
Begin the second cycle of multi-touch, multi-media, multi-cycle campaign against the 350 companies that are qualified with no immediate interest. The first touch of the new (second) cycle should be personalized based on research about the company and the individual or individuals targeted and follow-up on any trigger events (change of management, acquisition or disposition of a company, etc.). This is an opportunity to send a handwritten note attached to an article pertinent to your prospect or, better yet, a success story about one of your clients in the same industry as your prospect.
Test 10 percent of the Not Qualified Companies after carefully segmenting them by SIC or NAICS and size and verify that they are, in fact, not qualified. I find that this is a good test and that you frequently find nuggets of gold in this group.
For the fourth result set, begin the second cycle as stated above—treat this group as Qualified with No Immediate Interest until you know otherwise.
Every market is different and higher-level decision makers require more touches than do lower-level decision makers. However, the following is an example of the first cycle—a three-touch program for a group of 50 targeted prospects (note that the total number of companies being worked at any given point is about 100): Please note that voicemails and emails build on and complement one another. Additional attempts during weeks two, six, seven, 11 and 12 should be made at different times of the day, including break and lunch times.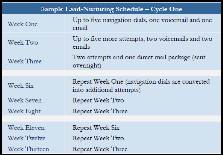 Over the course of a quarter, you will have invested approximately 36 attempts, left nine voicemails and sent nine emails for a total of 54 touches. A lot of people ask me if that is too many touches. They ask if we don't frequently get calls from these targets saying, "Stop calling me!" In truth, professionally developed programs rarely result in that feedback. In fact, the CFO of one of the country's top five utilities actually called one of my team members back at the 42nd touch to tell us to keep calling. "You are my conscience and I need to be reminded. I am busy now but intend to get to this issue soon. Please keep calling." Eventually this opportunity turned into a $1 billion deal for my client.
You don't, of course, simply repeat this process quarter after quarter without change. As you learn more about each company the cycle may accelerate—or decelerate based on prospect-specific issues. Companies merge or close—and then you have to start over with fresh new prospects. I find it effective to invest up to three full cycles (such as the one described in this chapter), varying the message and being more and more specific to the prospect as more is learned about their business.
I have seen cycles like the one described above go on for three years before the prospect finally converts to a lead that closed for my client. Fewer than 20 percent of companies have effective lead-nurturing programs. If you are not using the CRM or SFA (or even just a spreadsheet) to capture touch information and track results—you are wasting a lot of money and missing a lot of opportunity.
Previous Page | 1 | 2 | 3 |
Read the full text of Chapter 4, "Reaping the Value of Long-Term Leads."
Dig Deeper on Sales technology