Manage
Learn to apply best practices and optimize your operations.
MySAP CRM Interaction Center
If you're working with mySAP CRM, you can't afford to miss this chapter from SAP PRESS. Chapter 3 on Technical Principles introduces the technical basics of Interaction Center WinClient, Interaction Center WebClient, and the functionality for the Interaction Center Manager role. This chapter will provide a foundation for understanding how to enhance and make the most of mySAP CRM.
Excerpted from "mySAP CRM Interaction Center" by Thorsten Wewers and Tim Bolte. Reprinted by permission of SAP PRESS. All rights reserved. For more information, visit SAP PRESS.
Master Data Integration
With regard to master data, the search and display of business partners is the main function of IC WinClient, for which Slot 1 of the framework is reserved. The search can be carried out either manually or in an automated way via an Automatic Number Identification (ANI) within Computer Telephony Integration (CTI). Business partner data can be changed and created as well. Components or products installed at a business partner, for example on a particular server, can be displayed. These extended functions are available with the business-partner search workspace. This workspace is an HTML representation which stands for flexible customizing (Transaction CRMC_CIC_SEARCH_RULE). Apart from the search profiles delivered in the standard system, you can create your own by flexibly adapting the standard search profiles. Using search attributes in Customizing, you can configure, for instance, which HTML layout to use, and whether to limit the search to specific business-partner roles and/or relationship categories. You also can configure for which partner functionsthe identified business partners are forwarded to transaction processing or with which priority which function modules are used for searching different fields in business partner tables (see Figure 3.4).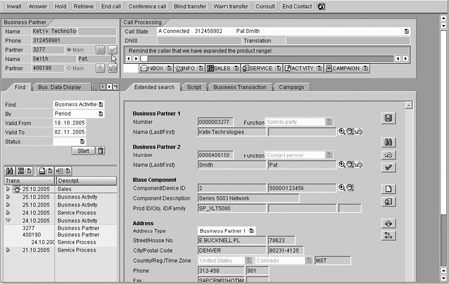 Figure 3.4
You can define several settings for creation of business partners. For example, you can predefine in which business partner role or with what partner category business partners are created from IC WinClient. Another Customizing setting controls whether this pre-assignment may be changed by the user.
Apart from industry-specific HTML templates, the standard version contains two standard layouts. CRM_CIC_SEARCH_DISPLAY is the standard proposal for a customer search in SAP CRM, while CRM_CIC_EMP_SEARCH_DISPLAY is the standard proposal for an employee search in an Employee Interaction Center. Both templates are stored in the SAP Web Repository and can be accessed via Transaction SMW0.
Besides business partner data, IC WinClient allows for the display of product-related information. This can be the presentation of product information which is displayed in a separate workspace for a specific product which is used, for example, in an order. Alternatively, installation components of a specific customer can be searched in a workspace and then presented. Further workspaces are available in the standard system for serialized products (iObjects).
Another option for re-using master data functions is provided by the fact sheet. The fact sheet can contain master data on the business partner from SAP CRM, processes from SAP CRM and SAP R/3 as well as data on the business partner from the SAP Business Information Warehouse. This can be configured in the Master Data area of the SAP Implementation Guide (SAP Reference IMG) via the Customizing activity Customer Relationship Management • Master Data • Business Partner • Business Partner – Cockpit and Fact Sheet • Define Info Blocks and Views. The access to this fact sheet depends on the role. The fact sheet can be called in IC WinClient in a special workspace. For this purpose, the workspaceACTIVITY_SALES_SUMM needs to be assigned to the desired workspace profile through Transaction CRMC_CIC_WSP3.
Read the rest of this excerpt and download Chapter 3: Technical Principles
Read other excerpts and download more sample chapters from our CRM and call center bookshelf
To purchase the book and others in the series, please visit SAP PRESS.