 BACKGROUND IMAGE: iSTOCK/GETTY IMAGES
Evaluate
Weigh the pros and cons of technologies, products and projects you are considering.
Museum puts stock in iBeacon technology to revamp visitor experience
The Brooklyn Museum in New York is revamping the visitor experience with iBeacon technology.
As she developed a strategy to improve visitor experiences for the Brooklyn Museum, Shelley Bernstein had a realization: Art doesn't lend to self-service. If a visitor has a question, who can answer it immediately? Art experts may be on-site, but they're often inaccessible to visitors exploring the galleries.
Bernstein, the vice director of digital engagement and technology for the New York-based museum, realized visitors need information that isn't always available in the short art write-ups on the walls. The museum's goal was to help visitors learn more about the art on display -- but it realized it had no way of knowing what visitors wanted to learn about. For the museum, the key to answering this question was identifying where visitors were in the museum as their queries arose.
The museum tested iBeacon technology, which, in conjunction with a new mobile app, enables experts to answer visitors' questions via mobile devices. The strategy was outlined in MediaPost's Internet of Things: Beacons conference in New York on Nov. 3, where experts and users gathered to share experiences and discuss the future of proximity-based technologies.
Developing a strategy
For customer experience improvements to work, experts said research on visitor behavior is the first step.
"You need to spend time in peoples' shoes, to go out and see how they interact with the world, the brand and the space," said Chad Vavra, director of user experience at marketing and advertising firm Rosetta. "You have to do things that are beneficial to that person's life."
To identify what visitors wanted, the museum hired 20 greeters to talk to them and observe their behaviors. While the greeter concept was popular, the museum couldn't afford to staff an army of them to cover all 560,000 square feet of its property.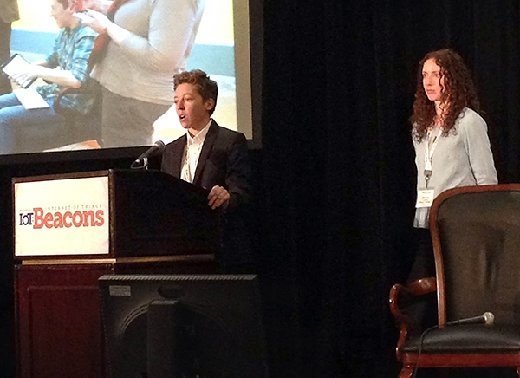 Visitors wanted recommendations on which art to see next, for example, or which exhibits to take kids to. The museum responded by handing out exhibit recommendations on cards filled with information, which was met with indifference.
"We weren't able to put a product on the floor that was wholly dynamic, so we asked ourselves, 'How do we do that?'" Bernstein said. "People want information that's more responsive to their own needs."
A new approach was to give a group of visitors iPods and have them send questions via iMessage to an iPad manned by the museum's chief curator. Visitors responded to the digital methods and the museum switched to a mobile messaging system -- the Brooklyn Museum app --which is still being tested.
Testing the waters
Part of the app contains museum information such as hours, a list of exhibits and a calendar, while another is the Ask component in which on-premises visitors can ask experts questions and get answers in real time. When a visitor asks a question, a list of images comes up on the expert's dashboard that shows the works of art that are in the vicinity of the visitor, giving context to answer the query.
But implementation wasn't easy, or an easy sell, to various staff members.
[Beacons] are not a one-size-fits-all.

Michael Bereliandirector of e-commerce and digital shopper, Geometry Global
The museum had to work around physical limitations and staff pushback. Some art displays --and even clusters of people huddled in a certain area -- can block beacon transmissions; they emit radio signals, after all, and are inherently finicky. On top of this, staff was concerned that the beacons would be distracting, depending on where they were placed, and that their presence would disrupt the gallery's aesthetic. Further, the app was inconsistently detecting individual beacons.
To overcome the technological problems, the museum's mobile developer Jennie Browne wrote logic into the app that accounts for all the beacons a particular visitor comes into contact with and gives the expert on the other end a list of images in that person's general area. The expert won't know the visitor's precise location but, instead, which room they are in, allowing them to offer help based on that information.
The museum worked on correct placement of the beacons so visitors didn't notice them. Working with staff was crucial to the strategy. "We learned that iBeacon technology is great in theory, but you really have to get into the specifics of how it's going to work for you before you dig into the details," Browne said.
Experts echo what Browne said, that stakeholders need to have an internal discussion before they adopt a technology like beacons. Clear goals must be set, or companies risk wasting resources.
"Don't do beacons just to do beacons. It's not a one-size-fits-all," said Michael Berelian, director of e-commerce and digital shopper at marketing and advertising firm Geometry Global. "You need to define what you're going to get out of it."
Driving engagement
Through interviews and staff observations, Bernstein said visitors who used the museum's app looked at the art more closely and were "refocused" in their visit, paying more attention to the works on display to try and ask interesting questions rather than burying their faces in their phones. The next step, Bernstein said, is to revamp the lobby experience by having visitors download the app at the start with staff help.
For users without devices, the museum is exploring the option of offering iPads running the Ask feature throughout the museum and promising an answer from an expert via email, post-visit. Difficult questions will be logged so experts can keep them for future reference. It's all part of the process of making the museum experience cater to visitors, Bernstein said.
"It's pretty gratifying to hear someone say they're actually looking at the works of art more deeply and watching that process happen," Bernstein said.
Dig Deeper on Customer experience best practices