Fotolia
Mobile payment technologies met with interest -- and caution
While mobile payment systems have piqued the public's interest, a fragmented market and a cautious consumer base have constrained adoption.
As Drew Crockett was expanding his coffee business from a single food truck to physical stores, his traditional point-of-sale system met its day of reckoning.
"It was so antiquated," said Crockett, the owner of Hubbub Coffee in Philadelphia. "We were trying to be a mobile company that had a point of sale on board and get wireless in a mobile truck. It was like trying to staple things together that never ended up working."
So in 2010, Crockett ditched his point-of-sale (POS) system in favor of Square, a producer of hardware and software that enable a company to process credit card payments with mobile devices. Originally, Crockett was looking for a POS system to enable payments in his mobile truck environment, but ultimately, it became about creating a better experience for customers by offering multiple payment options.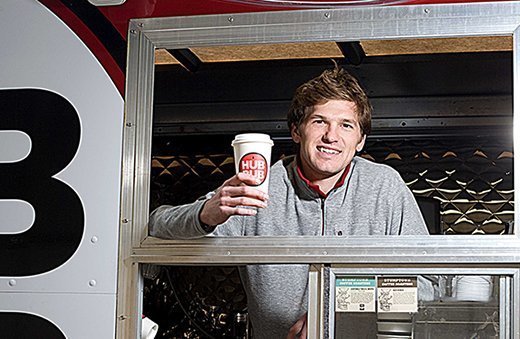 "You can be a stick in the mud, and say, 'We're going to be a cash-only business,'" Crockett said. "But that is such backward thinking. Let's make the consumer experience better."
If the Internet was the first jolt toward digitization for companies, mobile commerce is the next. Mobile point-of-sale technologies such as Square, mobile wallets like Apple Passbook and Google Wallet, as well as lesser-known players have introduced software that makes it easier to process payments in a store aisle with an iPad or have a customer pay on a smartphone. Some digital wallet platforms have also made it vastly easier for companies to use analytics tools for business operations, such as ordering new inventory, analyzing stores sales and so on. And mobile technologies, like iBeacons, have brought e-commerce full circle, enabling companies to use digital messaging to bring customers back into physical stores rather than just shop online.
Still, adoption of mobile payment technologies among consumers and enterprises remains slow. According to the Forrester Research report "The Future of Mobile Wallets Lies Beyond Payments," only 3% of U.S. mobile phone users report they have accessed a mobile wallet in-store in the past three months, though 57% of respondents report that they have interest in the technology to gain discounts and other perks from loyalty programs.
And while Apple Pay debuted in September 2014, according to one March 2015 report, 85% of iPhone 6 and iPhone 6 Plus owners have never touched the app. Users are also still accustomed to using mobile devices primarily for "showrooming" -- to research products -- and then to purchase in-store. According to the National Retail Federation, smartphone sales as a percentage of total e-commerce sales is about 12%. With a crowded marketplace and few standards emerging, it may take several years for mobile technologies to become standard fare.
"Just providing a faster, more convenient experience is good but probably not enough," said Forrester Research principal analyst Thomas Husson. "At the end of the day, why would [consumers] use an alternative payment method? Is it cheaper, adding more value, promoting loyalty? That is what is going to help mobile wallets to take off."
Customers at the center
For companies having success with mobile wallet technology, they focus less on payment and more on providing a multichannel customer experience – and one that adds value for customers.For Men's Wearhouse, a men's apparel retailer with nearly 1,800 stores throughout the U.S., mobile wallets have never been about having customers ditch credit cards or cash for a mobile payment option.
Based in Houston, the retailer began using iPhone Passbook in 2013. While Men's Wearhouse has a historical footprint in physical stores, the company sees the growing importance of multichannel and digital sales. It wanted to complement its foothold in the physical world with digital tools. At the same time, the company knows it can be a Sisyphean struggle to get airtime in customers' clogged inboxes.
"Email is great way to reach our customers," said Matt Stringer, Men's Wearhouse executive vice president of marketing, in the Vibes-Forrester Research webinar "Mobile wallets will become marketing platforms." Stringer continued, "But as inboxes grow more crowded … it's harder to get visibility [among consumers]."
Men's Wearhouse first explored giving customers email-delivered coupons that they could then save to Passbook or Google Wallet later on. By including a Save to Wallet feature in these email messages, Stringer said, coupons became far more compelling to users: The company witnessed an increase of 10 times the amount of redeemed coupons by customers with the Save to Wallet feature compared with emails that lacked the Save to Wallet button.
During the December 2014 holiday season, Men's Wearhouse stepped up the mobile wallet initiative with a multichannel approach. By text or SMS, it asked customers to opt in to receive a coupon. Next came a gamification component, in which customers received a digital "scratch-to-win coupon" of either $10, $20 or $30 off their next purchase. Then final step was for customers to save the coupon to their digital wallet.
Stringer said that the wallet-activated holiday campaign created a 166% increase in redemption rate versus other digital coupon programs without Save the Wallet, as well as a 35% increase in the average order amount.
There's still a lot of work to be done, though. While online commerce generally, and mobile retail in particular, have become clear trends, there is also ample concern about "app fatigue," during which consumers are overloaded with the onslaught of retailer messages.
"We're quickly approaching a point where spending more on an app may actually not optimize your mobile marketing return," wrote Vibes co-founder Alex Campbell in a Marketing Land December 2014 article.
To address app fatigue, the next step, Stringer said, is to include the company's customer loyalty program, Perfect Fit, in the mobile wallet application to ward off app fatigue. "That would enable real-time communication. We can give customers reminders that rise above the clutter of other offers," Stringer said.
The importance of an opt-in option at Men's Wearhouse signals an important caveat about the technology. Customer data privacy has been problematic for retailers, with massive data breaches at Target, Home Depot and Staples, for example. So, mobile technologies need to be able to safeguard customer data and give consumers the opportunity to opt out at any time.
From Apple to Google and PayPal to retailers offering mobile payment apps, this crowded field hasn't developed standards around which to coalesce. But Apple's system may gain the greatest traction, given its market share among consumers and security. With the iPhone 6, consumers don't even need to open an app containing their personally identifiable data. Data is masked through tokenization, and users can place an iPhone 6 near a contactless reader while holding a finger on the Touch ID to make a transaction.
Getting to business insight
For Purav Patel, who owns Village Liquors in Houston, mobile payment technology shouldn't take weeks for employees to learn. That's why he moved to Bindo, a mobile platform that enables store employees to ring up purchases with mobile devices at registers or even in the aisles.
Having the ability to ring up customers in the aisles can be a saving grace during peak times, such as the holidays. The application is also cloud-based, so Patel can log in from anywhere. As well, he can get a picture of what's happening with stores metrics as a whole, such as sales, inventory in stock and so on.
"Before, I would just blindly buy cases of Jack Daniels if I thought I needed them," Patel said. "And then maybe I would find out later that I have 20 cases back at the warehouse that I didn't know I had. It's a great way to get direct visibility … for a business that has to make decisions at the drop of a dime," he said.
Stringer also noted the importance of gaining business insight from mobile wallet technology. Men's Wearhouse can get metrics, such as whether a Save to Wallet option increases the average sale or the total number of redeemed coupons.
Mobile wallet technology has given Men's Wearhouse data on whether its marketing works. "We're able to close the loop and see if programs are driving results," he said.
Next Steps
iBeacon technology enhances visitor experience at the Brooklyn Museum
Consumer privacy paramount with location-based apps
Read more about iBeacon
Learn about lifestyle centers
Dig Deeper on Customer relationship management (CRM)