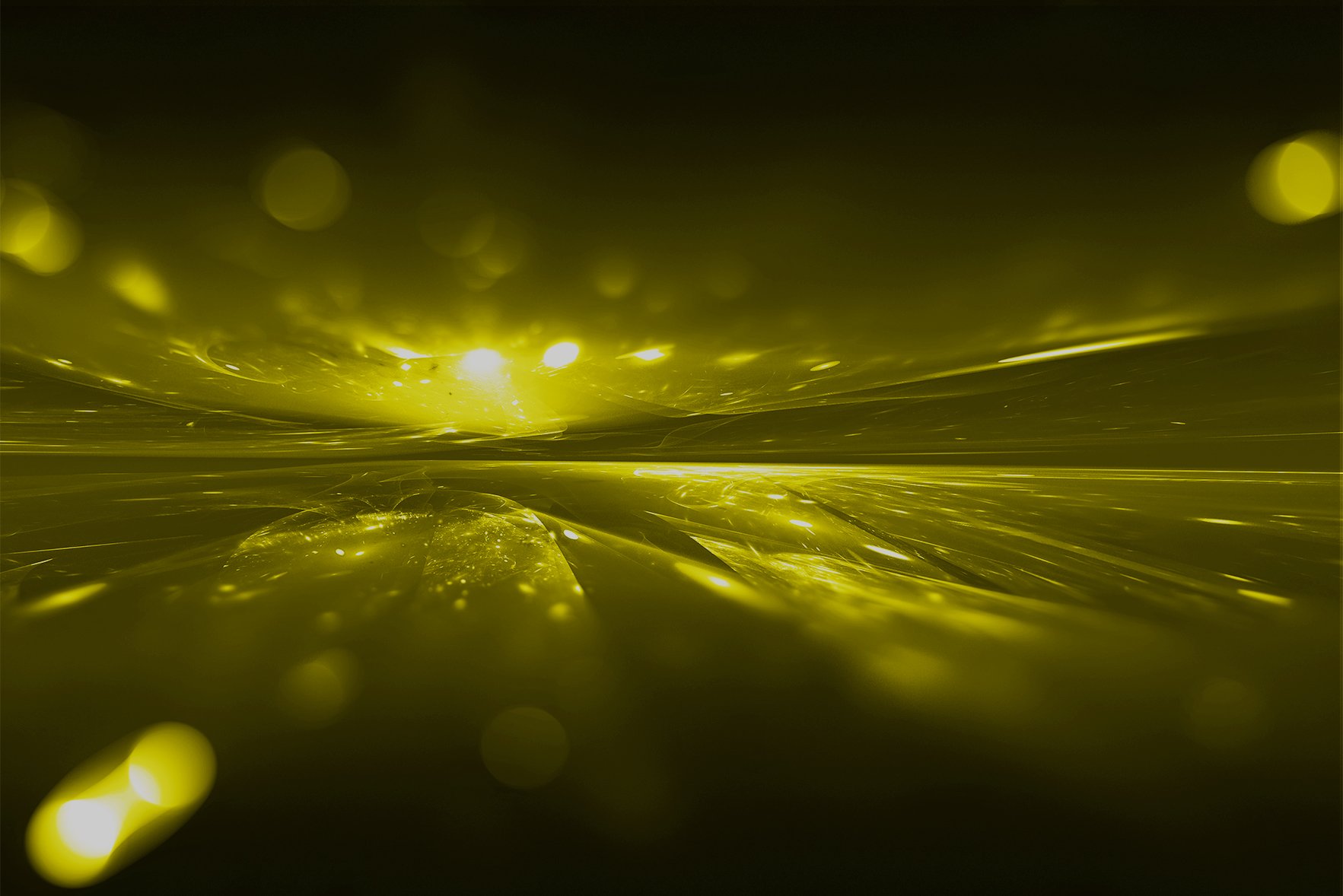 BACKGROUND IMAGE: stock.adobe.com
Get started
Bring yourself up to speed with our introductory content.
How to forge a smart customer experience strategy
Crafting a seamless customer experience is essential for business success now. Learn the fundamentals of a winning CX initiative, from strategy to tech acquisition to launch and beyond.
The customer is always right. The motto that put customer satisfaction on a pedestal is as relevant today as it was more than a century ago, when merchants like Marshall Field pioneered the approach. But fueled by a rapidly evolving array of technologies -- from AI to IoT -- the stakes have risen.
Today, smart customer experience incorporates the consumer expectation that companies -- large and small, located around the corner or half a world away -- know their customers on intimate terms. Customers expect brands to offer, at just the right time, merchandise and services that fit their exact needs. They demand quick and satisfying responses to their queries and complaints. No matter if they shop on a digital device or in a store, they want the customer experience to be uniquely personalized and delivered effortlessly. And not just once, but every time they do business with the company.
Indeed, delivering a good customer experience, or CX, can seem like a business in itself. It's a Herculean effort, requiring that external channels are aligned and internal departments share a common view of customers. Offers designed to appeal to one customer segment can't be fobbed off on another, and merchandise must be available whenever and wherever a brand promises it will be. The customer comes first.
"The goal of CX across industries is the same," according to Liliana Petrova, who until recently served as head of JetBlue's customer experience programs and is now the vice president of member success for the Specialty Food Association. "It's delivering to your customers the value that they value. It's a simple goal that carries a lot of weight and is hard to execute."
The goal of CX across industries is the same. It's delivering to your customers the value that they value.

Liliana PetrovaVice president of member success, Specialty Food Association
Technology is essential, although it's not a magic wand. No matter how advanced the social intelligence programs, customer data platforms and other technologies are, they serve only as a bridge between brand and consumer. If a company has a disjointed or half-hearted approach to CX, the best-available technology will do nothing more than expose the brand's deficiencies. Moreover, CX can't be the objective of just the customer service or marketing departments. It takes an entire organization to ensure the customer becomes and remains an ally.
"Customer service is not a department," said Shep Hyken, a public speaker and author on CX. "It's a philosophy. It's a culture. It's to be embraced by every employee of an organization. If a company is going to focus on the customer, it has to ask, 'Does our culture allow us to do that?'"
The answer to that question can't be settled in the boardroom. It comes after stakeholders from every department review their processes and technologies and compare those capabilities with how the organization wants to serve customers. If any department precludes the company from delivering memorable CX, the soul-searching must go deeper: The organization's foundational principles of CX must be reaffirmed and training provided to execute on those tenets.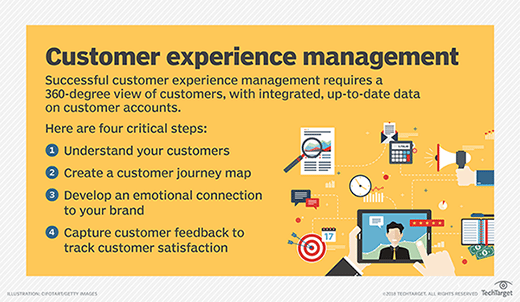 "Everybody gets trained, and there's constant reinforcement," Hyken said. "Training isn't something you did. It's something you always do."
Establishing and reinforcing a CX culture rests on knowing how the organization wants to appeal to customers. Will you be known as the company that has seamless conversations -- whether on the phone or via chatbot -- with customers? Will you be known as the company that anticipates customers' needs before they do? Will you stand out for the little things that can add up to the big score: a customer's loyalty and advocacy?
Many companies strive to be like Amazon with its seemingly intuitive sense of which products best suit customers and its ever-shorter delivery times. But few companies can fight in Amazon's weight class. Instead, CX experts advise organizations to focus on how the strengths of their people, processes and technology can inform their own brand of CX. You don't have to do everything, but you need to be smart about what you do.
Smart customer experience requires strategy, a wide net and a chief
"Smart CX can make a huge difference in setting a company apart from the competition," said Blake Morgan, who writes and speaks about customer experience. "Prioritizing smart CX doesn't require huge amounts of time or resources. Even smaller efforts can have a big impact when done strategically."
Customer experience phrases to know
Customer experience or CX. CX refers to the totality of a customer's experience with a brand over time -- whether that happens in a store, on a digital device, on the phone with a customer representative, in the opening of a package that arrived in the mail or all of the above.
Customer journey. Customer journey refers to the many steps customers take when interacting with a company, from buying products online to accessing customer service on the phone to airing grievances on social media. Companies lay out the journeys on hypothetical maps so they can see how effectively people "travel" through their customer experience initiatives.
Voice of the customer (VOC). The customer's "voice" is "heard" by reviewing direct and indirect communications a customer has with and about a company. The communications, which include phone calls, emails and social media posts, enable companies to understand a customer's perception of the company's CX efforts and its products.
Customer persona. A persona is a composite representation or idea of a type of customer. It's based on the attributes and demographics of a particular customer segment, information that was compiled through data and market research.
Customer data platform (CDP). A customer data platform is software that unifies a company's many streams of customer information onto one platform, enabling employees to get a nearly complete view of customers. The information on a CDP can be viewed or accessed by other systems.
Customer data analytics platform. Packaged as an application, tool or platform, the object of customer data analytics technology is to gain insight into customer behavior so a company can market effectively to particular groups of customers. The tools can be part of a CRM suite or sold as stand-alone platforms that do everything from collect customer data from different systems in different locations to data analysis and visualization. The tools can also integrate with sales and marketing, web content management systems and other technologies.
Smart customer experience starts with strategy, which means it starts with people.
"The biggest problem isn't technology," said Jessica Ekholm, a Gartner analyst covering customer experience. "It's getting people in the same room."
Companies should strive to involve leaders from many departments, even those that might seem tangential to the customer experience. "Customer experience touches every part of your organization. That is your key guiding principle" in forming a team, Specialty Food Association's Petrova said. In addition to wide representation, there needs to be someone in charge of this cross-functional team. That could be a formal head of CX -- a chief customer officer -- or the CMO.
Jeanne Bliss was Microsoft's first chief customer officer. Now, as a coach of other CCOs, she sees the position as critical to driving what should be the non-territorial goal of serving customers. "When a company is not used to uniting around customer goals, you need someone to organize and help," she said.
Bliss and others also recommend the continued involvement of the CIO in CX. "The tech people are often brought to the party too late. Having a CIO at the table early on can bring in amazing insights" on what technology can do, Bliss said, which in turn can help shape a smart customer experience strategy. "They're not getting CX as a requisite; they are brainstorming with everyone else from the beginning on how to approach it."
Mapping a smart customer experience journey: Personas first
Once a CX team is in place and the organization's approach to customer service is clear, most experts agree that the next step should be identifying -- and, in some cases, creating from scratch -- the various customer "personas" the company sells to.
Building detailed personas will reveal the types of journeys that customers, both B2B and B2C, want to take, according to Gartner analyst Augie Ray. Without personas to draw from, companies tend to create customer journey maps that inevitably have every customer or client wishing the same things. Personas help companies match up customers to their preferred journeys. Ray said they also prevent key customers from being overlooked -- for example, the B2B decision-maker whose input was key to forging a client relationship but is forgotten about in subsequent communications.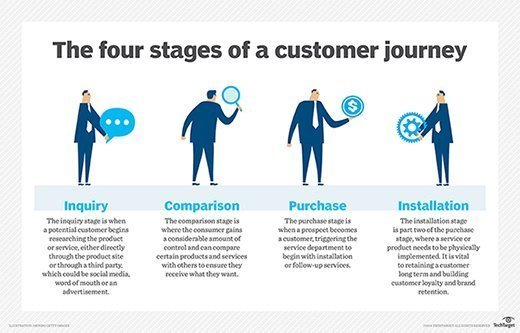 Not every employee in a company will need to master the nuances of buyer personas, but the entire workforce must understand how the company intends to serve customers -- its CX vision. "You train everyone to this vision," said Hyken, the public speaker. That way, even those employees who don't have direct contact with customers will understand they have a vital role in creating a smart customer experience.
"The guy in the warehouse has to understand his role," Hyken added. "If he doesn't pack something properly, then customer service gets involved, and you have to do everything all over again."
The voice of the customer beckons
A clear CX vision and well-defined buyer personas won't be of much use if organizations don't have the processes to hear what actual customers are saying -- what's known as the voice of the customer (VOC).
Specialty Food Association's Petrova said she was delighted when Citibank acted on the feedback of customers like her and allowed them to withdraw all types of currency from its ATMs, rather than only larger denominations, like a $20 bill.
"I see proof that they listened when I use the ATM," she said. "It's alive. That is the feedback loop that's critical. Many companies hear but don't listen. When you close the loop, you're listening, internalizing suggestions and then going back to the customer and showing you're doing something."
Gartner's Ray said VOC is the heart of any CX strategy. When companies seek his help in enhancing or rebuilding their customer experience initiatives, many want to define CX from the inside-out by measuring leads, conversions and sales. But saving money and other company-oriented goals don't tell companies what their customers are saying. Ray instead urges clients to work outside-in and construct a CX program based on what customers want -- and that entails measuring their loyalty to a brand and their advocacy of the brand.
One way to start understanding what customers are saying is to use a VOC platform that coalesces data from the customer service department, the internet, customers' social media profiles, surveys and other outward-facing sources, Ray said. These voices will illustrate what drives customer satisfaction and dissatisfaction, as well as point companies to innovations that can solve customer problems, rather than simply reacting to a query or complaint.
No algorithm needed
How much data crunching is needed to provide a personalized customer experience? Not as much as companies might believe, according to Forrester Research's Jennifer Wise.
"You don't have to mine all of my data just to call me Jenny," Wise said. "And it doesn't help that you use the data just to remind me I bought something." A company that collects massive amounts of data but fails to use it intelligently will see customer trust diminish, not increase.
One way to personalize a user experience that doesn't involve crunching a huge amount of data is enhancing website interactions, Wise said. After determining which service offerings a customer visits most often, a company should make navigating to those pages easy by providing as many shortcuts as possible, Wise said. "No algorithm is needed for that," she added.
"In order to understand the voice of the customer, you need to shift from a process orientation -- where the customer asks for this and the company responds -- to an information mentality," said Gartner analyst Patrick Sullivan. "It's about understanding the information of each customer at each point and making that information available to the people who need it, rather than having them go to other people [in the organization] to get it."
Kicking the tires on customer experience technology
In an age when customers are increasingly defined by the digital data they generate, shifting to an "information mentality," as Sullivan recommends, ultimately requires the use of information technology. There is a lot of it out there -- from customer management and cloud communications platforms to AI-supported data analytics and marketing platforms.
"A suite of technologies is required," said Jennifer Wise, a principal analyst at Forrester Research. But sorting out the CX landscape can be confusing as the number of platforms expands and vendor hype reaches stratospheric levels. "The best place to start is understanding what the end experience will look like and then looking at which technologies will do it."
Knowing what the technology needs to do makes it easier to see the strengths and limitations of programs and platforms and to recognize what will and won't fit, Wise said. It also curbs the itch to buy the latest hot technologies -- but making prudent choices is easier said than done, she conceded.
"Finding the 'right' technology is a problem because you think you need to replace systems or solve a problem with something [that's driven] by AI, and then before you know it, you're using chatbots," Wise said. While using chatbots sounds good in theory, some of the CX problems a company may be facing require other technology. "Maybe the company just needs to fix one discreet touchpoint in an entire customer journey. Or maybe the technology is being used as a blunt force instrument, and there's not enough thought about data," she said.
Gartner's Sullivan agreed that vision and strategy come first. "If you can get it to a level where everyone understands what you're doing and why," he said, reviewing your current architecture and the products on the market should take no more than two weeks. Vendor consultation programs help companies see how technologies work within their ecosystems and let them envision how these offerings can manage their CX efforts.
"The key thing is to not get enamored too quickly with the technology," Sullivan said. "Make sure you understand your business vision and then translate that into strategy, and then the operational model. Then you're in line for the technology itself."
Petrova recommended finding a vendor who will partner with you as you implement CX technologies. At JetBlue, Petrova leaned on the airline technology vendor SITA while implementing biometric facial recognition scanners for boarding passengers at several airports. Anxiety ran high because of the need to move passengers along without compromising security. SITA's successful handling of the live-testing process was key, Petrova said, adding that the vendor came through "when the relationship mattered most."
Making decisions on CX technology: AI looms large
To deliver the seamless and personalized relationships customers now demand, most companies will need to invest in at least two types of technologies: a customer engagement platform and a data analytics platform.
"Customer engagement hubs, although they might have different names, are platforms that integrate data from CRM systems and all other databases, so you're getting a complete view of the customer. Pegasystems, Salesforce 360 and a few others do this," said Gartner's Ekholm.
Data integration is critical to delivering a good customer experience, she said. "For the customer, it really boils down to, 'If I gave you all of this information, why do I have to do it again?' People see a company as one [entity]. They don't want to think, 'Now I'm speaking to the customer services department.'"
Analytics and AI are big buzzwords in business's quest for the 360-degree view of a customer -- and there is some legitimacy to the hype. Some customer data platforms have the analytical heft to coalesce, clean, analyze and segment customer data to levels that separate consumers by purchase habits, geography, socio-economics and other factors. With that level of detail, the table is set for consumers to receive personalized offers.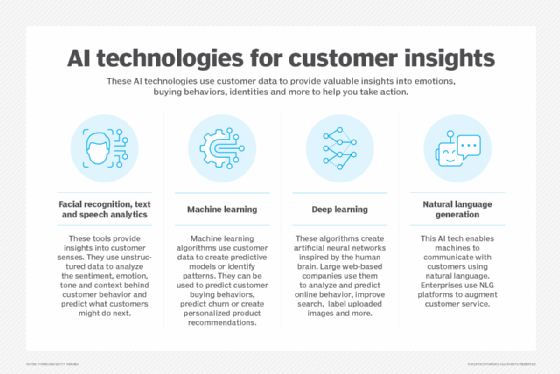 "There are also companies that offer customer journey analytics to help you understand where customers are in their particular part of the journey," Ekholm said. "It helps you answer 'What do we need to think about now? What do we need to push?' They give clues for the next best action."
Automation and AI are also starting to shape the unstructured data from surveys and VOC platforms into structured insights on customers. "That move from qualitative to quantitative, from manual to automation -- that will really transform the customer experience," said Jeff Foley, vice president of marketing for Luminoso, a company that uses natural language processing to analyze customers' text messages to companies.
The efficacy of the AI technology, however, still depends on the humans that train it and the processes in place.
"With analytics, you need to ask the right questions," Petrova said. "In my new job, there is so much data. I'm recognizing I'm not yet ready for it all. I need time to learn and then go back to the data later," she added, raising one of CX's biggest challenges: that CX teams may not be up to performing the difficult tasks at hand, at least not without training.
"The challenge [in CX] is we don't have the caliber of people who are comfortable with mining big data sets and [also] know the business well. Extracting value from the data is a collaborative effort," Petrova said.
Giving customers what they want
Amazon is widely considered the gold standard for CX, but many other companies have also made a mark in customer service, whether by having knowledgeable and attentive employees in a store, offering an exciting and easy shopping experience on a mobile app or handling customer service deftly over the phone.
Hyken, in his research and on the lecture circuit, sees the gamut of customer experience initiatives. He said big box retailers like Target and Walmart are balancing in-store and online CX to the point where the digital and virtual experiences are nearly intertwined. Southwest Airlines has made the online booking of flights intuitive, while Marriott has made check-in easier by letting guests open their hotel room doors through an app on their mobile phones.
"CX, at the end of the day, has to be about strategy and insight, and knowing the customer better than your competitor," Gartner's Ray said. "Everybody wants to be Amazon. But Amazon didn't say, 'Hey, we finally got CX right and now we're done with it.' You have to always keep taking steps."