 BACKGROUND IMAGE: iSTOCK/GETTY IMAGES
Manage
Learn to apply best practices and optimize your operations.
Former DJ helps businesses do customer engagement like rock stars
Former Houston DJ Dayna Steele wants you to know that customer engagement has more to do with rock n' roll than you might think.
Former Houston disc jockey turned business process consultant Dayna Steele wants organizations to know that great customer service representatives have more in common with rock stars than one might think.
Steele, a well-known business culture, entrepreneurship and business process management consultant, usually can't be seen partying back stage with the likes of the Rolling Stones these days. But you might find her consulting C-Level executives on the importance of social media monitoring -- which makes good sense. Steele has used social networking skills to her advantage throughout her career -- and it was networking that led Steele to land her first job as a DJ.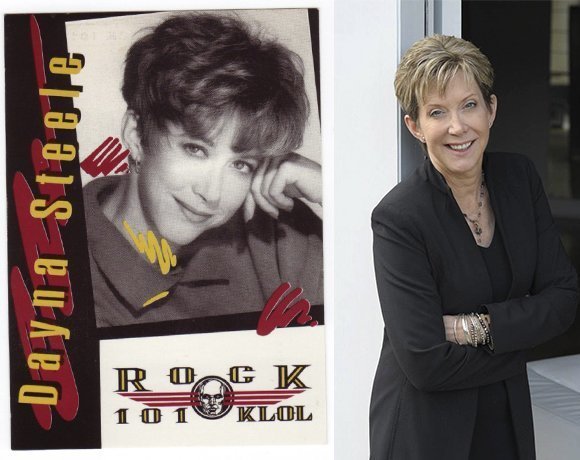 On left -- Dayna Steele at the height of her radio career; at right -- Dayna Steele today.
"I was at a party and was talking to Jeff Lowe, who was a DJ at the local [radio station] in Bryan, Texas," she recalls, adding that Lowe was, at that time, the most famous person she ever met. Hoping to impress him, Steele mentioned that her college's radio station was looking for a new DJ. "He was probably making fun of the student radio station, but I took it as a dare [when he suggested I audition]. I thought it would get me a date with him. It didn't, but I was on the radio from that point on."
Steele originally began her college education intending to study pre-med and become a doctor, but "that didn't work out." She left school before graduating to pursue her radio career. She has considered going back to school a few times, but Steele's career and various opportunities that came along kept her out of the classroom.
Rock stars think, 'This is great, but how am I going to get better?' They're thinking five steps ahead.
Throughout the 1980s and into the 1990s, her name became synonymous with Houston radio. But, as Steele remarked during a recent keynote speech at the Annual Call Center Exhibition conference in Seattle, the professional life of a female DJ is fairly short. Did she plan for the next step?
"I really didn't, but I always remembered the old showbiz saying that it's not what you know, it's who you know. I always observed others and hung out with them." She began using her networking skills to figure out where to go next. "It took me a while to find my footing when I left radio," admits Steele.
She tried various things, including owning a retail store that sold space exploration memorabilia, auditioning for MTV and doing some work with a start-up TV network, which she hated. "People cared more about what my bangs looked like than what I said," she recalls. She also tried a job in talk radio on 97 TALK. She found it to be a tough job, but learned a lot about what motivates people during on-air interviews. She started Steele Media Services in 1997 and has been self-employed ever since.
Motivated by her love of entrepreneurship and having seen parallels between the music industry and the business world, Steele penned her first book, "Rock to the Top: What I Learned About Success From the World's Greatest Rock stars," in 2009. The book was forwarded by Steele's close friend and KISS lead singer Gene Simmons. Since its release, Steele has become known as a motivational speaker and consultant on business culture and processes.
Engaging customers like a rock star
The business world, like the world of rock n' roll, is made up of two kinds of people -- rock stars and one-hit wonders, according to Steele. "People who think, 'this is great! I've made it!' are in big danger of failing. Rock stars think, 'this is great, but how am I going to get better?' They're thinking five steps ahead."
Those who think they've made it and are satisfied with their success risk becoming too complacent and are in danger of failing. They're similar in their mentality to one-hit-wonders. But those who are always thinking about how they can improve upon their successes are similar to rock stars -- and in the call center world, rock stars have long, successful careers. Sometimes, being a rock star means going outside of your comfort zone. It's a message that Steele often shares with C-level executives who may not fully understand today's technology.
Steele strongly encourages these businesses to engage with their customers -- whether those customers are happy or unhappy -- via social media. C-Level executives sometimes wish that they could just turn the internet off, Steele quipped. But it's important to change their mindset and embrace social media. Once they realize that the internet isn't going anywhere, the next thing they want to know is how to use social media sites like Twitter and Facebook to their advantage. Steele brings her clients up to speed on how various technologies work and the importance of taking them seriously.
Steele says that a great example of someone from the rock and roll world that embraces social media and uses it to provide excellent customer service is Lady Gaga, says Steele. "She takes great care of her fans."
Lady Gaga retweets things her fans have posted on Twitter, pulls her biggest fans backstage after shows and finds ways to involve them in her career. A quick look at Lady Gaga's twitter feed shows that one of the first things she did after a recent surgery was to tweet a letter to her fans thanking them for their support -- a very personal touch that helps fans to feel involved. The business equivalent of this might be a company tweeting that everyone they employ is okay after a disaster in their area, or that they're open after a bad storm and inviting their customers to come in.
Steele frequently tells clients and conference goers to "bring in somebody who knows your company and customers and understands social media. Look at companies who are doing it right. You don't have to reinvent the wheel."
She also suggests that larger companies hire someone to monitor social media for them and field tweets from customers. For smaller brands who can't afford a social media suite or department, she suggests, at bare minimum, setting up Google alerts, which is free. "You can monitor your brand's name, your executives, and so on. Make sure someone is monitoring that," she urges. She recommends that everyone use TweetDeck software and set it to monitor for company mentions, including all the ways people might misspell the company's name. This way, you can see what people are saying about your organization and have a representative address the comments.
While Twitter, with its snarky nature and ability to reach out and tweet at anyone, is a great place to watch for unsatisfied or angry customers, Facebook is a great place to cultivate a relationship with key influencers and good customers. Steele encourages companies to set up Facebook fan pages and allow their top customers to be admins -- "if they love you so much, why not?" she said.
A side effect of companies using Twitter to engage with their customers is that some people have found that the service they receive via Twitter is superior to the service they get through their contact center number. Steele recalls tweeting "I don't know which is worse, social security or Comcast" recently. Within twenty minutes, Comcast contacted her via Twitter. When reflecting on the situation, Steele mused that the primary reason it's easier to provide good customer engagement via social media rather than over the phone is the extremely high volume faced by telephony. But "if you could figure out a way for the response and solution on the phone to be as fast as via Twitter, you would be the call center rock star."