Fotolia
Digital experience management: What it is and how it will change WCM
Static content is a thing of the past. It's no longer about just managing content, expert Geoffrey Bock explains. Organizations need to be ready to manage digital experiences.
It's not enough to publish content anymore and let it sit in a content management system for end users to read. Content must now form an experience that drives actions.
With the continuous evolution of the web, the shift from web content management (WCM) to digital experience management boils down to one critical factor: Rather than just being published and available, content becomes useful and actionable.
WCM begins as a publishing environment and steadily adds interactive capabilities. Digital experience management delivers content-enabled applications for performing targeted tasks. This is a critical transformation that has wide-ranging implications.
A digital experience in action
Let's highlight the transition from WCM platforms to digital experience management with a hypothetical example that Acquia used in a series of presentations at its October Engage user conference in Boston.
In the desktop days, a cook a dinner party would have to gather recipes, create a grocery list and write it all down on paper. In a digital experience management implementation, actionable data -- perhaps even fished from a data lake using artificial intelligence -- would find recipes based on a voice request, generate a shopping list from the recipes and store it on a mobile app.
Automatically, the list arranges itself, so each ingredient appears in order of placement in the store, because it's hashed against the store's floor .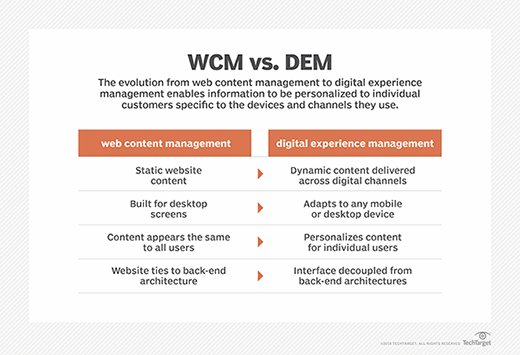 Finding even the most specialized products is simple -- intelligence baked into the app combines with in-store Wi-Fi beacons to pinpoint the right shelves. Concerned about the ingredients of a packaged good? Scanning the product immediately produces detailed health and nutritional descriptions, as well as product reviews, as an integral part of the shopping experience. And perhaps a coupon or two may pop up in the app, as different brands jockey for the cook's dollar.
Back in the kitchen, the app repurposes the same content into the cooking experience, with step-by-step instructions displayed on the screen, followed by spoken text. Need to understand a technique? A video snippet is immediately available. And, of course, the cook can navigate the recipe by voice response. No need to tap a screen with sticky fingers.
Bringing experiences to life
Far-fetched? Hardly. These kinds of digital experiences are just around the corner, enabled by blending interactive application designs with ways for making content useful. Certainly, location-aware and voice-response apps are at the cutting edge, spawned by the creativity of development teams together with software technologies from Apple, Google, Amazon and multiple open source communities.
But notice the essential role for content -- how the right content delivered in the right context brings an experience to life. In fact, a digital experience requires snackable content that is intelligently assembled to support a targeted task.
A digital experience requires snackable content that is intelligently assembled to support a targeted task.
And the device revolution continues, leading to an exponential rise in the volume and velocity of snackable content. Not surprisingly, this content must be managed.
Fortunately, there are options. Third-generation WCM platforms separate content production from content distribution -- what's required to create, edit, organize and store content within a system of record, from what's needed to deliver content to PCs, mobile devices, kiosks, augmented reality displays, smart speakers and other types of digitally powered endpoints.
It is now time to capitalize on the decoupling of WCM platforms while using their content-modeling capabilities, defined by their underlying information architectures. Established players and entrants alike are evolving their WCM platforms into content hubs to power digital experiences.
The race is on to rapidly build content-centric business applications that produce digital experiences. Rightly deployed WCM will be an essential aspect of digital experience management. Needed is a single source of truth for content, managed centrally and systematically, which then supports all kinds of delivery environments. To produce relevant and useful digital experiences, content hubs are going to be the way forward.
Acquia's open source digital experience management
Many major corporations and government agencies rely on the Acquia Platform, an extensive set of cloud-based deployment and support services, to run a commercially supported, open source Drupal instance for mission-critical business activities.
Drupal 8, the latest version of the platform, includes an extensive set of RESTful APIs, and it can be deployed as a content hub and enable facets of digital experience management.
Acquia already produces a personalization engine, Acquia Lift, which dynamically delivers content based on predefined customer segments and business rules. The firm is rolling out two additional product initiatives that will further reinforce its digital experience management capabilities:
Acquia Journey, an interactive experience design environment that enables designers to chart the content flows, decision points and actions to support discrete tasks and thus produce engaging digital experiences; and
Acquia Digital Asset Manager, which supports the single source of truth for maintaining rich media assets, including still images, full motion videos and sounds.
Moreover, Acquia is enhancing its application development capabilities by adding Acquia Platform support for Node.js, a popular open source JavaScript runtime technology. Application developers are going to be able to develop applications with multiple endpoints and rely on the same set of platform services as Drupal. Content production will be closely coupled with application development to produce ambitious digital experiences.
Acquia customers at Engage discussed how they used the platform to create digital experiences:
NBC Sports manages international sporting events, such as the Olympics, with Drupal running on the Acquia Platform in order to report scores and related news about the events.
The Metropolitan Transit Authority in New York City relies on Drupal and the Acquia Platform to manage time-sensitive information for riders across websites, mobile devices and many in-station displays.
Princess Cruises is deploying Drupal to support end-to-end digital experiences for its cruise customers, tracking their interests and needs and ensuring on-ship staff members have the right information readily at hand.
The state of Georgia uses Drupal as the content store to support an innovative voice-response application for Alexa.
These examples highlight how Drupal makes content actionable for a wide range of customer-centric applications.
Your own digital experience management initiative
Here is the secret sauce for developing ambitious digital experiences:
Be sure to get your content house in order. Define the content model upfront. Continue to extend and adapt it in light of ever-changing customer and business requirements.
Rely on the flexibility and extensibility of WCM platforms to manage the metadata for tagging content as part of the digital experience.
Focus on the capabilities of a content hub to create, edit, organize and store information.
Be prepared for omnichannel content delivery.
Remember, great experiences are in the eyes of the beholders. Delivering the useful content for achieving these experiences remains both the challenge and the opportunity.