Determining the best CRM software for your organization
Whether you're a large enterprise or an SMB, we've narrowed your search for the best CRM software by comparing both on-premises and SaaS offerings from the top 11 vendors.
Making an investment in a customer relationship management (CRM) product or suite shouldn't be overwhelming, but it does require research. You must evaluate the various tools, weighing their strengths and weaknesses, to help you determine the best CRM software for your company.
In this article, we compare the features and functions of CRM products as well as examine the latest trends in CRM. We examine 11 market-leading vendors -- Act-On, Adobe Software, HubSpot, Infusionsoft, Microsoft, Oracle, Salesforce, SAP, SugarCRM, Zendesk and Zoho.
While many of these products cover a similar ground, it's important to evaluate them based on functionality as well as delivery methods, upgrade cycles, service options or pricing models, or overall engagement and interaction. If you're considering a CRM purchase, remember that you aren't just buying a package; you're entering into a relationship with a vendor.
Below we examine full-featured CRM suites as well as applications with specific functionality that you'll want to consider as you begin your search for the best CRM software on which to build your engagement strategy.
Full-featured CRM suites
CRM applications for midsize or larger enterprises. Even though there are numerous options available, if you're a midsize or larger enterprise looking at CRM options to build a comprehensive, scalable customer engagement strategy on top of, you should look at Microsoft, Oracle, Salesforce and SAP (MOSS). Each of these vendors provides applications that cover the spectrum of CRM functionality from both a breadth and depth perspective. Beyond the traditional areas of salesforce automation, marketing automation and customer service, these applications also provide such things as online communities, deep analytics and multichannel engagement. They can scale to handle the needs of the largest organizations. In addition, they have massive technology footprints with data centers and redundant systems located across the globe. And while Microsoft, Oracle and SAP still offer on-premises options, all the MOSS vendors provide cloud-based applications.
You aren't just buying a package; you're entering into a relationship with a vendor.
If your employees spend a great deal of time in Outlook, Excel and other Microsoft productivity products, it makes sense to examine Microsoft Dynamics CRM. In fact, Microsoft recently announced that the 2016 release will enable users to identify contextual CRM information such as opportunity, lead and contact from within Outlook. In addition, salespeople will be able to use Excel from within Dynamics CRM 2016 to do things such as pipeline analysis.
If your organization uses other Microsoft services, such as SharePoint, the collaboration platform, and Skype, the real-time messaging platform, along with Office 365, Microsoft Dynamics CRM deserves consideration, as it provides a great deal of functionality in an interface that's familiar across devices. On the services side, features from Microsoft's recent acquisitions, Parature and FieldOne, are expected to be integrated into a single package for Dynamics CRM 2016 to handle self-service, agent-assisted support and field service. However, while Dynamics CRM provides email and SMS marketing, the breadth and depth of digital marketing platforms coming from Adobe, Salesforce and Oracle may be more suitable for companies that need a greater set of marketing capabilities, such as content creation and design, optimization, testing, targeting and campaign management.
Through a mix of native grown applications and acquisitions, Oracle has put together a series of cloud offerings under its Customer Experience (CX) umbrella for marketing, sales, service, social commerce and configure, price, quote (CPQ). While the functionality runs deep within each of these clouds, so can the cost and complexity of putting end-to-end processes together to create personalized customer journeys and experiences -- especially for midsize organizations with limited resources. With so many acquisitions involved in making up clouds, knowing how each of these pieces fits in its respective cloud can be tricky. And this can make integrating across CX clouds a lengthy and expensive endeavor.
But Oracle recently announced CX for Midsize Customers, which integrates features from their sales, marketing, service and CPQ clouds into an offering built for midsize organizations that need to get up to speed quickly so they can create flexible engagement models for evolving customer journeys. While you don't get the total features and benefits included in the individual cloud offerings, you do get an integrated solution covering the functional stages in the customer journey, along with an affordable pricing model than if you were paying for individual CX clouds. And having CPQ functionality to maintain per-unit profit margin thresholds and product mix compatibility as part of the integrated solution differentiates the offering.
Like Oracle, SAP has a stack that is deep and wide, with a number of options for specific industries. And if you're an SAP enterprise resource planning (ERP) customer, it makes sense to look at what is available for a CRM -- particularly if you want a full-featured on-premises product with SAP CRM. But, even if you aren't a current customer, SAP's focus on creating its Customer Engagement and Commerce (CEC) cloud platform for enterprises provides plenty of reasons for consideration. Its foundation is built on both engagement and online and mobile commerce to deliver real-time, consistent, contextual experiences throughout the customer journey. This should appeal to enterprises looking to optimize digital customer engagement strategies.
SAP platform components include Cloud for Sales, Cloud for Service, hybris Commerce, hybris Marketing and SAP Jam, an online community platform that facilitates internal collaboration between employees and partners, as well as external collaboration with customers and brand advocates. Having collaboration, digital marketing and commerce at its core, baked in with the traditional areas of sales and service, the SAP CEC platform provides enterprises with a foundation to build a modern customer engagement strategy. Compared to the traditional CRM offering from SAP, the CEC platform is in its formative stage and currently doesn't have the same depth in traditional CRM functionality. In addition, its marketing functionality isn't as broad or deep as what you might find in Oracle or Adobe's Marketing Cloud platforms. But as digital communities and commerce play a growing role in modern customer engagement, the CEC platform should be well-positioned.
It's no secret Salesforce is in most CRM conversations. Salesforce led the way in evangelizing cloud-based CRM. But it has gone beyond providing apps for sales, marketing and service, to being what it describes as a customer success platform, with several companion cloud offerings, including the Analytics Cloud and the recently announced IoT Cloud to assist companies in leveraging data coming from a variety of devices and other sources to drive contextual real-time interactions. Salesforce also has created development environments, enabling its customers to design and host custom apps on their servers, which integrate with Salesforce apps. And these apps are written once automatically, but can be used on browsers and mobile devices.
In addition to providing marketing, sales and service clouds with deep functionality, the Salesforce AppExchange business app store has the widest selection of third-party apps that integrate with Salesforce products. Whereas Oracle and SAP have developed or acquired functionality such as e-commerce and CPQ to build into its clouds, Salesforce has developed integration partnerships with leading vendors such as Apttus, CallidusCloud, PROS and Appirio to fill in missing links. Compared with Salesforce, Oracle and SAP have a larger number of vertical offerings. Additionally, SAP and Microsoft have an army of local certified technology and business service partners that can provide implementation, training and integration assistance, in numbers that go well beyond what Salesforce has.
CRM suites for smaller companies
While larger enterprises have the MOSS CRM suites to choose from, many smaller companies can't afford them, and even if they could, these products are often too complex to provide measurable benefits. Zoho's CRM suite is built specifically for smaller organizations that need solid, accessible and affordable customer engagement functionality. The CRM Plus edition includes email marketing, sales intelligence, social media marketing, customer service, project management and more at a relatively affordable annual rate.
While the depth of functionality isn't comparable to the enterprise players, Zoho's CRM covers the basics for many small and medium-sized businesses (SMBs). In addition, Zoho has fewer third-party integrations than the MOSS products. But if you use more than one of the many Zoho apps (Mail, Projects, etc.) the integrations with Zoho CRM increase the appeal. So if you don't need enterprise-level functionality, Zoho has a lot to offer and provides great value.
Function-specific applications
The suites from Microsoft, Oracle, Salesforce, SAP and Zoho have applications that provide customer engagement from a variety of functional perspectives. But in many instances, the challenges to solve are specific. Depending on the issue your company needs to address, below are a few products to examine that cover specific pieces of the customer engagement puzzle.
Digital marketing. An enterprise that wants to improve its digital marketing capabilities may want to consider Adobe's Marketing Cloud in addition to the marketing cloud products from the suite providers. Adobe doesn't have products for sales force automation or customer service, but it has one of the most extensive digital marketing platforms available, including Web content management, multichannel campaign management, content optimization, social media publishing, Website testing and personalization. Additionally, the Adobe Marketing Cloud integrates with its Creative Cloud of popular apps (Photoshop, Illustrator, Premiere Pro, etc.) to streamline marketing content creation with distribution and analysis -- across channels and device types.
SMB marketing automation. Adobe Marketing Cloud targets large enterprises with millions of customers and prospects to interact with, but cloud-based offerings from companies such as HubSpot and Act-On offer SMBs great options for implementing and managing multichannel marketing campaigns.
HubSpot's lead scoring functionality provides a score based on behavior, demographics, social, email and spam detection data. The Ads add-on tool gives HubSpot customers the ability to create and manage Google AdWords and LinkedIn Sponsored Updates campaigns. And while HubSpot provides native integration with Salesforce, HubSpot has a free CRM app that provides users of its marketing platform with basic contact and account management.
Act-On has all the necessary pieces for implementing advanced lead nurturing sequences, optimized content, A/B testing and integrations with Salesforce, Microsoft Dynamics CRM, SugarCRM and NetSuite. Additionally, Act-On has created several industry templates on top of platforms to make it easier for marketers in healthcare, insurance and financial services to hit the ground running with the service.
Even companies with fewer than 25 employees, but with needs for executing sophisticated marketing functionality (lead scoring, lead nurturing, multichannel execution, etc.), can use a service such as Infusionsoft, which provides an impressive solution geared specifically for small businesses.
Sales-focused applications. SugarCRM offers midsize organizations a more sales-centric option to implement processes and workflows aimed at creating consistent customer experiences. While SugarCRM offers case management for tracking service requests, it integrates with third-party systems, such as Zendesk, to provide deeper service capabilities into the application ecosystem. This allows companies to focus on building a platform that provides sales teams with better insight into where customers are in their individual journeys, and what tasks and activities they can engage them in to create more meaningful interactions.
Service-focused applications. Zendesk provides a multichannel support platform (self-service, email, social, chat, in-app, etc.). SMBs can use this product to create better service experiences for its customers. Zendesk integrates with a wide variety of applications, including an integration that enables support agents using Zendesk's chat tool to communicate with customers on Facebook Messenger.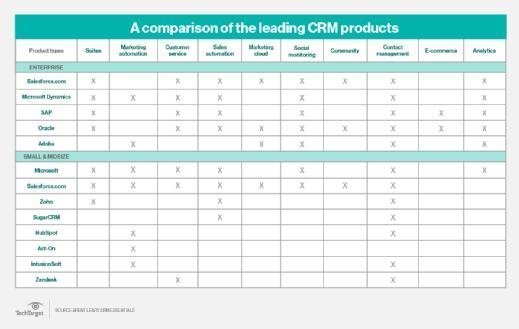 Recently, Zendesk integrated with HubSpot, allowing users to view service information about a contact or lead from within HubSpot. So, if a case is opened in Zendesk, it will get streamed into HubSpot so that marketing users have a view of what's going on.
Today's CRM applications provide more advanced features and are more accessible and affordable than ever. It's important that your organization selects the product that best enables it to find, acquire and retain great customers over an extended period of time. Finding the best CRM software can be accomplished once you have a solid understanding of what your strategies and processes are for interacting with customers and prospects, and you have flexible platforms and applications in place that can easily adapt to the changing needs of your customers.
Dig Deeper on CRM strategy and implementation