maigi - Fotolia
Data quality is the key to building customer relationships that last
Without high-quality data, building customer relationships is a constant struggle. Companies need to clean up messy databases and establish connections based on complete, up-to-date information -- or risk losing business.
WGBH knew it had a data problem when fundraisers asked longtime donors to give for the very first time.
The public media organization in Boston had six decades of data that was disorganized, inaccurate and duplicated in its databases -- information that fed interactions with invaluable donors. Some complained they were mailed multiple pieces of marketing material. Others had to endure pledge drive pitches from agents who knew nothing about their many years of generosity.
"If the systems aren't smart enough to know that a record coming in is from a donor we've known for many, many years, we felt we were risking our ability to have solid relationships with our donors," said Cate Twohill, senior director of customer relationship management at WGBH.
WGBH creates local radio and TV programming in the Boston market as well as national programs including Downton Abbey and Frontline -- and pledges keep them on the air. But the station left that accumulated, poor-quality data untouched, shuffling it through five CRM systems. The result was a mountain of inconsistent, incomplete and outdated information that was getting in the way of WGBH's primary goals: boosting contributions and encouraging donors to consider new fundraising options, such as estate planning.
By 2013, WGBH had moved to a Salesforce CRM system. It also enlisted the RedPoint Convergent Marketing Platform to identify duplicate or incomplete donor information.
Through an identity resolution method known as heuristic matching RedPoint finds similar customer information, merges it and declares a definitive copy. "We focused on merging together all the active accounts," Twohill recalled. "We gave [RedPoint] our data, and in about an hour they found 80,000 duplicate accounts."
RedPoint's data quality efforts helped WGBH generate more complete and up-to-date donor records. Today, according to Twohill, the station's programming department doesn't have to field complaints from donors asking, "Why are you mailing two or three pieces of the same mail to the same address?" Instead, it can focus on donors' questions about WGBH offerings.
Poor data? That's going to cost you
Customer data management often falls to the bottom of the priority list. Organizations get bogged down with more pressing issues, such as cutting costs or keeping daily operations running. But relying on poor-quality customer data almost always frustrates customers -- and many of them take their business elsewhere.
But managing data has never been more important to building customer relationships. Organizations are struggling to integrate an unprecedented amount of customer data streaming in -- from websites, social media, direct mail and contact center databases -- and to create definitive data that can guide their communication with customers.
The cost of poor data quality has real impact, too. According to research outfit Gartner, CRM departments without sophisticated data management tools will derive erroneous results that alienate customers, resulting in a 25% reduction in potential revenue. Similarly, a March survey by Experian Data Quality found that inaccurate data had a direct impact on the bottom line for 88% of responding companies, with the average company losing 12% of its revenue because of it.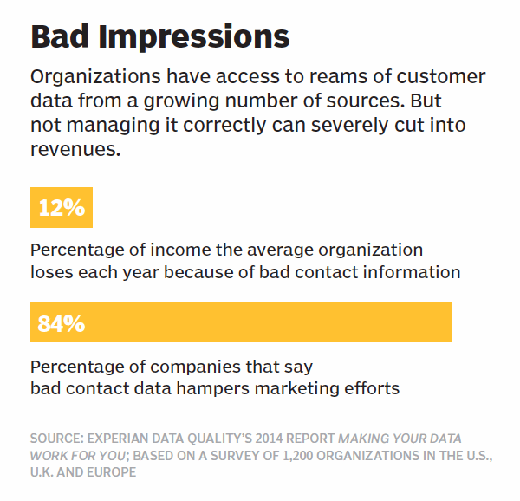 Data quality tools like RedPoint are the foundation of larger master data management (MDM) efforts to scrub poor quality data and get it in order. MDM tools and processes can bring key shared master data together in a central hub by physically copying data or providing pointers back to other systems. The goal is to create a golden copy that's accurate, up-to-date and consistent throughout an organization. MDM thus creates a "single customer view" -- a comprehensive portfolio of each customer, including history, profiles and interaction with sales and support staff from far-flung channels, such as social platforms, email and live chat.
For WGBH, such governance was long overdue. "Now we're able to be much more specific and accurate in all our communications," Twohill said. And the station has saved nearly $50,000 in postal costs. Add in production and paper costs, and the revenue saved by eliminating duplicate data could add up to $100,000 annually, she estimated.
The trouble with legacy systems
Data quality and MDM efforts become particularly difficult when an organization is saddled with not only poor-quality data but also legacy applications. Reliance Home Comfort is a home heating and cooling provider in Toronto with 1.5 million customers. As a result of a company spinoff and nearly 30 years of operations, the company's customer data resides in a Microsoft Dynamics CRM system -- as well as in legacy applications, including ones used for fulfillment, repair technician scheduling, customer billing and company financials. Scattered customer data creates a major hurdle in providing seamless, high-quality customer service.
The systems are too old to be merged, so Reliance's CIO, Celso Mello, had to patch them together through APIs to get them to talk to one another. But APIs can make systems sluggish when, for example, a rep looks up a customer's record on a call. More important, Reliance reps, technicians or sales teams often have fragmented views of customers.
"Having all of that aggregated data behave as if it's all integrated when you're talking to a customer -- that's a major challenge," Mello said. "[Customers] expect you to know everything about them."
Manual data entry can augment these problems as well. Reliance's business involves lots of data entry, and when it's done by humans it's slow and error-prone.
"Garbage in, garbage out -- it's a reality," Mello said. "If the data gets into the system wrong to begin with, it's going to be wrong throughout and you'll have issues going on until the end."
Mello has automated some processes, though. When a salesperson completes a customer's form for a new product sale, for example, he can press a button and autopopulate the form with information from the fulfillment system, such as product names and 14-digit SKU numbers, instead of having salespeople write and then type the information.
Automating that process "cuts down on a lot of manual data entry and errors and delays," Mello said.
Clean it upfront
Big organizations like WGBH and Reliance Home Comfort are saddled with common hurdles like legacy data. But even startups wrestle with customer data quality and data management issues. They just struggle differently.
Double Dutch, a San Francisco provider of social networking software for conferences, was cracking into an emerging market when it was launched in 2012. It needed to develop a set of prospect leads -- and fast. Russ Hearl, vice president of global sales development, decided that identifying software buyers through a grueling schedule of all-day cold calling wouldn't work.
The contacts that salespeople might generate from random calls would be like a steady diet of carbohydrates: empty calories that won't help build muscle strength—or customers, in this case. Hearl needed to identify true decision makers -- people who had the authority to buy the conference software his company produced. So he needed a strategy to generate better customer lead data for his sales team.
"I wanted to minimize wasted effort [in] calling people who have nothing to do with the success of an event," Hearl said. "We needed prospect data to feed the sales team without having them go to LinkedIn all day and try to find a needle in the haystack."
But Hearl didn't want to buy contact lists, which are costly and can introduce unreliable data. Instead, he invested in lead generation software from Inside Sales and hired a team of offshore researchers to vet the incoming data and identify real buying prospects. This enabled his lean sales staff of three reps to focus on selling the need for conference software.
Hearl's research team combs through online contact data using sources like LinkedIn and other databases. To verify that the data is accurate, Hearl invested in customized Web crawlers, such as one from Broadlook Technologies, to verify data and fill in limited demographic information such as a name or email address. "Web crawlers can crawl 500,000 pages simultaneously, so the data you get out can have a lot of noise in it," he said.
Further, Inside Sales identifies certain triggers that indicate a prospect is ready to buy, such as indications that a company is about to launch an event. Combining human research with technology tools is key to Hearl's data strategy: creating more accurate profiles of buying prospects. That way, he said, he ensures that his data is current and complete and identifies the right customers to target for pitches and demos.
"The cleaner the data, the higher the productivity and the higher likelihood that our reps are going to hit their numbers in terms of calls and demos booked … and closed deals," Hearl said. "So it all starts with having accurate, actionable data."
Building customer relationships with integrated data
But many organizations need outside help tidying up their data. With its own data issues under control, WGBH is developing a service to help other programming outlets deal with quality problems. It manages data for a station in nearby New Hampshire and envisions extending services to other locations around the country.
The New Hampshire station went from being at risk of losing state funding to earning back its shortfall and gaining an additional $1 million in backing. The deal benefits WGBH as well, since it acts as a revenue generator and helps preserve the public media "ecosystem," Twohill said, ensuring that failing stations survive so WGBH can air its programming on them.
For Reliance Home Comfort's Mello, the next order of business is to tackle legacy systems and silos. Mello wants greater harmony among these systems so customer agents, salespeople, technicians and executives can get better insight into customer purchases, preferences and issues. But currently, data is organized by department and business process, not by customer account.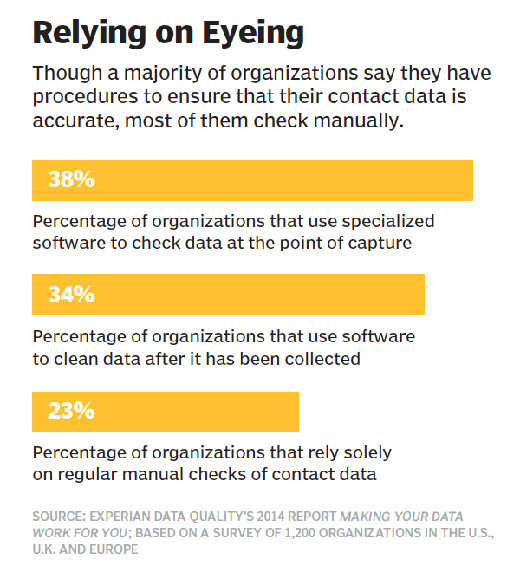 "The fact that we have multiple databases for the same type of information creates problems for the customer because we silo the customer based on the business process," Mello said.
A single data repository is not always realistic. Mello advocates a master-slave relationship in which updates made in one system are automatically updated in the other -- if customer information and billing information is separated, for example. Reducing the number of places where users have to enter data is also key, Mello said.
But technology can't replace human judgment on data quality and management.
According to Double Dutch's Hearl, nothing is going to take the place of the grueling work of cleaning and verifying data. "There's no killer app as far as CRM data cleansing."
About the authors
Lauren Horwitz is an executive editor in the Business Applications & Architecture group at TechTarget. Email her at [email protected] or follow her on Twitter: @lhorwitz.
Tim Ehrens is site editor of SearchCRM. Email him at [email protected].
Next Steps
How to shape customer experience with data
Data analytics gives a complete picture of customer behavior
Customer data quality affects records management too