Customer relationship management tools revolutionize engagement
Changing customer habits and technology usage spur a whole new set of customer relationship management tools that can provide faster access to information.
Customer relationship management is certainly nothing new, yet the rapid evolution of CRM presents the market with an almost perpetual sense of newness. Today's customer relationship management tools provide far more capabilities than traditional CRM technologies did, with features that make them indispensable for businesses large and small.
What's driving this growth in CRM? For the enterprise, it's the advent of mobile technology and the cloud; better tools for instant access to information have made CRM a real-time need. And, from the customer side, social media is quickly expanding the buyer's role in market evolution, product development and the proliferation of effective marketing and sales channels.
Customer engagement strategies today
Increasingly, as social media opens up new ways to connect to existing and potential customers, it's becoming more important to refresh customer engagement strategies -- not just frequently, but on an ongoing basis.
Managing customer relationships has become increasingly complex in recent years, if for no other reason then there's much more customer data to manage. But more than that, it's the customer who defines how engagement takes place. Customers rely on social media tools, including Facebook and Twitter, to air their concerns, and it's up to sales and marketing executives to pay close attention.
Technology and customer perception
The core of CRM creates a more personal approach to attracting and retaining customers, while simultaneously aggregating big data that can more effectively represent the market as a whole.
The biggest recent shift has been toward two-way customer engagement; not just reaching out with a better understanding of the customer and a better plan for meeting their needs, but also opening new channels of information. This includes learning to listen to customers through social media to see what's said about a company's products and services.
Technology swiftly made these new channels into reliable sources of useful brand sentiment, as well as excellent new paths to engagement, beyond simple marketing and selling. Mobile technology and cloud platforms have made this new communication relatively easy and pain-free. The challenge is coming up with the best strategy for putting it to work.
Editor's note
Using extensive research into the CRM market, TechTarget editors focused on the vendors that lead in market share, plus those that offer traditional and advanced functionality. Our research included data from TechTarget surveys, as well as reports from other respected research firms, including Gartner and Forrester.
How CRM benefits customer engagement
Customer relationship management tools do far more than aggregate customer profiles and analyze buyer behaviors. Here are a few of the latest customer engagement features.
Selective social media presentation. As attention spans shrink in the age of the internet, CRM empowers marketers to target the right customers on social media, through a combination of analytics and social media demographics.
Before and after behaviors. Social media monitoring can create a map of the customer's journey through the internet, illuminating not only buying habits, but also social profiles. This provides insight into what interests customers and what they think is important.
Two-way communication. Through social media, it's now possible to engage customers and potential customers directly, beyond the confines of the enterprise -- not simply listening in on what they tell one another about the brand, but also opening the door to product development input, customer service enhancement and peer-to-peer product support.
The evolving customer relationship management tools market
All of these innovations derive not from the CRM market itself, but from its response to changing customer habits and technology usage. The rapid evolution of CRM, and the steady pace of new features in customer relationship management tools, represents a fast adaptation to growing consumer participation online.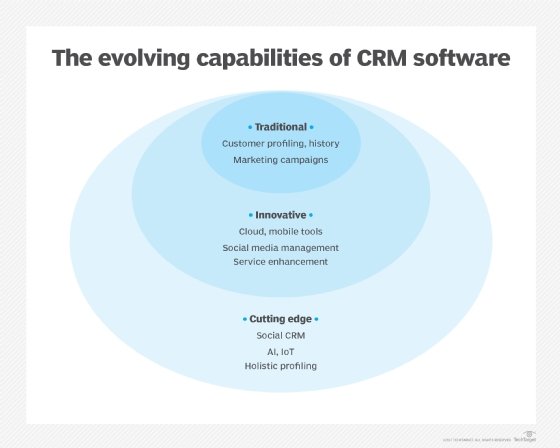 The tools of CRM keep pace with the evolution of social technology, expanding at the same rate (or close to it), with each shift in consumer social media behavior and technology inspiring a corresponding improvement in CRM technology and methodology. Indeed, today's CRM tools look much different than traditional customer relationship management tools.
A quick look at traditional CRM
From the start, CRM has been about improving the enterprise's means of identifying, attracting and retaining customers, as well as automating these processes as much as possible. This includes the generation of new leads by marketing, the scoring of those leads and tracking those that seem like good prospects to turn over to sales.
Part of that task has included becoming more adept at fine-tuning and correctly using demographic data in support of that lead development. The other part of that task includes cultivating profiles of potential customers that provide insight -- not just into buying habits, but also broader lifestyle portraits, with the goal of knowing the customer's needs and being able to determine how they'll likely change over time.
Next is the fine-tuning of sales processes to align with this improved marketing effort, syncing sales operations with a high-resolution targeting of where the customer happens to be in the process. The pipeline concept is centered in the customer journey, and it enables a more individualized experience on the customer side, as well as a greater opportunity for intervention and troubleshooting by sales.
Finally, there's the problem of retaining the customer long term, which requires ongoing nurturing of the relationship and a steady cultivation of loyalty to the brand. Turning a first-time customer into a long-term, loyal one requires careful study of the customer's buying habits, attention to the customer's needs and accurate responses to questions or requests, as well as the prompt, personal and effective resolution of issues. This nurturing of the relationship after marketing and sales have done their jobs is the true core of effective CRM -- the single biggest contribution to a positive customer experience.
As discussed above, these central CRM functions are now both more complex and more flexible thanks to the ubiquity of social media and growing participation on the part of the consumer. Social CRM, which includes two-way customer engagement, social listening to brand sentiment and the cultivation of loyal customers as brand ambassadors, is taking CRM to new levels of effectiveness.
Cloud-based CRM is also advancing the technology rapidly, as easy access to data is transforming traditional processes into real-time operations. This adds a wealth of demographic data to customer activity, enabling powerful analytics that help the enterprise plan its next steps.
The latest and greatest in CRM
A lot of behind the scenes development has enhanced CRM technology in the past few years. This growth isn't obvious at first glance, but it makes a huge difference in the quality of the data going into CRM processes. Big data and analytics drive the intelligence behind lead generation and engagement strategies, and most of the major cloud platforms now feature baked-in artificial intelligence and analytics tools, making this functionality accessible to businesses of all sizes.
Sales CRM and e-commerce are rapidly emerging hybrid models for enhancing transactional efficiency across websites. Enterprise CRM data can be integrated with e-commerce sites to capture important client behavioral data, consolidating previously siloed processes, such as ordering, tracking and delivery, inventory, and sharing that information with business partners.
The internet of things, evolving in its own right, hasn't been left out: Gartner has called it one of the five major drivers of CRM, as it expands the data that defines customer behaviors in ways that enhance predictive power and responsiveness. Retail stores will be able to respond on an individual level. Marketers will adjust their messaging to customers in real-time. And customer service will be able to call in advance of a failure.
Though the cloud is driving the CRM evolution, on-premises options continue to be offered, with the advantage of more integration with legacy systems. This is an important consideration for many organizations, as CRM data can be useful across the enterprise, even forming its informational hub. A strong on-premises deployment can serve as the bedrock of retooling in-house data management.
The CRM market today
The traditional CRM players have kept up with the market's evolution, responding with new functionality and enhancements to classic features. Larger, more established platforms, such as Salesforce CRM and Microsoft Dynamics CRM, are cultivating social media functionality and expanding core CRM functionality, while smaller platforms, such as SugarCRM, Zendesk and HubSpot, focus heavily on one CRM feature set or another, such as marketing campaign management, flexible customer application integration and enhanced customer support.
The market's leading players are a healthy mix of large and small vendors, some with monolithic platforms that meet every conceivable need (at a price), while others are more limited, but also more affordable. Some platforms are on-premises, some in the cloud, some both; many offer social CRM functionality, and a broad range of pricing models means there are options for companies of all sizes.
CRM is mission-critical in the modern enterprise, for many obvious reasons, and some not so obvious. The biggest, of course, is that competitors are almost certainly leveraging customer relationship management tools to make their operations better. But each company has its own needs and operational differences, so determining whether CRM can help, where it should be deployed and how to use it isn't easy. A number of important questions need to be worked through to make those determinations.