Fotolia
Customer data analytics a slam dunk for the Spurs
The San Antonio Spurs adopted Kore Software to build on top of its CRM to help with customer experience.
Sports was one of the first industries driving awareness of data analytics to the average sports fan, as retrospective data analysis began influencing in-game decision-making, as well as roster decisions across all major sports leagues on fields, courts and rinks in the late 1990s.
With the success of statistics on the field and court, sports organizations are now tapping into customer data analytics to round out the fan experience. One such organization is the San Antonio Spurs.
Winners of five NBA Championships since 1999, the Spurs have been the model of on-court success in the NBA since the turn of the century. As successful as San Antonio has been on the hardwood -- the team is 13-7 as of Nov. 29 -- the organization is bringing some of that analytical success to improving the customer experience.
"It's something that was a broader trend within the industry, and the evidence of a dedicated analytics department is clear," said Jordan Kolosey, director of corporate analytics and insights for the San Antonio Spurs.
Perhaps more than any other industry, customer sentiment in sports is dictated mostly by an emotional connection to the on-the-field product -- a Spurs fan won't necessarily be less of a fan if he or she has a hard time buying a Spurs jersey. But by using customer data analytics to improve the customer experience on aspects outside the lines, sports organizations like the Spurs are able to grow and accommodate a wider audience, while also focusing on fans who purchase tickets.
Scaling across silos
Kolosey and the Spurs developed a corporate analytics department about 14 months ago, and, more recently, licensed Kore Software Inc. to use on top of its Microsoft Dynamics 365 CRM.
Kore Software is a business management software company that builds on top of leading CRM tools and specializes in sports, entertainment and brands. Integrating with Salesforce, Dynamics 365 and SAP, Kore helps sports brands break down data silos among ticket sales, sponsorships, merchandising -- most sports organizations have all this data stored in different locations in different software.
"We connect third-party data into our system and integrate those silos with one another," said Scott Aller, vice president of marketing at Kore Software, which is currently used by more than 90 sports teams across the five major professional leagues in the U.S. "We try to help sports organizations understand who their fans are, how to engage with them and how to increase sales."
After implementing Kore Software, "we're spending less time data gathering and refining and more time looking for actual insights and developing strategies that will improve our business," Kolosey said. "Analytics doesn't do anyone good if only data analysts can understand it."
We didn't have to spend the time and resources establishing those connections, and now we have that feedback [in] our CRM system.

Jordan Koloseydirector of corporate analytics and insight, San Antonio Spurs
He added that "between ticket sales, concession, merchandise -- we had all these silos that grew independent of each other. Kore has been helpful in building a platform that can scale across these silos."
Kore Software has built out connectors with leading providers of concession point-of-sale software, ticket providers and merchandisers, making it easy for teams to turn on those connectors and get that data to interact.
"We didn't have to spend the time and resources establishing those connections," Kolosey said, "and now we have that feedback [in] our CRM system."
Customer data analytics helps assess ticket sales
One area in which Kolosey and the Spurs have seen benefits is being able to collect data and analyze which games do better based on a variety of factors -- giving the organization more insight into what to charge for tickets depending on the opponent or time of year.
"We're able to see, based on the strength of the opponent and day of the week, to be more strategic and look for new opportunities if the ticket rate may not be high enough for an upcoming game," Kolosey said. "We can use it for a pricing standpoint and see visually which sections of the arena where the secondary market is outpacing our pricing."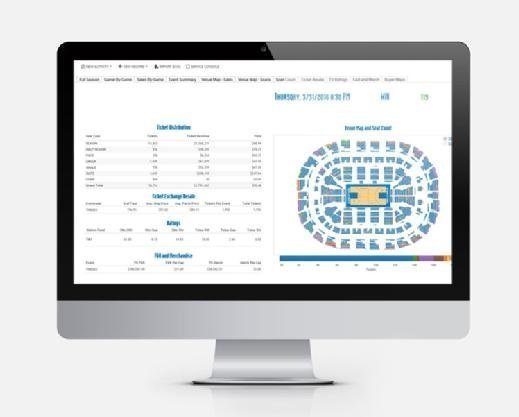 Kolosey said the Spurs also use customer data analytics to find where bottlenecks occur in the arena around merchandising or concessions, with the intent of improving the customer experience at games.
"It's all insights we're just getting, so the strategies are still forming," Kolosey said. "A year from now, we'll hopefully have some victories under our belt, so it's an exciting time." Kore Software doesn't publicly share pricing information.