Manage
Learn to apply best practices and optimize your operations.
Customer Relationship Management
Learn about managing the customer lifecycle including customer retention in this chapter download.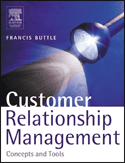 Printed with permission from Butterworth-Heinemann, a division of Elsevier. "Customer Relationship Management", by Francis Buttle. Copyright 2004.
What is customer retention?
Customer retention is the strategic objective of striving to maintain longterm relationships with customers. Customer retention is the mirror image of customer defection. A high retention rate is equivalent to a low defection rate.
Conventionally, customer retention is defined as: the number of customers doing business with a firm at the end of a financial year expressed as percentage of those who were active customers at the beginning of the year. However, the appropriate interval over which retention rate should be measured is not always 1 year. Rather, it depends on the repurchase cycle found in the industry. Consider customer retention in an auto dealership and an insurance broker. Insurance policies are renewed annually, unlike cars. If the normal car replacement cycle is 4 years, then retention rate is more meaningful if it is measured over 4 years instead of 12 months. Sometimes companies are not clear about whether an individual customer has defected. The problems are created by the following factors.
Product-based views of customers: consider insurance. Insurance companies often have product-based information systems. Effectively, they regard an insurance policy as a customer. If the policy is renewed, the customer remains active. However, take a customer who shops around for a better price and, after the policy has expired, returns to the original insurer. The insurer may take the new policy to mean a new customer has been gained. They would be wrong. Consider industrial chemicals. A customer bought 500 tonnes of hydrogen peroxide last year. This year, owing to a change in manufacturing processes and products, the customer buys a different product and volume, say 50 tonnes of magnesium peroxide. If the database is not smart enough to detect and note the changed order, the supplier's records may show this as a defected customer for hydrogen peroxide and a new customer for the magnesium product.

Channel-based views of customers: telecoms companies acquire customers through many channels. Consider a customer who buys a 12 month mobile telecoms contract from a Vodafone-owned retail outlet. Part way through the year Vodafone launches a new pay-as-you-go product with no contractual obligation. The customer allows her current contract to expire, then buys the new pay-as-you-go product, not from a Vodafone outlet but from a supermarket. Vodafone regards her as a lost customer because the contract was not renewed. In the business-to-business (B2B) market, office equipment dealers have formed into buying groups to leverage better process and service. When a customer stops buying direct from Brother Electronics and joins a buying group, Brother's customer data may report a defection, but all that has happened is that the dealer has begun to buy through a different channel.

Multiple product ownership: a bank customer may have several accounts, such as current, savings and loan. Consider a customer who pays off his debt and closes the loan account. The bank may consider the customer to have defected because its customer data are held in product databases that are not integrated to give an overall view of product ownership by the customer. A customer view would reveal that the customer is still active with current and savings accounts.

Read the rest of this excerpt and download Chapter 9: Managing the customer lifecycle: customer retention and development
Read other excerpts and download more sample chapters from our bookshelf

For information from the publisher, or to buy the book, please visit https://www.elsevier.com/books-and-journals.
Dig Deeper on Customer loyalty and retention