 BACKGROUND IMAGE: iSTOCK/GETTY IMAGES
Manage
Learn to apply best practices and optimize your operations.
Contact center industry lifetime achievement winner still not done yet
ICMI Lifetime Achievement Award winner Gerry Barber shares the lessons he learned during a 30-year career in the contact center industry.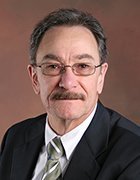 Gerry Barber, recipient of the ICMI Lifetime Achievement Award
At a point in his career when many would be considering trading in their daily commutes and cubicles for the quintessential retirement Rolex and a beach house in Boca, Gerry Barber is busy as ever, using his decades of experience to mentor fledgling call-center leaders and establish standards in what is still a very new, developing industry. And, as Barber makes clear, he is most certainly nowhere near done yet.
Barber, who has been in the call center industry for over 30 years, was named the first-ever recipient of the International Customer Management Institute (ICMI) Lifetime Achievement Award at the Contact Center Awards in Seattle on May 14 -- an award intended for those who, over the course of many years, have personally made a large impact on the contact center and CRM industry. Throughout Barber's career, he's been on the front lines of engineering call centers and bringing about new innovations, helping them to go from switchboard-based call centers to the multi-channel, innovative contact centers we have today.
Barber recently took time out of his busy schedule to chat with SearchCRM about some of the lessons he's learned and to reflect on how contact centers have evolved over the decades. He spoke candidly about the technical and cultural shifts within the CRM industry, what it feels like to win such an extraordinary award and the intense need of a certification process for contact center leadership.
Are you still in shock about winning the Lifetime Achievement Award at the ICMI contact center awards?
Gerry Barber: It is still foggy to some degree. I shared it with my boss at Deloitte, and she had PR do an article on it. I got some nice compliments from folks. As they were announcing that I was being given the award, I thought: "Are they talking about me? They can't be talking about me." Since I received the award, a lot of folks have said I made a difference in their career or pointed out things I've done for them. If they feel that way, I'm happy I'm making a difference, but I have a long list of people in the industry I'd thank who should be up for such an award.
What made you choose a career in the contact center industry? Of all the things you could have done with your life and talents, why call centers?
Barber: What drove me into the contact center industry is that every day is something new and exciting. I love to lead people toward a strategic direction, and I love to help people grow in their careers and professionally. Call centers are where I've done this -- they've been very, very good to me -- and I'm not done yet!
Your career has spanned three decades. What were the first contact centers you worked in like and how were they different from contact centers today?
Barber: We have gone from switchboards in the first call centers to a robust, multi-channel contact center system that with a single brain will make the decision to make right contacts to right resources based on skills, service levels and time of day. It's amazing to see how much it's changed; it is now moving more rapidly every day than it did in seven to eight years in early part of my career. With each generation, the nuances of the employees have changed. My first contact center was a union environment. There were basic rules of engagement, contracts, and seniority dictated many things. Today, on the other hand, call centers are frequently staffed by young professionals with a great deal of experience using technology. They have different likes and dislikes of where they want to be, and are accustomed to work schedules that aren't always 9 to 5. Today there is a great desire to work from home or [within] groups. Back in the day, the call center environment was very ridged or structured. In today's young work force, being on the phones is often not the first choice. But they take to [text-based] chat and navigating intricate websites very well.
What do you most frequently see call centers neglecting? What does a call center really need to call themselves modern?
Barber: There aren't enough certified call center professionals out there. It's really important for the leadership of contact centers. Often, people who were administrative assistants previously are magically moved over to contact centers; they are ill equipped individually to be able to master that sort of technology. I expect my leaders in the call center to be deeply knowledgeable on the technology level. They should know how to use those tools and be able to think outside the box and be able to take those tools to the next level. This is a people problem, not a technology delinquency. You can't just bonk someone over the head with a magic wand and make them a manager. Everyone needs training and coaching and development, and a certification process makes that possible.
From what I understand, you've been instrumental in creating and evangelizing call center certifications. What are some of the advantages of certifications versus on-the-job training? Why do you think a certification system is important?
Barber: Certification for certification's sake is problematic. For certification to make a difference, employees should demonstrate that they have ability and knowledge and can execute on that ability and that information, no matter what walk of life they come from or what their occupation it is. Certifications should demonstrate proficiency, not just be a test. I believe that if we want to up this industry's game, people leading contact centers should be able to demonstrate this knowledge and execute on it.
What do you think is the next big thing in contact centers? Which technologies are about to get hot?
Barber: I really believe that the focus on multi-channel that we've just stepped into is that next big thing. A single brain will be able to make routing decisions. When you can bring it all into a single technology brain making these decisions, we'll be more productive, efficient and will experience a reduced cost. On top of that, I really see a big rush to the cloud and providing contact centers via the cloud so that organizations can keep up with the massive enhancements that are happening in contact center technologies. By the time you develop something in house, you need to upgrade it again anyways. But a cloud provider will constantly be upgrading their technologies to compete in the marketplace, so everybody wins.
Dig Deeper on Customer relationship management (CRM)