Manage
Learn to apply best practices and optimize your operations.
Call center training: Best methods for sharing knowledge, part 1
Frequent change is a way of life for the call center. Call center managers are challenged to train and re-train amid a fairly high turnover. You ramp up new employees, contractors, vendors, and partners. You adapt across time zones and cultures to do business. You reorganize, introduce new technology, start new projects, replace retiring workers and take on new customers. With every change, you need to identify those who "know," those who "need to know," what information needs to be shared and how that will happen. Read this sample chapter to learn how.
Teach What You Know -- A Practical Leader's Guide to Knowledge Transfer Using Peer Mentoring, Part 1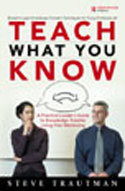 This chapter excerpt represents the first of a two-part installment from Chapter 10 of the book, "Teach What You Know: A Practical Leader's Guide to Knowledge Transfer Using Peer Mentoring," authored by Steve Trautman. Copyright 2007 Steve Trautman. Published by Prentice Hall Professional, July 2006, ISBN 0321419510. All rights reserved.
Read the second installment of this chapter download
Chapter 10: Peer Mentoring in Practice
Primary peer mentor cross training an existing employee
If you're cross training an existing employee so that you can take a vacation without your beeper or just reduce the number of times you're called in the middle of the night, you probably have someone with a baseline of skills. There are still some important tools to introduce:
The existing employee still needs a peer mentor so she knows whom to emulate.
This apprentice needs a Training Plan to make sure she knows which skills to build, in what order, and by when.
She needs a First Meeting to ensure that everyone is clear about expectations. This meeting "deputizes" a primary mentor to lead the relationship and helps clarify the expected outcomes for the apprentice.
It is especially important to manage expectations with cross training because the assumptions people make could be all over the map. Remember, the heart of most frustrations is unmet expectations.
Primary peer mentor training an "extended" team member
If you're responsible for training a person who doesn't work for your manager, either because they work in another part of your company, are an outsource partner, or are a client partner, you can use these tools to get off on the right foot and manage the relationship successfully.
Use the Role Definition Worksheet with your manager to better understand what is expected of you.
Be sure to set up a First Meeting that includes you, your manager, your apprentice, and his manager. It doesn't have to be a lengthy meeting, but it is a great time to test assumptions and clarify a plan.
Be sure that you fill out the Training Plan and discuss it with your apprentice to make sure you both agree on the skill set you're transferring.
Because you're not working for the same manager, there is another variable: the other manager. That "other" manager makes all of this up-front work even more important. As the peer mentor, you can help reduce surprises and problems by using this framework.
Silo peer mentor
If you are a subject matter expert, the most important thing you need to do is understand what your manager and team expect of you so you can deliver it.
Use the Role Definition Worksheet to clarify expectations with your manager. Be sure to address whether you're actively mentoring your apprentices or just passively making yourself available.
Use the Training Plan to clarify which skills you're expected to be able to teach.
Use the First Meeting to meet with your manager and apprentice(s). Be sure to clarify in this meeting whether you're actively pursuing your apprentices and ensuring they learn from you or passively waiting for them to come to you.
Customize the Training Plan for each of your apprentices.
Use the Telling About Yourself Worksheet to ensure that you can be available to your apprentices and still get your "day job" done.
Silo mentors are often problem solvers. Be sure to introduce the Anatomy of a Problem-Solving Question Worksheet. Remember that as a silo mentor you often have responsibility for the consistency of your team's quality within your specialty. Use these tools to clarify exactly what that means so you can stay on top of it.