Call center metrics guide
Learn the top 10 metrics to measure as well as those metrics on the honorable mention list in this printable metrics chart by call center experts at Strategic Contact.
Learn essential information about the top call center metrics in this call center metrics guide by Strategic Contact. Print out this easy-to-navigate chart to use as a quick reference guide while designing a metrics strategy or tracking performance in the call center.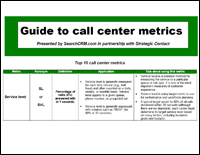 Discover the top 10 metrics.

Read about 13 metrics on the "honorable mention" list.

Learn when and how to utilize these metrics as part of your call center strategy.

Download the call center metrics guide

ABOUT THE AUTHORS:
Lori Bocklund Founder and President, Strategic Contact. Lori is a widely recognized and respected expert in contact center strategy, technology and operations. She brings her thoughtful and insightful expertise to each client engagement, creating custom project plans and initiatives that serve clients' needs and solve real business challenges. Lori has the background and experience to not only develop the vision and strategy (and communicate it in a practical, results-focused way), but she also ensures the structure and framework to deliver the value each and every time. That's why so many come back for repeat engagements, read her publications, and come to see her speak at industry events around the world. They trust her and her unbiased, real-world knowledge of a wide range of contact center technologies.
Steve Suhn Consultant, Strategic Contact. Steve is a highly regarded contact center operations professional with the unique ability to see the big picture and apply innovative solutions that drive valued and measurable results for clients. His 26 years of operations experience come from a wide variety of markets, including Airline and Hotel Reservations, Telecommunications, Insurance, Catalog and Retail Sales, Wireless Telecommunications and Data.
Go back to the main page of the Call center metrics school.
Dig Deeper on Contact center management