Manage
Learn to apply best practices and optimize your operations.
Call Center Operation -- Design, Operation and Maintenance
Managing the call center is a demanding job that comes with a unique set of responsibilities. Learn tips for better call center operation and management in this chapter download.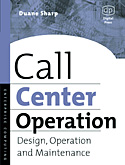 Printed with permission from Digital Press, a division of Elsevier. Call Center Operation: Design, Operation, and Maintenance, by Duane Sharp. Copyright 2003.
The call center management challenge
Managing a call center operation successfully requires a multitude of skills—managerial, troubleshooting, negotiating, and patience, not to mention a personality that works well under pressure and is able to manage the different types of CSRs who will work at the call center over time.
Some familiarity with computer and communications technologies is an asset as well, although most internal call center operations should have ready access to technical support for resolving hardware, software, and communications problems. The steady growth in the call center industry over the past 10 years has resulted in a requirement for new job-related management skills. As call center personnel have developed these skills, the position of call center manager has evolved and is now a portable, definable position, recognized from company to company and across different sectors of industry.
The global growth of call centers as a significant element of customer-centered business has led to the employment of a large number of people in call centers, estimated to be between 3 and 4 million, in North America alone. From a labor market perspective, the industry is not saturated, since the growth of call centers outpaces the supply of employees. Historically, the industry has had a difficult time attracting a steady supply of qualified workers. Turnover in the call center industry is a major problem as well. Turnover rates are significantly higher than those of other industries. A recent benchmarking study of call centers by the Purdue University Center for Customer-Driven Quality found that turnover is an industry-wide problem. The survey revealed that inbound centers have an average annual turnover of 26% for full-time reps and 33% for part-timers. Nearly half of the call centers said that part-timers handle 5% or less of their total calls. This book cannot solve the turnover problem, nor can it make more employees available to the call center industry. However, in the context of the axiom that "good management of human resources means happy, long-term employees," the guidelines and experiences of successful call center managers, as presented in this chapter and in Chapter 5, can assist new and existing call centers to manage the human resources that are so essential to their success.
Rising staff costs
Faced with the requirement of generating a profit, many businesses confront a major problem: rising staff costs. Over the next few years, management of call/contact center staff will move to the forefront of corporate concerns because
The average call/contact center spends between 60 and 70% of its annual budget on staff salary.

Globally, agent turnover rates average 22%, and approach 50% in some industries.

Staff absenteeism is increasing and is as high as 17% in the health care industry, 10% in the telecommunications and consumer products markets, and averages 9% across all vertical markets.

Over 80% of companies use external advertisements to search for agents and 72% use recruitment agencies, both of which involve significant costs.

Call/contact center location clustering is increasing and has caused severe shortages of qualified staff in places such as Dublin (Ireland), Omaha, Nebraska (United States), New Brunswick (Canada), and Amsterdam (The Netherlands). In most countries with major call/ contact center clusters, recruitment is becoming very difficult.

There has been a rapid increase in the growth of the call/contact center industry.

The growth of CRM and multimedia interaction will require skilled and experienced agents, and training costs will increase accordingly.
Read the rest of this excerpt and download the chapter for free
Read other excerpts and download more sample chapters from our bookshelf
For information from the publisher, or to buy the book, please visit https://www.elsevier.com/books-and-journals.
Dig Deeper on Contact center management