Manage
Learn to apply best practices and optimize your operations.
Building a customer-centric culture
This chapter from "Successful Direct Marketing Methods" focuses on building lasting customer relationships. Learn how to build a customer-centric culture within your organization and read case studies in relationship marketing.
Excerpted with permission from "Successful Direct Marketing Methods, Eighth Edition" by Bob Stone and Ron Jacobs. Published by McGraw-Hill, November, 2007, ISBN 0071458298 / 9780071458290. For more information about this book and similar titles, visit McGraw-Hill.
What is "Customer-Centric"?
There is a clear definition of "customer-centric." To be customer-centric, an organization must have customers at the center of its business. Many organizations are sales-focused and not marketing-oriented. Many enterprises that have a marketing focus are brand- or product-centric. Being a customer-centered organization is much more complex than it appears.
Enterprises can't just decide to organize around customers. Today, it is often customers who dictate how an enterprise should be organized to better serve their needs. Customers want their needs met, to be cared for, and to be delighted. Customers don't want enterprises to put up barriers. Customers are not concerned with the organization's policies or processes, business rules, mission, positioning, the software they use, or their infrastructure. And, customers are not concerned with an organization's profits. But, organizations can't put customers ahead of profits, can they?
Customers are the source of an organization's profits. A firm's existing customers are its surest and most reliable source of future revenue. And, customers are the one key asset that can separate one organization from another. So, in successful organizations, corporate strategies are customer strategies, where customers have become the mission of the business.
Managing Customer Lifecycles
One of the goals of CRM is to help gain a greater share of a customer's wallet. One way to earn a greater share is to extend relationships with customers through the customer lifecycle. The customer lifecycle summarizes different stages in a customer's relationship with an organization. It is based on consumer or business life stages or events where needs change. Enterprises have different brands, product, and service offerings, so the customer lifecycle is different for each. This concept benefits organizations with broader product offerings, such as banks or financial institutions.
Banks, credit card companies, investment groups, and insurance companies offer an extensive portfolio of financial products. Companies such as Citibank, HSBC, Fidelity, and Morgan Stanley offer checking and savings accounts, loans, credit cards, insurance, and brokerage services to consumers at different points in the customer lifecycle. The goal is to have a customer use as many of their product offerings as possible. This is driven by direct marketing communications targeted to consumers as they pass through different stages in the lifecycle. Exhibit 6-2 illustrates the customer lifecycle for a financial services firm.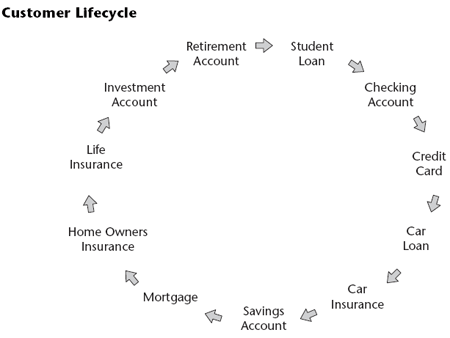 A financial services firm may start by giving a teenager a student loan for college. The consumer will get direct mail and e-mail offers for a checking account and a credit card during college years. When the student graduates from college, they will be offered auto loans and car insurance for the purchase of a new car. Then, they will receive communications for a savings account as they plan for marriage, the purchase of a home, and college for their children. They will receive offers for mortgages and homeowners' insurance. As they grow older, consumers will receive offers for life insurance, investment, and retirement accounts.
Often, a customer lifecycle is made up of a number of shorter lifecycles. BMW expects to maintain customers by offering a variety of models, each appealing to different demographics. Each purchase is an entry point into a longer customer lifecycle. BMW tracks customers through lifecycles and knows that someone purchasing a 3 Series sedan may be a good candidate for a Sport Utility Vehicle or 5 Series sedan as their needs change with their family size.
The purchase of each new vehicle becomes a smaller customer lifecycle in itself, as the buyer compares models online, goes to the BMW Web site for product information, test drives at the dealer, decides upon the model and accessories, decides on financing, takes delivery of the car, and returns to a dealer for service. Then, after a few years, the cycle begins again. The longer-term lifecycle is made up of a group of shorter-term lifecycles viewed repeatedly.
Customer lifecycles are an important tool for marketers. While decisions as to what to communicate and when are complex, understanding a customer's lifecycle is a starting point for managing customer relationships.
Read the rest of this excerpt and download Chapter 6: Building Customer Relationships
Read other excerpts and download more sample chapters from our CRM and call center bookshelf
To purchase the book or similar titles, visit McGraw-Hill.
Dig Deeper on Marketing automation