Beyond Verbal takes on emotions analytics in call centers and beyond
An emotions analytics vendor says it can diagnose human emotions and identify a speaker's complex emotional state in settings like call centers.
Products: Beyond Verbal Emotions Analytics engine and Moodies app for iPhone
Release date: Emotions Analytics engine, May 2013; Moodies app, January 2014
Data is the new currency of business, according to Dell CIO Adriana Karaboutis.
But can data about emotions improve customer service? Beyond Verbal Communication Ltd., an Israel-based developer of emotions analytics software, says that human emotions can be analyzed and diagnosed, just like other data outputs.
"It's not what you say but how you say it," said Dan Emodi, Beyond Verbal's VP of marketing.
What it does
The Emotions Analytics Engine and iPhone app are designed to measure people's emotional state based on their vocal intonation. The engine matches emotions with previously identified patterns that have been coded into the software -- sometimes a complex series of emotions that may include "loneliness," "fatigue" and "emotional frustration," as Beyond Verbal demonstrated in an analysis of a Steve Jobs interview video recorded in 2010. The engine has been nearly 20 years in the making, in an effort to crack the code of a certain enigma: "What is it in the air," said Emodi, "that babies and dogs understand but that machines don't?" Emodi said the analytics engine can tap into more than 400 variants to identify a spectrum of emotions and attitudes.
Beyond Verbal has created several dashboards to visually display data in real time. In one iteration for a call center environment, for example, the customer's emotional state is measured in real time on the left-hand side of the dashboard, and the agent's emotions display on the right-hand side.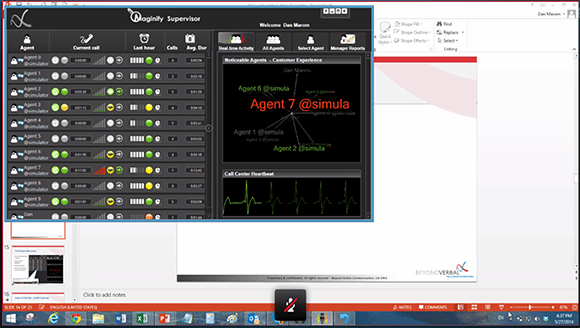 Call center managers can also get a bird's-eye view of how calls are progressing throughout the center from another dashboard. It can provide information such as the duration of a call, the agent handling a call and the "health status" of the interaction, including which calls might require intervention based on the emotions of the customer and agent (see Figure 1).
Why it matters
We give agents information in real time and can say, 'Stop, you're losing your composure, you're getting carried away by an annoyed customer.'

Dan EmodiVP of marketing, Beyond Verbal
The ability to analyze emotional responses in business environments offers lots of possibilities for improving interaction between companies and their customers. In a call center, the goal is to improve customer service as measured by key performance indicators, such as first-call resolution and overall customer satisfaction. The analytics engine also advances call center analytics by evaluating not only the customer's emotional state but also the agent's. "We give agents information in real time," Emodi said, "and can say, 'Stop, you're losing your composure, you're getting carried away by an annoyed customer.'"
While Beyond Verbal now has contact centers in its customer roster, Emodi said that isn't the only application for the engine. Because the software relies not on language-based data but on vocal modulation, it can interpret a complex set of emotions in a variety of business contexts, he said.
What users say
A life and medical insurance call center that requested anonymity saw a 20% increase in sales over a 10-month period of using Beyond Verbal's software. That isn't a typo. Boosting sales isn't necessarily the province of the call center. Still, the call center was able not only to better resolve calls but also to turn the focus of conversations away from conflict resolution and toward sales.
"If I could, I would have installed it a year ago," said the CEO. "At the beginning, agents were skeptical. They thought this was all science-fiction stuff." But he added that the technology ultimately proved its value.
Drilldown
An analytics engine that can be used standalone or built on top of CRM systems.
Measures people's emotional state based on vocal modulation and body language; designed to be language-agnostic and globally applicable.
Real-time dashboards to measure the emotional state of customers and call center agents and to monitor the health status of all ongoing calls in a call center.
The Moodies mobile version offers a Vault feature that allows for tracking and sharing of a previously recorded analysis, playback functionality and pause/resume capabilities.
Pricing
Enterprise (a per-seat, perpetual license model) as well as a cloud-based managed service (per- use model).
Other companies in the emotional analytics space include Affectiva, BehaviorMatrix, CallMiner, NICE Systems, nVisio.
Dig Deeper on Contact center software and applications