Manage
Learn to apply best practices and optimize your operations.
9 steps for negotiating deals with Salesforce
Understanding the Salesforce fiscal calendar, motivations of sales agents and what your businesses needs from a deal are key steps in negotiating contracts with the CRM giant.
Negotiating with Salesforce can be a time-consuming and tricky task, but a little planning can go a long way to achieve an optimal deal with the CRM giant.
ClearEdge Partners, a consulting company based in Needham, Mass., uses a leverage management maturity model to help businesses create better outcomes in deals with Salesforce.
Here are the nine steps in that process, which can happen at different times or simultaneously, according to Mark McKenna, managing director at ClearEdge, in the webinar "Managing Leverage in a Salesforce Deal."
1. Early warning
Businesses need an organized approach to starting deals on time.
"One of the main drivers for Salesforce is net new revenue," said Rachel Annello, senior analyst at ClearEdge Partners. "Because of this, they respond really well to early renewals."
Large projects are an opportunity to open a deal to negotiate with Salesforce, but if there is no obvious project, begin renewals at least six months before expiration.
Companies need to understand how supplier sales systems and motivations might affect a deal.
"You can actually target a reprice on the existing environment -- if there's enough new spend -- and you can renegotiate any terms and conditions," Annello said.
2. Risk assessment and inspection
Organizations need to understand all the contractual and business risks. Some of the biggest risks to look for are the following:
Ability to decommission or downturn licenses. Often, Salesforce builds language into its contracts that states that, if a business decommissions licenses, it is no longer protected by prenegotiated renewal caps, Annello said.

"It's really important to understand this because, if you try to take products out, you're not actually going to reduce the cost of your current environment," she said.
Renewal caps. The standard renewal cap for Salesforce is in the range of 3% to 7%.
Restricted-use licenses. These generally come with bad audit language that's unfavorable, Annello said. Essentially, what it does is state that all licenses out of compliance mean that the business has to pay the difference between list price for the full-use license cost and its current rate for the restricted-use license, which can add up to a hefty fee.
Swap and transfer rights. Swaps are the ability for businesses to trade out products that they are not using for those they need. Transfers are the ability to transfer product from one org -- or a customer's version of Salesforce and data within that instance -- to another. So, businesses must be sure these restrictions work for them.
3. Forecast and modeling
This step takes the longest amount of time in the process of negotiating with Salesforce. Businesses should understand how much product or services they need and when they need them.
Businesses must collect data from within their organizations. Questions to ask include the following:
What do you have, and what are you entitled to from Salesforce?
What products are already deployed?
Is there demand, are there projects and is there organic growth?
It is also important that businesses identify must-have products and commercial terms to keep organizations functioning, along with nice-to-have items, or a wish list.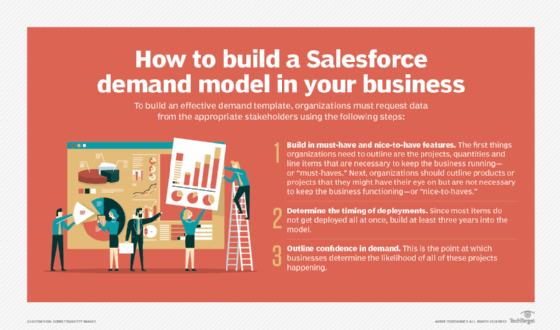 4. Deal timeline development
When negotiating with Salesforce, businesses should have a documented calendar of deal-making activities. Salesforce often tries to drive the timeline, but organizations should flip this and take control of the situation.
"This goes to green when you understand your demand and you can create leverage through contract growth, competition or length of the deal," McKenna said.
5. Supplier knowledge
Companies need to understand how supplier sales systems and motivations might affect a deal when negotiating with Salesforce.
"This is so important because, when the sales team feels incentivized to get a deal done, they're more willing to make concessions on both the pricing and the terms and conditions," Annello said.
The first thing businesses need to understand is the Salesforce fiscal calendar. Sales agents have high quotas that divide into quarterly increments, and they get bonuses for staying ahead of their quarterly numbers. Plus, for most Salesforce accounts, the sales representatives change over annually.
"This rep has worked extremely hard to put together a deal for you and try to make a commission off that deal, so if they start to hear that's it's going to fall out of their commission structure and fall to another sales rep, they are going to get nervous," Annello said.
It's also important to know the sales representative commission structure. Agents are paid on net new spend in an agreement, and they get bonuses for any additional year added to the deal.
Next, sales agents like to use Salesforce enterprise license agreements because they're often driving the demand going into it, as there's a high potential for businesses to purchase a lot of shelfware.
"Part of the reason that they can do this is because the deals are bundled, and you can't really see each of the line items and value that's going in there," Annello said. "They put a lot of shelfware in, which means that the deal costs go up, and therefore, they're making more commission."
Lastly, Salesforce responds to competition. The company has been pushing into the CX market, which means the competitive landscape is changing, Annello said. At one time, it would just have to compete against Microsoft, but now, the company is also looking at Oracle, Adobe and SAP to create this competition.
"You don't have to compete out your entire Salesforce environment," Annello said. "You can just look to do a couple products here and there or a new project that you having coming up."
6. Deal option development
Organizations should have alternative plans in place for negotiating with Salesforce. Every customer has the option of doing nothing, unless it's a renewal.
7. Information control
Businesses need to decide what information they will share with Salesforce and what information to protect. Organizations should control information about their demand and rollout plans to be sure Salesforce aligns to their business requirements, not vice versa, McKenna said.
For example, don't let Salesforce know exact project start dates. Push it out, and the vendor will be more eager to reel it back in, he said.
"You want to be the iceberg and not the ship in defeating the strategy from Salesforce," McKenna said.
8. Executive engagement
Organizations should create a plan to engage their business executives. That means ensuring that key executives -- including the CFO and chief customer officer (CCO) -- are informed, aligned and participating in the negotiations with Salesforce.
The CFO should watch the cost of implementation and transition, as well as analyze ROI. The CCO oversees the integration of customer processes, with attention to consolidating customer data and implementing new customer-centric processes that the platform enables, said Scott Robinson, an independent consultant.
9. Messaging development
Salesforce can sniff out misalignment within a business, so it's important that all stakeholders present a unified message to the vendor to shape the conversation, McKenna said. Businesses should avoid discussions about market rates and discounts with Salesforce to steer clear of debates about data, and instead they should have the mindset that the two organizations are having a business discussion.
Relaying a unified message can happen at any stage in the Salesforce negotiation process, including pre-request for proposal, pre-renewal, during the demand projection phase, negotiations, pilot phases and request for proof of concept.
"Message development is a critical aspect in getting a good deal," McKenna said.
About ClearEdge Partners
Founded by senior sales executives from large IT suppliers and informed by current market analytics, ClearEdge enables CIOs and their teams to make more competitive IT investments. By combining rigorous inspection and IT financial expertise, we identify risk and opportunity, align internal teams and maintain leverage throughout the lifecycle of supplier relationships. As a result, our clients maximize the value of their investments by unlocking millions of dollars from legacy spending and redirecting funds toward IT modernization, digital and cloud transformation with confidence and speed.