PRO+

Premium Content/E-Books
Thank you for joining!
Access your
Pro+

Content below.
March 2016
Popular technologies enrich customer experience strategies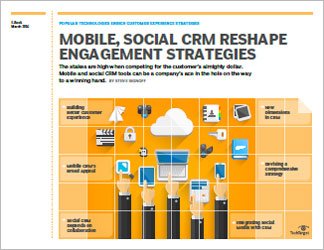 Successful customer experience strategies revolve around faster service, two-way multichannel communication, cohesive data gathering and superior predictive analytics. Getting there is easier said than done, especially since nearly nine out of 10 companies expect to compete mainly on the basis of customer experience this year, according to market researcher Gartner. That makes for a rather crowded field and emphasizes the urgency for clearly defined and comprehensive customer experience strategies.
This e-book series takes an in-depth look at the shifting landscape of customer experience management, where patrons that use several marketing, sales and communication channels expect customized service delivery from companies. The first chapter examines mobile and social CRM's increasingly dominant and multidimensional role in customer engagement. In the second chapter, find out how businesses collect customer data from disparate digital sources and turn it into more personalized messaging based on customer demographics, physical location and preferences. The third chapter reveals how companies analyze collected data to create more seamless, efficient and integrated customer experience strategies by combining the various channels into an omnichannel.
CHAPTERS AVAILABLE FOR FREE ACCESS
The ubiquitous nature of social media and mobile devices has conditioned consumers to expect on-demand customized service delivered quickly to their platform of choice. But reaching customers on mobile and social channels isn't always easy. Harnessing the data generated by these new channels of engagement poses numerous data management and integration challenges. Mobile and social CRM tools can speed customer service, encourage mutually beneficial two-way communication and enrich customer relationships.

In this e-book chapter, consultant Steve Signoff writes that mobile and social CRM tools symbiotically working to connect with customers and prospects have become a requirement for companies to compete successfully. He looks at a "morphing, modernizing and shifting" CRM market that is expected to reach $37 billion by 2017 and explains that mobile and social CRM tools have to be "woven into the fabric" of any viable customer engagement strategy. Companies need these tools to track, analyze, communicate and manage relationships with customers and prospects. Collaboration technologies that allow immediate customer feedback are not only reshaping company operations in sales and marketing, but also influencing product development and marketing decisions.

Download

Social media, live chats, customer communities, email messages, and mobile apps are some of the many communication channels bursting with customer data. Collecting this data can mean you're "halfway there," but many companies are "livin' on a prayer" when it comes to mining real value and translating information into effective marketing and sales strategies that improve customer experience.

Creating a unified multichannel experience may be a priority for most companies, yet many lack the necessary tools and infrastructure to unify departmental silos, integrate their information systems, map the customer journey and deliver the right message at the right time. Worse yet, many businesses actually think they're doing a good job of reaching out to their customers with targeted messages, while most of their customers don't, according to one survey. Too little love is a problem, but so is too much.

In this e-book chapter, Executive Editor Lauren Horwitz emphasizes how companies that know their customers can create successful marketing campaigns, simplify customer access and unify channels of communication, all of which can improve customer experience. To achieve those goals, trial and error is often required, as illustrated by the journeys of three companies profiled in this chapter. Horwitz takes readers along these businesses' sometimes bumpy road to gaining new customers and solidifying the loyalty of old customers.

Download

Once upon a time, marketing and sales departments considered customer data analytics capabilities a nice-to-have but not very well understood shiny new toy. That's all changed. Today's highly competitive marketplace demands that successful companies differentiate themselves from the pack in more complicated ways. Data analytics strategies are seen as the lifeblood of effective marketing and sales campaigns designed to not only identify, target and convert prospects into customers, but also ensure brand loyalty with superior service that enhances the customer experience.

Miner Corp., a loading-dock services company, depends heavily on fulfilling its service-level agreements in a timely manner, yet the company's human-driven process of dispatching field service technicians was in disarray and compromising SLA requirements. By automating the dispatch process with an application that embeds customer service analytics into another application that manages customer data and services issues, Miner was able to shave significant time off each of about 300 daily service requests. "Today, we don't rely on tribal knowledge. It's all systematized," CIO Mirza Chughtai said.

Also featured in this e-book chapter by Executive Editor Lauren Horwitz is travel website company TripAdvisor, which capitalized on customer data analytics by using several business intelligence tools to gain insight into its users and the pathways they choose while on the site. In the process of improving browsing efficiency and converting more user pathways into sales, TripAdvisor also managed to reduce worker headcount by 70%. "With automated tools, you need fewer people and you make the people you keep more productive," noted Eric York, who handles the company's revenue optimization.

Yet, there are hurdles along the way to achieving a unified customer experience, especially as companies struggle with integrating incoming data from multiple communication channels. One analyst still sees most companies' attempts as trial-and-error. Find out how the data analytics strategies of Miner and TripAdvisor overcame those obstacles.

Download