PRO+

Premium Content/E-Books
Thank you for joining!
Access your
Pro+

Content below.
May 2014
Forging the path to tomorrow's CRM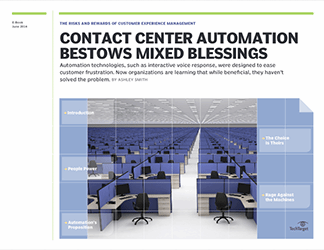 Perhaps no two words have more of an effect on business today than "customer experience." Consumers have a wealth of options for buying products and services -- and they're not shy about letting the social media sphere know when they're not happy. To keep them coming -- and coming back -- organizations need to ensure that the experiences they're serving up are nothing less than stellar.

In our e-book series, The Risks and Rewards of Customer Experience Management, readers will get practical advice and real-world insight into strategies that place the focus of organizations' operations and processes on their customers. The first chapter concentrates on automation in the contact center. It will explore the technologies, such as interactive voice response and virtual agents. And it will examine what organizations need to evaluate when deciding which processes to automate and which areas will always need a human touch. The second installment delves into digital marketing, mobile applications and social media. It's no longer enough to send the same message to all customers; messages now must be personalized -- and soon, based on where customers are at any given moment. The chapter will look at location-based automated marketing and the pros and cons -- including the loss of privacy -- associated with such practices. The final chapter digs deep into the role of analytics in customer experience management plans, scrutinizing data harvesting methods and ways to use big data to augment customer experiences. And the chapter will look at times when knowing all about your customer goes horribly wrong.
CHAPTERS AVAILABLE FOR FREE ACCESS
Can automation improve the customer experience? Some say it can by creating a standardized, consistent experience. Automation technologies like interactive voice response, virtual agents and automatic call distributors were created to do so. Why then are companies -- Discover Financial Services among them -- trying to avoid them?

In this e-book chapter, readers will learn why automation technologies -- regardless of intent -- don't work for every situation. While they don't bother a customer who calls to check an account balance, they frustrate callers who have specific questions about a product. Next, we look at frequently automated components of customer service, such as IVRs and virtual agents, and why some of them have succeeded -- and are still in heavy use -- while others haven't. Finally, we circle back to the biggest problem facing contact centers today: identifying situations that should never be automated -- places where the human touch is still necessary.

Download

Digital marketing, mobility and social networks are changing the way we think about the customer experience. No longer is it enough to send the same message to all customers -- it now must be personalized. To that end, business professionals are exploring geolocation technology -- which detects Internet-connected devices like smartphones and tablets -- in the world of mobile applications, especially.

This e-book chapter is a guide to geolocation apps -- what they are, what they do and how they can benefit companies and the customers they sell to. First, learn why providing a consumer with the right information at the right time is necessary in today's marketplace. Consumers today want deals and steals tailored to their personal preferences. And for many in customer service, geolocation seems the surest route. Next, take a deeper look at the hurdles blocking widespread use of location-based data and analytics. Unsurprisingly, issues with governance and integration are chief among them.

And then there's privacy. Consumers typically want it intact, but when organizations know who you are, where you are and what you're doing, it looks an awful lot like an invasion. With lucrative sales, marketing and business opportunities on the line, though, organizations are willing to take the risk with geolocation technology.

Download