Definition
one-to-one-marketing (1:1 marketing)
One-to-one marketing (sometimes expressed as 1:1 marketing) is a customer relationship management (CRM) strategy emphasizing personalized interactions with customers. The personalization of interactions is thought to foster greater customer loyalty and better return on marketing investment. The concept of one-to-one marketing as a CRM approach was advanced by Don Peppers and Martha Rogers in their 1994 book, The One to One Future.

Download this free guide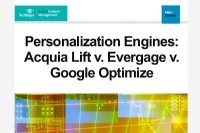 Free Guide: Acquia Lift v. Evergage v. Google Optimize
As content personalization platforms become more widely adopted, it's important to have a clear understanding on how they would potentially add to your marketing team. Inside, explore the catalyst for personalization, 3 things personalized content delivery depends on, and how these 3 featured vendors stack up in 8 categories.
Only the term is new; the approach is almost as old as commerce itself. In the past, for example, proprietors of a general store would naturally take a one-to-one approach, remembering details about each customer's preferences and characteristics and using that knowledge to provide better service. One-to-one marketing seeks to reinvest marketing with the personal touch absent from many modern business interactions.
1:1 marketing is sometimes referred to as "a segment of one." (Customer segmentation, focuses on customizing marketing components for groups of customers rather than individuals.)
Continue Reading About one-to-one-marketing (1:1 marketing)
Dig Deeper on Customer loyalty and retention