To cross-sell, or cross-selling, describes the practice of suggesting similar or complementary products or services to an existing customer during the buying process to maximize revenue.
The most ubiquitous example of cross-selling may be the oft-spoken fast food phrase: "Would you like fries with that?" In the era of online consumerism, cross-selling examples include Amazon's lists of products "customers who bought this item also bought," and sites that suggest matching draperies in returns for a search on bed linens. A similar practice, up-sell, involves suggesting more expensive items to a customer making a purchase.
Benefits of cross-selling
Following the Pareto principle, an organization can expect that 20% of its customers will bring in 80% of its revenue. Customer acquisition costs can also run about five times more than it costs to retain a customer. Cross-selling can help companies nurture and maximize relationships with current customers, increasing profits as well as productivity and efficiency for salespeople engaging with an active account.
Customers can also benefit from cross-selling, as well, as the additional products and services are produced by organizations they already trust. Working with an established provider can save the customer time and potentially money, if the products or services are bundled together to provide savings.
Cross-selling techniques
Cross-selling can happen during the sales process, on a follow-up or maintenance call, via a mailing to existing customers or at any other point during the customer lifecycle. To effectively cross-sell, experts advise organizations to follow up with customers after the initial sale, and be aware of relevant pairings with the goods and services already provided.
While bundling products and offering the package at a slightly reduced rate can be a draw for customers, organizations typically avoid requiring that a customer purchase a second item in order to get the first, due to federal antitrust laws.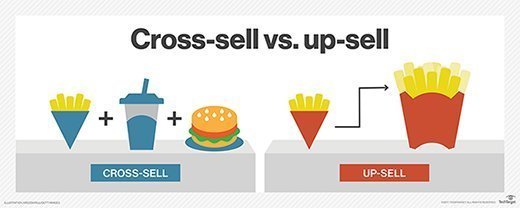 Examples of cross-selling
Cross-selling in banking: With the mergers of banks and other types of financial services firms in recent years, cross-selling in banking has increased. Following Bank of America's merger with Merrill Lynch in 2013, the bank required Merrill Lynch brokers to cross-sell the bank's offerings to investment clients.
While cross-selling brings in additional revenue, the pressure on employees to do so has come under fire. In 2016, Wells Fargo & Co. was fined $185 million by the Consumer Financial Protection Bureau after employees opened about 1.5 million accounts and 565,000 credit cards without the approval of customers, in order to meet cross-selling goals instituted by the bank.
Cross-selling in retail: Retail businesses often cross-sell by asking shoppers if they want to open a store credit card. But effective cross-selling occurs before the shopper is ready to check out. Clothing sales associates may recommend accessories or matching pieces to cross-sell the customer. Electronics retailers cross-sell by suggesting additional equipment or components which the customer could add to enhance their experience with products they are about to buy.
Cross-selling in insurance: Insurance companies typically sell multiple types of insurance, and can cross-sell their car insurance customers on a homeowner's insurance policy and a life insurance policy, for example. Bundle discounts are common cross-selling tactics in insurance, as customers who use different companies for their insurance needs may not get the cost benefits of using the same company for all types of insurance.
This was last updated in
April 2017
Continue Reading About cross-sell