Definition
contact center as a service (CCaS)
Contact center as a service (CCaS) is a framework for contact center infrastructure management that combines the principles of contact center hosting and cloud-based contact center infrastructure. With CCaS, companies can be more flexible and agile and pay less for assets whose usage may vary during peak loads versus low-demand loads.

Download this free guide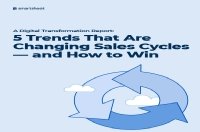 5 Trends that are Changing Sales Cycles
Let's be honest, selling today has become more complex than some leaders ever imagined. Here's a breakdown of 5 top trends driving new challenges in sales cycles, and insights on how technology can help sales leaders react to these trends to deliver better customer experiences across the sales lifecycle.
With contact center as a service models, companies may use software subscriptions (software as a service) and rent hardware assets from a provider, rather than own the assets themselves. This enables companies to enlist a pay-as-you-go model to get the resources they need as demand increases or decreases. Companies may opt to rent infrastructure or own their own and have a CCaS provider maintain it for them. Some companies may employ a combination of owned and managed infrastructure, often referred to as a hybrid model.
Benefits of CCaS include the ability to have a provider manage these assets rather than having to maintain them itself, as well as getting the benefit of the newest technology releases. Outsourced and virtual contact centers have been met with mixed results, however, because customers may not be able to closely monitor the quality of customer service, consistency of agent responses and third-party understanding of products and services.
Continue Reading About contact center as a service (CCaS)
Dig Deeper on Contact center software and applications