Definition
contact center as a service (CCaS)
Contact center as a service (CCaaS) is a framework for contact center infrastructure management that combines the principles of contact center hosting and cloud-based contact center infrastructure. With CCaaS, companies can be more flexible and agile. Furthermore, they can pay less for assets whose usage may vary between peak- and low-demand loads.
With CCaaS models, companies may use software subscriptions -- software as a service, or SaaS -- and rent hardware assets from a provider, rather than own the assets themselves. This enables companies to enlist a pay-as-you-go model to get the resources they need, as demand increases or decreases. Companies may opt to rent infrastructure or buy their own and have a CCaaS provider maintain it for them. Some companies may employ a combination of owned and managed infrastructure -- often referred to as a hybrid model.
The popularity of cloud-based contact centers has been growing. According to Gartner, over 50% of contact centers deployed in 2020 will be through a CCaaS model. In a Nemertes Research Group customer engagement research study of 518 companies, CCaaS providers were rated higher in all areas by customers than services using on-premises and hybrid architectures. Areas evaluated included technology features, account team performance and analytics.
CCaaS benefits
Benefits of using a CCaaS service model include those inherent to cloud deployment strategies, as well as flexibility in contact center functionalities. CCaaS benefits include:
Assets, such as IT investments and hardware (such as a data center), are managed by the service provider. Therefore, time and resources do not need to be allocated toward managing and maintaining them.
Flexibility and scalability of resources.
Better customer experience for end users.
Hybrid architectures can be implemented in tandem with an existing on-premises contact center. This might help a business with compliance.
Businesses report that cloud-based contact centers better prepared them for the adoption of advanced applications than on-premises contact centers.
More interaction channels than on-premises contact centers, due to the ease of adoption. On average, businesses using cloud-based contact centers had 6.31 channels, as opposed to 4.71 for on-premises. With cloud providers, there is no need to implement and test new supporting software and servers. Furthermore, companies with eight or more channels tend to have significantly better customer ratings than those with less than four.
Companies will be more prepared to adapt to the future by having cloud access to functionalities such as artificial intelligence (AI).
Cost savings, compared with on-premises contact center software. Full CCaaS on average is $1,356 per agent, per year, as opposed to $2,104 for on premises.
CCaaS market and top providers
With companies increasingly adopting cloud platforms to implement contact centers, the market for CCaaS offerings is projected to reach $27.8 billion in 2023, as opposed to $11.5 billion in 2018. Leading vendors as of the time of this writing in CCaaS are:
Nice Systems
Zendesk
Verint Systems
8x8
Five9
As of 2018, these 10 vendors together accounted for 52.5% of the global CCaaS market.
Differences between UCaaS and CCaaS
CCaaS and unified communications as a service (UCaaS) have a high degree of overlap in functions. However, they are typically used for different purposes and purchased by different departments. CCaaS is generally used as a means for enterprises to communicate with their customers; UCaaS is designed for intra-organizational employee collaboration. CCaaS, which includes call center software, is designed for customer service purposes -- with features such as automatic call distribution and interactive voice response (IVR). CCaaS helps support and sales reps communicate with customers across a variety of channels through a single cloud platform.
UCaaS is when one single cloud-based platform contains all of a company's enterprise communication apps. These apps include video conferencing, messaging, email and voice call functionalities. Other features include call-routing, conference bridging, virtual receptionist and voice-to-text conversion. The point of UCaaS is to streamline workflows and employee collaboration.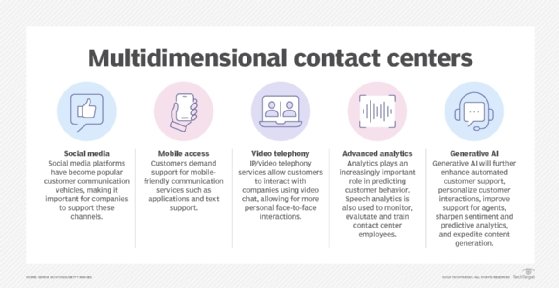 This was last updated in
August 2020
Continue Reading About contact center as a service (CCaS)
Dig Deeper on Contact center software and applications