Definition
contact center
A contact center -- also referred to as a customer interaction center or e-contact center -- is a central point from which all customer interactions across various channels are managed. Their primary purpose is to provide customers with efficient and effective technical support, customer service and sales assistance.
The contact center typically includes one or more call centers, but may also include other types of customer contact, including emails, webchats and social media interactions. Contact centers are often integrated into an enterprise's customer relationship management (CRM) strategy.
Content Continues Below

Download this free guide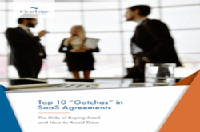 Download Now: Top 10 Risks in SaaS Deals
Download this asset to understand the top 10 SaaS deal "gotchas" that can result in surprise charges, built-in cost hikes, audit exposure and double paying for the same license or functionality, SaaS traps that tip leverage to the vendor right from the get-go, and more.
Contact centers are growing in importance as customers increasingly expect businesses to be consistently available on various channels, not just over the phone. The multichannel approach that contact centers take allows them to create better customer experiences by refining customer service, increasing efficiency and improving their insights into their customers' behaviors and needs.
Contact center vs. call center
Contact centers and call centers are both centers for customer service, and the two terms are often used interchangeably. However, the primary difference between the two is that call centers only manage inbound or outbound calls, while a contact center offers omnichannel customer support, including email, chat, voice over IP (VoIP) and website support.
Key features of a contact center include:
Advanced call distribution, which allows contact center service providers -- called agents -- to maximize the number of calls taken while maintaining a positive customer experience;
Real-time reports, which enable contact centers to observe and analyze agent performance and customer satisfaction in real time across the various channels used;
Scripts, which provide agents with a framework for providing callers with effective support and generating sales; and
Interchangeable assignments, since agents share contacts and objectives, thus allowing them to work as a team even while maintaining individual stations.
The contact center's modular infrastructure also allows managers to maximize the team's efficiency while benefitting from better security measures, more secure data and increased flexibility.
While contact centers serve various functions, call centers specifically manage massive amounts of phone interactions, including controlling inbound calls and completing outbound calls. Similar to contact centers, call centers generally support customer service, technical support or sales interactions. However, they can also be used for telemarketing, information gathering, debt or payment collection and fraud prevention.
Contact centers possess several advantages over call centers. For example, contact centers allow customers to self-serve and solve their own problems by offering two-way, keyword-driven instant messaging and text messaging or communication with a chatbot. This self-service decreases the amount of time agents spend on the phone, which in turn reduces customers' wait times and lowers overall costs.
Contact centers also enhance customer profiling. Whenever customers interact with call or contact centers, they share information about their personal preferences and behavior, which is gathered and used to improve their customer experience during future interactions. Call center agents can collect some data through their calls, but the digital channels that contact centers use makes the process easier and more effective. Contact center software collects customer data from every channel used and compiles it into a single customer profile. Because most contact center customers interact using multiple channels, more data is gathered. This improves the contact center's ability to tailor the customer experience to benefit specific callers as well as better route their calls and other incoming communications.
Finally, contact centers make better use of interactive voice response (IVR) systems. Call centers use an IVR as an automated digital assistant that is operated over the phone through vocal prompts and keypad entries. Unfortunately, the IVR used in called centers often makes it difficult to reach a live agent and have problems solved efficiently. However, contact centers create their IVR with the customer experience in mind. In a contact center, the IVR is designed to predict caller intent and direct callers to the best suited agent. Other times, the IVR solves the customer's queries and problems without even involving live agents.
Types of contact centers
Hardware contact centers are installed and hosted on physical servers within a business's premises. Consequently, hardware contact centers depend on businesses having sufficient space and capacity to house and maintain the servers, effective disaster recovery procedures and competent hardware update processes.
Cloud-based contact centers are hosted on a cloud provider's internet server and are the point from which all inbound and outbound communications filter. Cloud-based contact centers are accessible anywhere via the internet and function the same as other contact centers.
Hosted contact centers are centers where the contact center infrastructure is outsourced to another company that manages the systems externally. This often leads to a better return on investment (ROI) for companies by minimizing upfront the infrastructure's costs and maintenance.
Virtual contact centers enable a company's agents to work remotely from home. Virtual contact centers create flexibility and comfort for the agent, while simultaneously lowering costs for the company.
Contact center capabilities and infrastructure
The contact center infrastructure that is necessary to support communications may be located on the same premises as the contact center -- as with hardware centers -- or it can be located externally -- as with the other three types.
In an on-premises scenario, the company that owns the contact center also owns and manages its own hardware and software. This requires staffing and IT investments that some companies choose to forgo by outsourcing those tasks to cloud providers or hosting companies.
Contact center performance is often supported by operations research and analysis as well as mathematical models, such as queuing theory. However, contact centers support multiple channels, so they do not have to support universal queuing. They may instead use separate systems with varying business processes.
Contact center technologies
Technologies used to maintain and improve contact center performance include:
Automatic call distributor (ACD) system. A computerized system that analyzes incoming calls and distributes the calls based on varying factors, such as the number called.
Email response management system. A system that collects and analyzes customer inquiries submitted via email, and then routes the inquiries to the appropriate agent.
Interactive voice response (IVR) system. A computer-based system that enables customers to use a keypad or voice commands to provide information without the assistance of a human agent.
Knowledge management system. A central repository of information that can be easily searched, helping to cut down on agent training time.
TTY/TDD communications. Teletypewriters (TTY) and telecommunications display devices (TDD) to provide assistance for individuals who are deaf or have a hearing impairment.
Workforce management system. A computerized system that helps with scheduling and staffing agents and managing agent performance.
Contact center systems often use call center software. For example, virtual contact centers may use virtual call center software to create a channel for remote agents to manage phone calls as if they were in a centralized call center. However, contact center software often builds upon these basic abilities to further integrate contact center services across various channels and enable contact information to be routed, contacts to be tracked and data to be gathered.
The benefits of contact center software include the ability to integrate with CRM software; enhance customer experience through improved interaction monitoring capabilities and integrate with social media. It also optimizes a customer's time through more direct and effective service.
Popular contact center software vendors include Five9, Avaya, 8x8, Twilio, Talkdesk and Genesys.
The future of contact centers
As technology evolves and customers rely on more communication channels, contact centers will have to continue to adapt and grow. Contact center trends that have affected contact center communications in recent years, and continue to do so, include:
Social media. Social media platforms, such as Twitter, have become popular customer communication platforms, making it important for companies to support these channels.
Mobile access. Customers demand support for mobile-friendly communication services, such as application and text support.
Video telephony. IP/video telephony services such as FaceTime and Skype enable customers to interact with companies using video chat, allowing for more personal, face-to-face interactions.
Advanced analytics. Analytics play an increasingly important role in predicting customer behavior. Speech analytics is also used to monitor, evaluate and train contact center employees.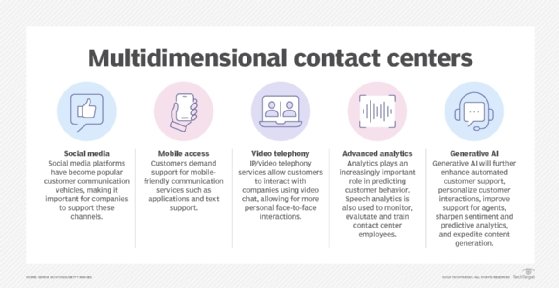 Furthermore, advancements in artificial intelligence (AI) and augmented reality (AR) technology are coming quickly. AI and AR are both expected to take on prominent roles within contact centers. Currently, AI development has placed a spotlight on agent-assist tools that can listen in on calls and follow agent prompts to crawl customer service records and suggest answers to customers' problems during a live conversation. AR introduces the ability to add a visual element to live agent and customer interactions. Agents will be able to suggest and show solutions to technical problems that verbal descriptions over the phone or chat can't replicate.
Note: The British spelling of the term is contact centre.
This was last updated in
December 2019
Continue Reading About contact center
Dig Deeper on Omnichannel customer service