Definition
collaborative CRM
Collaborative CRM is an approach to customer relationship management (CRM) in which the various departments of a company, such as sales, technical support, and marketing, share any information they collect from interactions with customers. For example, customer feedback gathered from a technical support session could inform marketing staff about products and services that might be of interest to the customer. The purpose of collaboration is to improve the quality of customer service, and, as a result, increase customer satisfaction and loyalty.

Download this free guide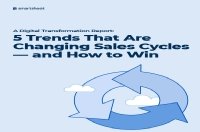 5 Trends that are Changing Sales Cycles
Let's be honest, selling today has become more complex than some leaders ever imagined. Here's a breakdown of 5 top trends driving new challenges in sales cycles, and insights on how technology can help sales leaders react to these trends to deliver better customer experiences across the sales lifecycle.