Definition
call center agent (call center representative)
A call center agent is a person who handles incoming or outgoing customer calls for a business. A call center agent might handle account inquiries, customer complaints or support issues. A call center agent who manages both incoming and outgoing customer calls is also referred to as a blended agent. Other names for a call center agent include customer service representative (CSR), contact center agent, telephone sales or service representative (TSR), attendant, associate, operator, account executive or team member.
Role and responsibilities of a call center agent
The job of a call center agent involves a variety of responsibilities that ultimately help lead to greater customer satisfaction. Some responsibilities include:
managing inbound and/or outbound calls

;

following various communication scripts when speaking to a caller;
identifying customer needs, answering questions and providing solutions/alternatives to issues;
up-selling products and services when possible;
building sustainable customer relationships;
keeping records of all conversations organized;
building product knowledge; and
improving performance and hit goals.
Call center agent skills and qualities
To provide the best customer experience at a call center or contact center, an agent needs to be equipped with specialized skills. Here are some qualities all call center agents should possess:
Knowledgeable: Agents need knowledge of the inner workings of the company and products that they represent.
Detail-oriented: Agents must listen carefully to customers and be able to pick up on small details to provide accurate responses to customers.
Organized: Agents need to be able to take quick notes, access CRM systems and track recorded conversations while speaking to customers.
Flexible: Agents have to be able to adapt to unique customer queries and situations.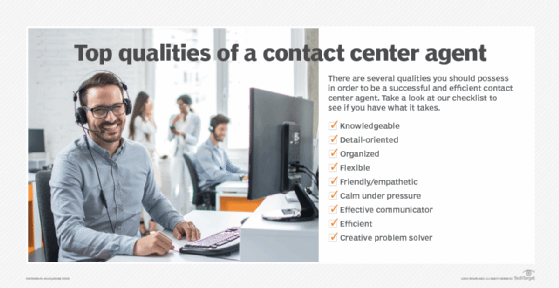 Friendly/empathetic: Customer service representatives need to be able to understand a situation from a customer's perspective and have a positive attitude toward people, even when dealing with difficult problems.
Calm under pressure: Agents may have to handle hundreds of customer calls each day. They should be able to maintain composure in stressful situations.
Effective communicator: Call center agents need great verbal and written skills to effectively communicate with customers.
Efficient: Agents should be able to respond to customers in a timely manner and be proactive in anticipating customer needs.
Creative: Call center agents must be able to

apply professional, yet unorthodox solutions to customer problems to quickly and effectively resolve issues and improve

customer satisfaction.
This was last updated in
February 2018
Continue Reading About call center agent (call center representative)