Definition
average order value
Average order value is a metric used to track the health of a business. It is calculated by dividing total sales by the number of orders. Average order value is tracked on a daily, weekly, monthly or annual basis by individuals and teams with direct responsibility to revenue (e.g., Sales and Marketing).
Average order value is often a leading indicator to the health of a business. An upward trend in average order value is indicative of a growing business. Consistent and sustained decreases in this metric, on the other hand, indicate a business that's in decline.
Content Continues Below

Download this free guide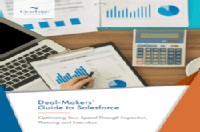 Your 33-Page Guide to Unlocking Your Best Deal with Salesforce
Download now to unlock insights on how to get your best Salesforce deal. Learn average discount ranges from actual deals, 3 tactics to help you get the best pricing, how to avoid over-buying or under-buying, and more.
While average order value is most commonly associated with e-commerce businesses, business-to-business (B2B) companies track this metric, too. For example, a manufacturer of computer equipment is moving up-market, shifting sales from SMB's to enterprises. During this transition, they'll gauge whether average order value is increasing to the degree they anticipated.
How does it work?
To calculate average order value:
Average Order Value = (Total Sales) / (Total Number of Orders)
As an example, a business had $27,000 in sales last month from 27 orders. The average order value for that month is $27,000 divided by 27, or $1,000. Some companies track this metric over set periods (e.g., weekly, monthly), to gauge the health of the business.
A company may maintain a chart of average order value (by month) over the past two years. The company would analyze reasons for rises or falls in the chart. For seasonal businesses, average order value may rise in peak months (e.g., holidays, the summer months for pool manufacturers, etc.) and decline in off-peak months.
Often, a business analyst or marketing analyst is responsible for tracking and reporting average order value. Executives, along with Sales and Marketing teams, analyze the data and determine whether action is needed.
How can it be improved (substituted for: What does it do?)
There are two methods for increasing average order value:
Upsell: incent customers to purchase a premium or higher priced product offering
Cross-sell: incent customers to add more items to their current purchase
Upsell is most effective when companies know the buying scenario, as well as the current products under consideration. Alternative products can be suggested -- those that fit the buying scenario and deliver additional capabilities, at a higher price.
To encourage cross-sell, companies can provide offers (e.g., pricing discounts, free shipping, low-cost financing) to encourage buyers to add more products to their current purchase.
This was last updated in
March 2019
Continue Reading About average order value
Dig Deeper on Sales enablement tools