An advertorial is an article that appears to be editorial but is actually paid content that is written to promote a product or service. The word is an amalgam of advertisement and editorial.
Advertorials have emerged as a way for companies to advertise their products on sites that generate income from clickthrough. The controversy surrounding advertorials is centered on the fact that the majority of them are not upfront with their ulterior motives as many readers can't tell that the piece of content is actually a paid promotion.
Content Continues Below

Download this free guide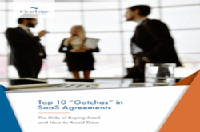 Download Now: Top 10 Risks in SaaS Deals
Download this asset to understand the top 10 SaaS deal "gotchas" that can result in surprise charges, built-in cost hikes, audit exposure and double paying for the same license or functionality, SaaS traps that tip leverage to the vendor right from the get-go, and more.
Advertorials are related to native advertising: Both tout themselves as informational but are meant to sell something. Native advertising can contain images, videos, graphics and text and include promoted stories and sponsored content on social networks as well as ads that appear in search engine results. Advertorials are product commercials housed in a single piece of content.
The push toward advertorials and native advertising is fueled in part by the increasing importance of content marketing in sales and marketing efforts. This marketing strategy creates white papers, videos and other content -- which companies then distribute through newsletters, social media, company websites and other avenues -- to encourage audiences to click and download content in exchange for personal or company information that sales and marketing teams can use to create targeted sales campaigns.
Advertorials have been received with consumer skepticism. Major search engines, such as Google, have instituted regulations to forbid links that are paid to appear at the top of search results and penalize articles that lack transparency about advertising motives. The goal of search engines has been to maintain informational neutrality and open exchange of ideas rather than enable sponsored content to crowd out objective information bent.
This was last updated in
September 2014
Continue Reading About advertorial
Dig Deeper on Marketing automation