Definition
Salesforce Einstein Bot
Salesforce Einstein Bot is a natural language processing (NLP) and natural language understanding (NLU) chatbot developed with Salesforce Einstein artificial intelligence (AI) technology. Each Einstein Bot is personalized by individual Salesforce customers to fit their needs and powered by predefined business rules through a conversational user interface.
Einstein Bot typically resides on a company's website or mobile app. The bots are set up with an intuitive, no-code development platform and can be integrated into chat buttons or channels. Then, when a customer initiates a customer service chat (CSC), they are connected to an Einstein Bot immediately.
Content Continues Below

Download this free guide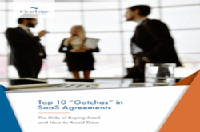 Download Now: Top 10 Risks in SaaS Deals
Download this asset to understand the top 10 SaaS deal "gotchas" that can result in surprise charges, built-in cost hikes, audit exposure and double paying for the same license or functionality, SaaS traps that tip leverage to the vendor right from the get-go, and more.
Einstein Bot can be used to greet customers, answer FAQs, reset account information and connect to Salesforce or external CRM systems. For example, if a customer asks about delivery status of an order, the Einstein Bot can retrieve information from a fulfillment system. If during any point in the chat a customer wants to speak to a live agent or Einstein cannot handle the complexity of the request, the bot can transfer the conversation to the next available customer service employee.
The popularity of implementing chatbots into customer service channels is rising as a way to minimize costs, streamline processes and maximize efficiency. If Einstein Bot is configured to handle the top few inquiries received by an organization's customer service department, more customers can be helped simultaneously and more quickly. Currently, Einstein Bot is available to Salesforce Enterprise, Developer, Unlimited, Classic and Lightning edition customers.
Building an Einstein Bot
The Salesforce Einstein Bot builder is made to be a point-and-click tool that creates dialog. The "Ask Question" portion is used to gather information about customers and list potential customer service needs. Then for each question, a "Send Response" would be designated for the chatbot to output into the chat window. The Einstein Bot would then collect the customer input and save the data to Salesforce or external systems. For example, if a customer is making a dinner reservation with an Einstein Bot, the virtual agent could save the name, date and number of guests in a reservation system.
There is also an option to set process rules that controls the flow of logic. Questions can be asked out of order or not asked at all dependent on certain customer input. Similarly, Einstein Bots can be trained on customer intent rather than specific phrases in order to recognize different patterns for asking the same question.
This was last updated in
January 2019
Continue Reading About Salesforce Einstein Bot
Dig Deeper on AI for customer service