Definition
SAP Customer Experience Suite (CEC Suite)
The SAP Customer Engagement and Commerce (SAP CEC) suite is a collection of cloud-based applications that provide tools for CRM, marketing, sales and analytics, e-commerce . The suite is most beneficial for larger organizations with the need for automation, sales enablement and multichannel customer support. Together, these applications are designed to work together to centralize information, automate tasks and workflows, enable team communication and combine customer account data to provide a unified, 360-degree view of the customer.

Download this free guide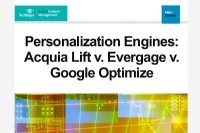 Free Guide: Acquia Lift v. Evergage v. Google Optimize
As content personalization platforms become more widely adopted, it's important to have a clear understanding on how they would potentially add to your marketing team. Inside, explore the catalyst for personalization, 3 things personalized content delivery depends on, and how these 3 featured vendors stack up in 8 categories.
The suite includes the following applications:
SAP Cloud for Sales. This platform provides tools for sales enablement for sales reps and their managers, including sales analytics and reporting, account and lead management, predictive analytics, sales performance management, and mobile sales.
SAP Cloud for Service. This cloud is designed for contact service agents and their managers. The application provides agents with tools for multichannel interaction and interaction management; incident management to handle issues with customers; and task management to provide alerts and workflows to prompt agents on tasks for more seamless customer service. Agents can also quickly communicate with teams to exchange information and ensure smooth customer interactions. Managers can also monitor real-time service performance and use platform-created reports to analyze trends and response times.
SAP hybris Commerce and hybris Marketing. Hybris Commerce provides users with tools for customer experience management, merchandising, product information management and order management. This is ideal for multichannel issues, where agents need to be able to gather information from multiple channels (such as phone, social media, email, etc.). It enables agents to aggregate information about a single customer account in a common location and get that 360-degree customer view.
SAP Jam. This social collaboration tool allows users to communicate with customers and each other. SAP Jam is an enterprise social networking tool that allows documents and information to be exchanged and accessed quickly, which can help increase productivity.
Each application in the SAP CEC suite is licensed on a per-user, per-month subscription basis or as a combined offering as part of SAP Cloud for Customer Enterprise Edition.
SAP CEC competes with Salesforce platform, Microsoft Dynamics CRM software, Oracle CX (Oracle Customer Experience Cloud) and SugarCRM, among others.
Continue Reading About SAP Customer Experience Suite (CEC Suite)