Definition
Apex Connector Framework
The Apex Connector Framework is a set of classes and methods in the DataSource namespace for creating a custom adapter for Salesforce Connect. The framework allows developers to create a custom adapter that can connect data stored outside an organization's Salesforce organization when the other available Salesforce Connect adapters do not meet the organization's needs.

Download this free guide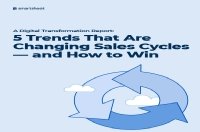 5 Trends that are Changing Sales Cycles
Let's be honest, selling today has become more complex than some leaders ever imagined. Here's a breakdown of 5 top trends driving new challenges in sales cycles, and insights on how technology can help sales leaders react to these trends to deliver better customer experiences across the sales lifecycle.
There are several key concepts that help Apex Connector Frameworks work more effectively. Those concepts are as follows:
External IDs for Salesforce Connect External objects
Authentication for Salesforce Custom Connect Adaptors
Callouts for Salesforce Connect Custom Adaptors
Paging with the Apex Connector Framework
queryMore with Apex Connector Framework
Aggregation for Salesforce Connect Custom Adaptors
Filters in the Apex Connector Framework
Continue Reading About Apex Connector Framework
Dig Deeper on Sales enablement tools