Definition
Apex Connector Framework
The Apex Connector Framework is a set of classes and methods in the DataSource namespace for creating a custom adapter for Salesforce Connect. The framework allows developers to create a custom adapter that can connect data stored outside an organization's Salesforce organization when the other available Salesforce Connect adapters do not meet the organization's needs.

Download this free guide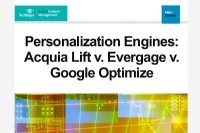 Free Guide: Acquia Lift v. Evergage v. Google Optimize
As content personalization platforms become more widely adopted, it's important to have a clear understanding on how they would potentially add to your marketing team. Inside, explore the catalyst for personalization, 3 things personalized content delivery depends on, and how these 3 featured vendors stack up in 8 categories.
There are several key concepts that help Apex Connector Frameworks work more effectively. Those concepts are as follows:
External IDs for Salesforce Connect External objects
Authentication for Salesforce Custom Connect Adaptors
Callouts for Salesforce Connect Custom Adaptors
Paging with the Apex Connector Framework
queryMore with Apex Connector Framework
Aggregation for Salesforce Connect Custom Adaptors
Filters in the Apex Connector Framework
Continue Reading About Apex Connector Framework
Dig Deeper on Sales enablement tools