Evaluate
Weigh the pros and cons of technologies, products and projects you are considering.
How to choose a contact center software system in 2020
Contact center software buyers must consider features including data reporting, speech analytics, routing methods and AI. Learn what to look for with this guide to RFP creation.
Selecting contact center software is a daunting task. Contact center software is the heart of an organization, handling all inbound and outbound contacts, and it's critical for driving efficient and effective business performance.
To choose the right software, organizations must focus on requirements to meet the specific needs of their businesses. First, the business must determine why it needs to create a request for proposal (RFP) and then what key contact center software features are required to meet those needs.
An organization might need an RFP out of necessity. Perhaps its software is approaching end of life or the end of a support contract. Perhaps a system is home-grown and simply no longer keeps up with the needs of a fast-growing contact center. Other contact centers may determine that the existing software does not meet the business needs or that it's time to move to a cloud-based tool. An organization may be in the process of changing the business of the contact center, such as making outbound contacts or transitioning to a sales environment.
Whatever the reason for the effort, the most important metric when building a contact center RFP is reliability. The gold standard of support is 99.999% uptime, and any software vendor that balks at that level of reliability should not make the short list.
Five key questions to include when creating a needs analysis include:
What are the business issues that require a change in software?
What is the effect of those issues that justifies making a change? Who is specifically affected?
What elements of the business are going to be impacted by this decision?
Is the business thinking long term as well as short term? What strategy needs to guide it, and how will the business change?
What key features and functionality does the organization require that it does not have now?
Aligning features and functionality with business goals and objectives are vital to this process. The top contact center software feature categories include reporting, analytics, monitoring, routing and queuing, integration with other tools, and AI.
Reporting and metrics
Reporting features provide insight into real-time and historical data and metrics. These features can help a business examine how key performance indicators are tracking to business goals and objectives.
Contact center software should have pre-built reports that an organization can customize, as well as dashboards with real-time trending information so that managers can monitor trends. Strong reporting features are essential because they help organizations make decisions and resolve issues in the contact center quickly.
Contact centers use these capabilities to track agent performance and customer experience, for example. Organizations use reporting in contact center software to solve issues a company may have with a product, for instance, by tracking contact types and showing top issues being reported by customers of that product.
Key elements of reporting include the following:
Benchmarking data: This provides the ability to compare performance across specific points in time. This data helps organizations manage changes in the contact center without poorly affecting the business. Software can establish a baseline for performance or other metrics, and then benchmark the data before rolling out a change, so the business can understand the positive or negative effects. Some software even allows for benchmarking against other contact centers.
Real-time dashboards and reports: Reporting in various forms enables access to agent and performance data so a contact center to make workforce and business decisions. Companies solve agent productivity issues by being able to see a performance problem in a real-time dashboard and address it with the agent, for example.
Metrics and KPI monitoring: This type of reporting focuses on built-in limits and thresholds. Examples include average speed to answer, customer time in queue, longest delay in queue, service-level targets and response times. These are critical reporting metrics because they help organizations solve issues such as low productivity, poor customer experience and missed sales opportunities. An organization can set alerts for any metrics it wants to assess in real time.
Agent reports: These reports specifically focus on agent metrics such as average speed to answer and average handle time. Again, this type of reporting is critical for organizations to assess agent performance.
Channel reports: These reports ensure that the organization can measure and compare performance across contact channels such as phone, email, chat and SMS. Channel reports are an important feature if an organization wants to make changes to its channel partner offerings. Organizations can use this capability to determine whether one channel is more productive for agents than another, for instance.
Custom reports: The ability to create custom reports is important in contact center software because it allows organizations to home in on what matters to the business specifically. Companies use custom reports to filter by groups, phone numbers, agents, departments, customer groups or products. For example, a center may want to run a report that details contacts coming into specific agent groups that have multiple lines that support multiple products.
Speech and sentiment analytics
Speech and sentiment analytics features have seen increased adoption over the past few years as contact centers focus on improving and protecting the customer experience. Speech analytics replaces the manual process of listening to and processing information by a human, and automatically analyzes words and phrases in calls via software.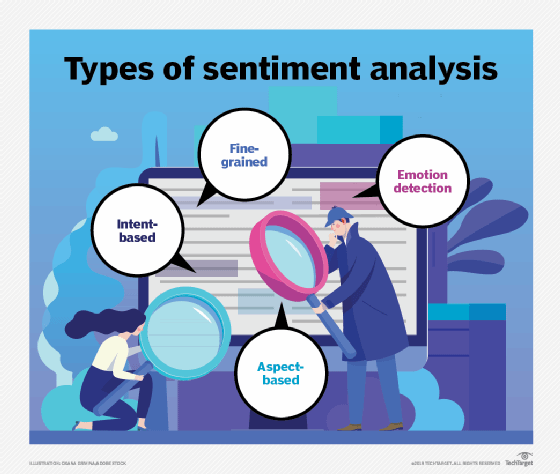 For example, contact centers use sentiment analysis reporting to listen for key words that express dissatisfaction to mitigate customer issues before they happen. This mitigation could include an escalation or an automatic pop-up for an agent to offer an incentive to the customer. Speech analytics is vital in compliance-based organizations who must follow protocol and procedures. This feature allows the contact center to proactively engage with customers, mitigate compliance issues and build customer loyalty.
Key capabilities include:
Speech analytics: This aspect includes the ability to analyze customer conversations such as key word patterns, product feature words and even competitor names. This allows for quick access to reporting on trends and customer experience issues. Organizations can use this information to resolve potential customer issues related to a product or service.
Sentiment analysis: Sentiment analysis gives a contact center the ability to evaluate language and voice inflections to monitor emotions related to a product, service, business or even the agent. This can include analyzing how fast a customer is talking, or whether customers have stress or emotion in their voices. Contact center software can transcribe sentiment analysis data automatically. It's an especially important part of contact center software today because businesses can then use the data to track opinions about a specific product and update or improve the product. Sentiment analysis features can even look at patterns related to support issues with a channel or agent, which allows the business to gain insight into channel performance and solve problems around agent performance.
Call transcription: Real-time transcription and coding of calls provides insight into customer and agent behavior by recognizing patterns. Call transcription allows for faster analyzing of data to find trends in behavior and customer experience, as well as revenue-focused trends such as offer rate acceptance. Like other features that offer automation, call transcription helps organizations move past paper- or manual-based processes and speed up the time required to log and evaluate calls.
Text analytics: Similar to call transcription, text-based conversations from surveys, interactive voice response (IVR), SMS and emails can be digitally transcribed to find behavior and customer experience trends.
Monitoring
Monitoring features allow a contact center to track, assess and analyze behaviors, words and documentation in real time. Organizations use monitoring features to reducing training and upskilling time, increase productivity and provide dynamic feedback to agents, and decrease customer experience issues. They can use monitoring data and other information as inputs to quality assurance programs in the business. Monitoring features can help organizations easily assess agent performance to ensure that quality standards are met, for example.
Key features include:
Call monitoring: This allows managers to listen to entire calls in real time and record calls without the customer or the agent knowing.
Agent desktop and device monitoring: The ability to track agent performance on a desktop or device such as a phone or tablet allows businesses to perform quality monitoring. Organizations use this capability to remotely monitor a device while agents are interacting with customers in real time. It's a critical contact software center feature for supervisors and leaders to shadow agents, assist as needed and to track productivity.
Interaction recording: Contact center software can store recordings in the cloud or on premises. Organizations that have compliance requirements and may want to access recordings for review and quality monitoring need this capability.
Routing and queuing
Routing and queuing features are critical for contact center software. These features focus on capturing the data, information and contact center "work" -- for instance, questions, issues, support and sales needs -- and sending it to the right agent, at the right time, for the right answers.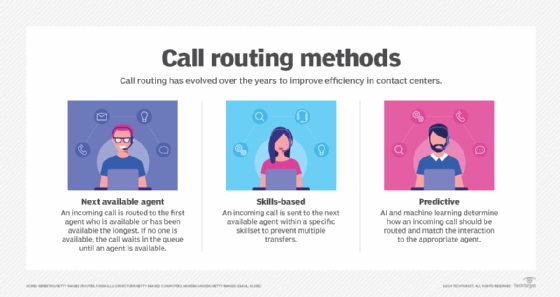 It's critical to have all the key features listed below because these allow a contact center to truly guide customers through the customer journey to resolve issues and questions more efficiently and effectively. Without these features, customers become frustrated due to lack of control over the process, and agents become less effective without having real-time access to information.
Important features include:
Automatic call distribution (ACD): Calls and additional contact methods are automatically routed to specific agents based on a combination of contact type and agent skills. ACD also serves as a foundation for many other call center software features and processes such as skills-based routing, call monitoring and acquisition of call metrics. This feature allows businesses to solve problems where customers may be sent to the wrong agent, for example.
Skills-based routing: This feature analyzes contact types and routes to agents that have the correct skill set to handle the contact. Skills-based routing is set by establishing the skills of each agent in priority order. This is useful, for example, if a customer calls to return an item; then, only agents that have that skill can take the contact. This ensures that agents match the skill that the customer needs.
Priority-based routing: Customers who have been categorized as a high priority -- by revenue, type or even service-level agreement -- are placed higher in the queue, or literally skip the line. This is important for customer experience as it allows organizations to take care of important customers. These may be customers who have high loyalty scores, spend the most money, or who have contractual obligations that the business must meet.
Channel priority queuing: This feature sets parameters to allow certain contact types to override others. For example, organizations may choose calls to receive first, then chats, then emails. This can be based on service-level agreements or business need. This type of queuing can help solve issues where a contact center has specific channels that customers most frequently use for certain purposes, or where the center wants to deprioritize a channel that sees the least significant requests, for instance.
Call/contact backs from queues: This is sometimes called a virtual agent. Customers can leave a voicemail and enter in a telephone number to receive a call back and not lose their place in the queue. This feature is great for contact centers with consistent high volume, centers with call volume spikes or for use during outages.
Channel experience: This offers built-in functionality for multi-channel or omnichannel experiences. Voice calls, chats and workflows are driven by the same business rules and data integration. This allows customers to seamlessly move from one channel to another for a frictionless experience. This functionality is often called a unified desktop that unites voice, text and more.
Predictive dialer: A predictive dialer automatically dials lists of numbers and connects only live calls to agents. This feature is especially important in outbound centers, but it also has applications for inbound centers that want to do call backs to customers. This is a valuable feature for inbound centers who want to run outbound campaigns for customers in large volumes.
Interactive Voice Response (IVR): Interactive voice response capabilities allow customers to interact with a contact center via a voice-activated or touch-tone keypad. Organizations use this feature to improve the customer experience by offering self-service options, as it facilitates customers getting to the right agent or department without having to speak to a live agent. This feature performs the data gathering and proper routing that can aid contact center operations by cutting down time for both the customer and agent. Agents can receive pop-ups that give them all the information that a customer has either spoken or typed, which decreases contact handling time and can improve the customer experience.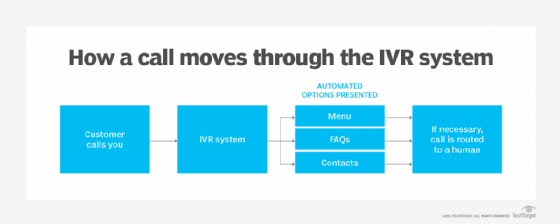 Traditional IVR: This feature prompts callers to select from a set menu of options -- for example, an option to press 1 for sales. This can include multilevel functionality where the system creates subgroups, and customers are guided through levels of prompts along the journey to resolution.
Conversational IVR: This type of IVR prompts customers to describe their needs using their own voices, and the system then provides routing options. Organizations that field more complex requests and want to offer more flexible self-service to customers use conversational IVR to help meet customer expectations and guide them more easily through the interaction.
Integration
Application programming interface (API) integration: APIs connect different platforms together so that that they can communicate with one another. This integration allows different groups within a contact center to share data, information and knowledge to improve the customer experience.
For example, a business can build an API to collect information on the top selling agents for the day. APIs can also create communication with customers who have low survey scores after reviewing the survey data and contact information. With an API, an organization can automatically send a report of all contacts with survey scores below a certain threshold. This is important because it can help an organization contact these customers immediately to mitigate customer experience issues versus waiting to receive reports after a certain time frame.
API integration is a valuable feature that connects software applications and information in departments together to harness powerful data. It can be especially helpful for organizations that must tackle issues around lack of communication or disparate groups that need to work together more.
CRM integration: Seamless integration with CRM tools is particularly important. Functionality includes engaging with customer activity history in real time, pop-ups with contact information, click-to-call functions, automated identification and customer prioritization. CRM integration is a vital feature that ensures that the contact center software will integrate with the existing CRM or even future CRM. Organizations should ask for referrals and validate the ease, cost and resources needed to integrate with these tools.
Business application integration: Contact centers can also integrate with other business applications such as ticketing software, quality monitoring, workforce management, collaboration and communication tools. Integrating these applications is important so that the tools work together in alignment with business objectives. The data input from contact center software is the output to many of these tools, especially quality monitoring. Organizations that manually extract data should consider implementing business tools to integrate with contact center software to avoid this extra work.
AI and bots
Many of the software features above use AI and machine learning to support predictive capabilities and other automated actions that learn different responses over time.
Bots are a significant part of contact center software, but organizations must have seamless transition rules for bot-to-agent transferring. Bots are useful to track conversations and push automated responses to agents. This type of AI functionality allows for quicker and more accurate handling of customers by agents. Pushing information to agents saves valuable handling time because agents don't have to search a knowledge base or consult with a co-worker or supervisor.
Organizations must assess all these factors and determine which features it needs to help improve customer access to agents, increase loyalty, drive revenue and create overall positive customer experiences. Understanding the business needs and the customer experience will result in a focus on features and functions that provide the most value to the business.
Dig Deeper on Contact center software and applications